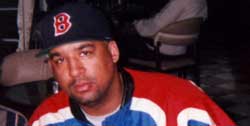 --------------------------
Music player requires at least Flash 4.
No Flash? Get it here.
Contact: Phone: 919-401-6922
Fax: 919-401-5922
mikenice919@cs.com
RDU919musicgroup@cs.com

This is Dj Mike NIce. Dj Mike Nice from the Butta Team Residences
He gets your party crunk. You want your party to be crunk...we know you do.
Hailing from: Durham NC

Experience: 15 years. Attended all rap music conventions and seminars "How Can I Be Down," Mixshow Power Summit, Gavin Seminar, Impact and many more. On tour with "Sporty Thieves" (Show DJ)
Clubs: Power Company, Blue Chips, Tobacco Roadhouse, Plum Crazy's, Palace. Club Liquid in Miami, Peanuts in LA.

Magazines: Source, Vibe, Rap Pages, Independent, Spectator

Awards: Best Hip Hop Show in the Triangle 2000 for the Independent, Career Day Speaker for Grade Schools. "DJ on the rise" Mixshow Power Summit 1998 in Miami.

Music: Butta Team tape 1997 and a bunch of old mixtapes.

Radio: WXDU from 1993 to 1996, WKNC this year and WNCU on sat 4-8pm WQOK on some guest appearances.

Artist worked with: OC, Herb McGruff, Diamond D, Ras Kass, Heltah Skeltah and OGC, Mystikal, Twista, Lil Cease, Kid Capri, Sporty Thieves, Wyclef, Canibus etc...

Current Projects: New mixtape and EA Sports "Madden 2001 Black College Tournament" Contact for information regarding the mixtapes and EA sports tournament.
Goals: Get our company going "RDU/919 Music Group" in full swing.
Contact: Ph: 919-401-6922 or Fax: 919-401-5922, mikenice919@cs.com or RDU919musicgroup@cs.com
Shouts: To my PNC Courtney C.,RDU/919 Street Team (Big Joe, Beth, and Big Truitt, Mark "little Bro," Butta Team, Tommy Boy (Chris and Sam), Warner Bros. (Adam and Big Phil) "Dwight play my shit Bibbs," Freeworld Records (Taiye and Juan) dirty dirty, EA Sports and Rugged Concepts (Dukki I got you), Geo and Veronica at Loud, Footloose at TrackMasterz good lookin on that Nas shit, Kris P at Rawkus, Bajja at MCA, Renee and Radio Rah at McLean Ent, EP at Elektra, Pecas at Arista (call me you ball head bastard), Driver at Frontline (stop frontin !!!!) and anybody I forgot hit me up and I will get ya next time.