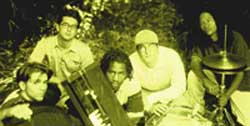 Five Elements, the newest release from Chapel Hill's Sankofa, boasts a bit more than the hip hop standby two turntables and a microphone.
They cover the basics with MC Creem on the mic and DJ Pez on the turntables, but they add three less conventional hip hop elements with the Apple Juice Kin on drums, Kermit Keys on keyboards and Brandau on bass.

And, yeah, they know what you're thinking: "Sounds a bit like the Roots to me." And, yeah, at first they might. But then you start feeling something way more Southern than some mere Philadelphia funk knockoff.

These are the guys who wrote Chapel Hill call-and-response anthem "North Cack". Who won 102 JAMZ Superjam Talent search. Who made it into the final 32 of the nationwide MTV Online "Ultimate Hip Hop Talent Search." Who opened for Busta Rhymes, Slick Rick, Doug-E-Fresh and, yeah, the Roots.

They started up in '98 on the UNC campus, tirelessly playing for one student group after another. When they finally got around to playing the Cat's Cradle, playing for all those different groups paid off. They consistently pack the joint, filling it with one of the most multicultural crowds you'll see in any club.
And they embrace a wide world view: "Sankofa" is a Nigerian word for a time-travelling bird able to to fly forward into its future with its head and eyes focused squarely in its past. "

They remain, mysteriously enough, unsigned.