HARVESTER by Future Vision
Published and Distributed by Merit Software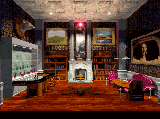 Harvester is a graphically violent experience in terror, combining role playing action and arcade style combat with an intense, cinematic story line. this is your invitation to enter the realm of \b\Harvester\n\. Are you fearless enough to accept it?
Harvest is a small, pleasant town. People are friendly. Lawn sprinklers idly twirl behind tidy white picket fences. Old men gather to play checkers outside the local barber shop. Townspeople visit their relatives every Sunday.
You were born in Harvest seventeen years ago. You've lived there all your life. Or so you think. Trouble is, you remember nothing.
Suffering from amnesia, you wake up one morning to a town full of strange strangers and inexplicable sights. Harvest is a fantasy - an idyllic one at that. You share your home with your not-so-perfect family. You're engaged to your high-school sweetheart, who just happens to be the "girl next door."
Harvest and its people are so middle-America, you feel like you've stepped right into a Norman Rockwell painting.
Or, what just might be a perfect forgery executed by a madman!
Still, after renewing your acquaintance with everyone, you begin to feel that just maybe Harvest will be an OK place to live.
Until you discover that your fiancee is missing - and you find a hideous, bloody skull and spinal cord draped across her bed. Is it hers? What the hell is going on here?
You've been plunged into a nightmare! No one seems to care that a horrible homicide has happened right under their nose. There appears to be no interest in capturing the cold-blooded killer.
The only clue left behind is an engraved invitation for you to enter The Order of the Harvest Moon - an exclusive organization that controls the town in ways you don't (or can't) understand.
Is The Order behind this gruesome execution? What are their motives? What about their mysterious power? One thing is certain - you're going to get to the bottom of this killing - or die trying!!
The Lodge.
The Lodge is the only real point of interest in the town of Harvest. It's a large, exotic building, much like the Masonic temples in your town. If you try to enter the Lodge before completing an assigned task, the Sergeant at Arms bars your way. He informs you that admittance is "by invitation only."
The Lodge is a large building filled with devilish traps and all manner of vicious opponents. At first, the enemies facing you are bizarre, repulsive monsters. You kill them in a variety of bloody ways determined by which weapons you use.
Next, you'll fight a number of more humanoid creatures and eventually work your way up to fighting (and killing?) human beings.
The horrific fight and combat sequences of Harvester are unparalleled by any game ever released!
---
ABOUT MERIT SOFTWARE AND FUTURE VISION
Harvester is a joint development and distribution effort between Merit Software and Future Vision. These two companies have established themselves as leaders in the entertainment software arena. Together, they have forged a relationship that produces higher quality products, better distribution and market penetration and first-rate technical support.
Future Vision, based in Dallas, Texas is committed to developing leading- edge diskette and CD-ROM-based IBM compatible entertainment software. Future Vision's first commercial package was recently released with record- setting initial shipments to retailers all over America. Command Adventures: STARSHIP, an award-winning, real-time space combat game with state-of-the-art animation and sound is the first in a multi-part trilogy.
Merit Software, also based in Dallas, serves as a publisher and distributor of some of the leading entertainment titles on today's retail shelves. A few of Merit's recent hits include Cyberdream's Dark Seed, Tom Landry Strategy Football, Maelstrom, Kronolog, and Command Adventures: STARSHIP. Also, hot off the diskette duplicator is Merit's newest offering, the dangerous and enchanting Isle of the Dead.
WHO IS GILBERT AUSTIN AND WHY SHOULD YOU CARE?
Gilbert P. Austin is one of the leading computer game authors and innovators in the world. He has written Privateer, Wing Commander II, the upcoming Wing Commander III and Strike Commander. In addition to his renowned prowess in games, Gilbert is also a noted filmmaker, playwright and novelist.

His latest and greatest project is Harvester. Gilbert combined his game design acumen and his filmmaking background to create a universe of understated horror and graphic violence in the world of Harvester.

Enter at your own risk.

For more information, please call Merit Software 1-800-238-4277

(C) 1994 Merit Software. (C) Future Visionary, Inc. Future Vision, Command Adventures: STARSHIP and Harvester are registered trademarks of Future Visionary, Inc. All rights reserved. All other trade names and trademarks are properties of their respective owners.
---