INDYCAR CIRCUITS and INDIANAPOLIS MOTOR SPEEDWAY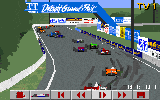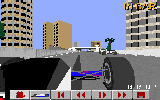 From the multi-award winning IndyCar Racing...
Two new expansion packs:
INDYCAR CIRCUITS
and
INDIANAPOLIS MOTOR SPEEDWAY
IndyCar Circuits - Expansion Pack tests your skill on 7 new IndyCar tracks. This package completes the officially sanctioned IndyCar Racing Circuit. Now, you can race the entire season by adding these precision-modeled replicas of the original circuits:
Surfer's Paradise - Queensland, Australia

Though laid out on streets, this course resembles that of a pure formula race track. The course is comprised of five distinct segments linked by chicanes, producing a total of sixteen turns. Weather varies from clear and warm to wet and windy, leaving many a qualified race technician scratching a head in confusion over what setup to race with.

Phoenix International Raceway - Phoenix, AZ

This oval is demanding, and the hot climate creates an inconsistent racing line as the sun tests the limits of your IndyCarís tire adhesion. Temperature and wind are probably the chief concerns of any IndyCar Team at this track. Keep a watchful eye on wing settings, tire compound choices and pressures, based upon the current weather.

The Raceway on Belle Isle Park - Detroit, MI

One of the newer courses on the IndyCar circuit, Belle Isle Park consists of claustraphobic, twisty bends and a few fast corners. The track is difficult to overtake on, often making race outcomes in doubt until the final lap. Intense concentration and a quality racing setup are the keys to mastering this layout, and any win earned here will require supreme patience.

Burke Lakefront Airport - Cleveland, OH

This is the fastest road course on the IndyCar circuit. The flat layout unobstructed by concrete barriers and buildings offers a supreme view of the entire track. The racing line varies with the track conditions, but there is never a shortage of real estate for passing. In off-race times, the track is a working airstrip.

Road America - Elkhart Lake, WI

The longest course on the IndyCar calendar, with lots of runoff and plenty of passing opportunities, Elkhart Lake summons all of your driving skills. Since the circuit is four miles long, fuel efficiency is too important to be overlooked. Racing with a lower boost setting will improve your fuel economy and squeeze extra laps out of your IndyCarís fuel tank.

Pacific Place - Vancouver, BC

The Vancouver IndyCar race is held on a flat, scenic site near downtown. As you learn the circuit, decide how you would like to attack it from a racing perspective. If you plan on out-cornering the competition, select extra downforce and tightly spaced gears. If the straights and light bends are your strength, taller gears, less wing, and stiff roll bars should do it.

Mid-Ohio Sports Car Course - Lexington, OH

Heart-stopping elevation changes and precarious corners make the Mid-Ohio Sports Car Course one of the most thrilling legs of the IndyCar circuit. The layout successfully brings together all of the demands of IndyCar racing - hills, hairpins, long straights, narrow pavement, and fast corners. To win here you'll need a full complement of skills.
Take the ultimate challenge with Indianapolis Motor Speedway - Expansion Pack.
Now, get the feel and thrill of racing at The Brickyard, the world-famous site of the annual Indy 500. Plus, with this add-on kit, you'll get a RaceCar Paint Kit that allows you to update colors and decals on all of the cars running on any IndyCar Race track.
And with both add-on packages, you'll get three new features:
Latest version of IndyCar software which includes enhanced modem play and time acceleration, which allows you to speed to the end of a race.
Replay Cut Utility - clip highlights of your driving experience; save disk space and reduce modem time when sharing your replays with a friend.
Settings Print Utility - allows you to view or print custom car set-ups or trade them with a friend.
With IndyCar Racing, you'll race like it's the real thing.
Realistic, 3-D graphics of actual IndyCar race tracks detail every inch of the ride. Then you make decisions about tire pressure, wing angles, camber, gearing, and more. Factor in tire wear, fuel load, track banks and grades to adjust your speed, chassis, and turbo boost - and drive to win.
No other simulation gives you 800-horsepower IndyCar driving like this.
Check out the awards:
Simulation Game of the year: 1994 Computer Gaming World Premier Award 
Best Sports Program: Software Publishers Association 'Codie' Award 
Best Sports Game, Compute Choice Award Winner:  Compute Magazine 
Best Sports Simulation and Best of Show, SCES '93: GameBytes 
     Compute Magazine Honorable Mention; 
Best Game: Electronic Entertainment

Hardware requirements for add-ons:
  MS-DOS 3.3 and up
  Requires: - 386 DX-25 Mhz or greater 
            - 4MB RAM 
            - MS-DOS 3.3 or greater
            - VGA
            - HD with 12 MB free for circuits Add-on; 2 MB for Indy Add-on 
            - No PC speaker support.

  Recommended: - Joystick or DrivingWheel/Pedal combo 
               - Sound Card.

     Supports: Adlib - Sound Blaster - Pro-Audio Spectrum - Roland - Sound
               Blaster Compatible.

  Not a Stand-alone product - IndyCar Racing Required.

IndyCar Circuits and Indianapolis Motor Speedway is available at your local software retail store now!!
Dealer/Reseller Inquiries:
Call 1-714-833-8710 (North America) 011-44-81-960-2255 (International)
Direct Sales Call 1-800-874-4607
Distributed exclusively by Virgin Interactive Entertainment, Inc.
Indianapolis 500, Indy and The Brickyard are registered trademarks of The Indianapolis Motor Speedway Corporation. IndyCar and helmet logo are trademarks of The Indianapolis Motor Speedway Corporation, under exclusive license to Championship Auto Racing Teams, Incorporated. Indianapolis 500 is a registered trademark and Indianapolis 500: The Simulation is a trademark of The Indianapolis Motor Speedway corporation. Used by permission. Papyrus is a trademark of Papyrus Design Group. Virgin is a registered trademark of Virgin Interactive Entertainment, Inc.
---