HOCUS POCUS (c) 1994 Apogee Software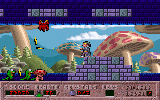 Terexin, leader of the Council of Wizards, is sending the young sorcerer, Hocus, on a special mission to prove his worthiness. This mission will take Hocus to 16 unique realms, each filled with unique dangers and enemies. Few have survived the Terexin's final test--for many it's a one-way trip.
Along the way Hocus will encounter dragons, imps, ghosts and 30 more unique creatures, demons and enemies. Survive, and Hocus becomes a full-fledged, card carrying Wizard. The other option is not so favorable.
Awesome and beautiful 256-color VGA graphics. After every two levels of play the level graphics, background and enemies completely change, giving this game unparalleled variety. Hocus Pocus is a action platform game, with exciting puzzles built into each level's structure.
Hocus Pocus features
Smooth 360 degree scrolling, with a parallax background.
Over SIX MEGS of 256-color VGA animated graphics.
Four episodes with 36 huge levels!
Over 30 different monsters, plus four huge bosses!
Save/restore options, selectable skill levels, four cheat passwords!
Supports keyboard play, joysticks and the Gravis GamePad.
Sound Support
12 different theme songs
8 channel simultaneous digitized sound effects in either 8 or 16 bits
Support for the following cards

     Gravis UltraSound, SoundBlaster/PRO/16, Pro Audio Spectrum 16,
     AdLib, Wave Blaster, Sound Man 16, Disney Sound Source,
     Tandy Sound Source, Roland Sound Canvas, Roland MT-32, and General Midi.


Individual control of music and sound effects volume.
System requirements
386SX or better, plus 567K (580,000 bytes) free RAM.
Sound card highly recommended
Joystick recommended
VGA graphics card with 256K
To order Hocus Pocus, call 1-800-GAME-123 after June 1st, or mail a check or money order for $24.95 (plus $5 S/H) to:
Apogee Software - (214) 271-1765
P.O. Box 496389
Garland, TX 75049
---
Shadow Warrior 3D by Apogee Software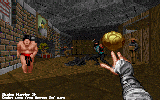 Become a modern day ninja and keep to the shadows as you defeat your enemies. Use weapons like a shuriken, bow and arrow, rifle, grenade, and your hands as deadly weapons. You can also conjure up spells using the ancient ways of the ninja including fireballs and tornado's.
You can crawl around looking for hidden access panels, climb ladders, jump over hazards, duck an enemies shots or swim like a fish.
Your enemies are very intelligent, blocking shots, peeking out from behind corners or dropping from the ceiling at any time!
Shadow Warrior will be coming your way soon from Apogee Software.
---
Other 3D games coming from Apogee Software
1. Duke Nukem 3D - High action science fiction as Duke returns in 3D.
2. Ruins 3D (tentative title) - Action adventure in and around ancient pyramids.
3. Fear 3D (tentative title) - Intense horror game that will keep you jumping.
These games all feature Apogee's newest 3D technology:
Detailed 3D worlds with any height, thickness or angle walls.
Fully texture mapped environment (walls, ceilings and floors).
Parallaxing backdrops up to 1024 pixels wide.
Fast action! 20+ frames per second on a 486/50 (without local bus). A 486/66 with local bus can get frame rates of 38-40 frames per second.
Lighting effects like: Strobing, flickering, fading, total darkness and more.
Up to 64 levels of light diminishing in the distance.
Light sourcing creates pools of light from windows or any other light source.
Modem play! You can link up and play against your best friend or enemy.
Full sound card support (including GUS, PAS 16, Roland, Sound Blaster etc..)
Full 8 channel stereo sound effects for ultimate realism.
Ability to JUMP over things, DUCK shots or other hazards and CRAWL around the realistic 3D environment. Duke Nukem will actually FLY around his 3D world with a jetpack.
Moving floors. The floors and ceiling can crush you or be used as elevators to reach higher areas.
Morphing environment. Your environment is NOT static as in Doom. Walls can move at will. Rooms, or any areas of the map, can morph in to larger or smaller areas, crushing you or other effects. Entire rooms can be changed into new structures. Special effects can be created such as vehicles to move around in, or true hinged swinging doors that have thickness.
Looking up and down. This is an extraordinary feature that allows you to see more of your environment. You can actually look up at the ceiling and blast an alien off of it, or look down to avoid a nasty hazard in the floor such as a pit. Clues or objects can be placed on the roof and you must look up at them in order to see all of it and proceed.
Animated environment - Any surface can animate. Walls, ceilings, floors.
How to get Apogee's games online
1. APOGEE'S HOME BBS: THE SOFTWARE CREATIONS BBS
Software Creations BBS was recently voted North America's most popular BBS by the readers of Boardwatch Magazine. It was also featured on the TV show Prime-Time Live in December 1993.
To download any Apogee game, call one of the three numbers listed below. Then, look in the free Apogee file section, #1. Type "F 1" to see a listing of the files. These are free downloads, and you do not need a membership.
   (508) 365-2359 -- 2400 baud                Over 80 lines
   (508) 368-7036 -- 9600-14.4K v.32bis       available, and
   (508) 368-4137 -- 14.4-16.8K HST/DS        growing fast!

2. America Online - Use the keyword "apogee" to go to our forum.
3. CompuServe - Type "go gamers" or "go ibmnew" to find Apogee's games.
4. Internet - Apogee's titles can be access via anonymous FTP at our official ftp site. The site is "ftp.uml.edu", and the directory they can be found in is (case important) "msdos/Games/Apogee".
5. Exec-PC - Apogee also has it's own free area on Exec-PC! Exec-PC can be reached by dialing 1-414-789-4360.
---