Alcohol abuse has become a major issue on campuses across the country. A number of recent alcohol-related incidents have excelled the need for change. At the University of North Carolina at Chapel Hill, four fraternities will soon no longer allow alcohol in their houses. The policy has been handed down by the fraternities' national organizations. Phi Delta Theta, Phi Gamma Delta, Sigma Nu, Delta Sigma Phi, Phi Kappa Sigma and Sigma Alpha Epsilon (SAE) will "go dry" by the year 2000. SAE has already begun its alcohol-free policy by making it a violation of their national guidelines and UNC-Chapel Hill guidelines to have alcohol in their house or on their property. Currently all 11 Panhellenic sororities at UNC-Chapel Hill are alcohol-free.
In 1996, UNC-Chapel Hill began enforcing a policy that made it a violation to drink alcohol in Big Fraternity Court, a University-owned area surrounded by five fraternities. Students in violation of the alcohol policy are referred to the Dean of Student's office.
In 1997 the greek community, Ron Binder, director of greek affairs at UNC-Chapel Hill and the University began enforcing "dry recruitment", meaning all fraternity and sorority functions during the recruitment period, when new members are selected, would be alcohol free.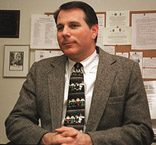 Drinking is often viewed as a degenerative habit, one that leads the person into a downward spiral that ends somewhere between early death and self-loathing misery. However, there are those that feel that responsible drinking causes no ill effects and in fact can be an enjoyable part of life, especially a student's life.
That is what a female University of North Carolina at Chapel Hill sophomore student believes, although she wished to remain anonymous.
"If you can be responsible there isn't anything wrong with it," she said. "Part of going to college is drinking. If you don't learn it there, you will learn it somewhere."
As a freshman, she usually went to frat parties, but now she prefers to go to bars with groups of friends, she said. Although Franklin Street is crowded with popular spots, an underage sophomore should be prohibited from being in them. But there she is, out drinking with the rest of the campus. How does this happen? She's beaten the system by getting a fake ID.
"They don't look anything like me," she said, referring to the many fake ID's she has had since high school. "(Bouncers) laugh at it and then just let me in."
They may laugh, but they aren't stopping her from entering.
"I've never had any trouble with it in Chapel Hill," she said.
She achnowledges that she knows 10 to 15 people that have false identification they use to enter bars and that it is fairly easy to obtain one. In facts, she admits that getting into bars when she is under 21 is part of the fun. The rest of the fun comes from the socializing that goes on.
"It's easy to get guys to buy drinks for you," she said, and adds that, "I talk to more people that I wouldn't usually talk to. I'm usually shy and intimidated-but not when I have been drinking."
Indeed, part of alcohol's lure is the lowering of inhibitions. For her, this is the reason alcohol must be used responsibly and among friends, but she feels there is little danger.
"I know nothing is going to happen to me," she said. "I'm with people I trust. We drink just for fun." And at Chapel Hill, she pointed out, "You don't have to drive anywhere."
According to Binder, every fraternity and sororities' nationals had voted for dry recruitment in the late 1980s; UNC-Chapel Hill did enforce it until 1997.
All alcohol violations during the dry recruitment period at UNC-Chapel Hill are reported to Binder and then sent to the Greek Judicial Board where they go to trial. The fraternity or sorority's nationals are also notified. Binder believes that fraternities at UNC-Chapel Hill are trying to catch up to the guidelines set by other universities in the past few years rather than setting the pace.
UNC-Chapel Hill's guidelines state: "We believe that the most productive approach for combating the negative effects of alcohol abuse is through creative alcohol abuse prevention programming, combined with effective early intervention against problem behaviors related to alcohol abuse and a clear statement of University policy related to the use and abuse of alcohol. This revision of the Student Alcohol Policy was undertaken with these principles in mind."