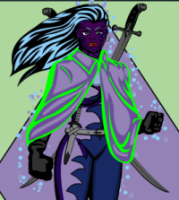 Ok, ok, ok, those of you who have been–for some reason I don't fathom–demanding that I post the superhero that I made at Ugo.com, here you go. Geesh. Obviously, I do love the shades of purple and green I picked out for this website, and, yes, I should have turned off the selection on the coat before I saved it, but too late now. Maybe I'll go make another one. After all, it's 6:10PM on a Monday and I'm still at work because the puppy was tooooooo cute this morning and I couldn't resist just "five more minutes" of playtime. Five minutes being, of course, half an hour when I wasn't even showered yet and I was already late for work. Sigh.
And, boy, am I feeling slack right now.
But, hey, the Holiday lights have started to go up at the house, and even though we don't have a tree, I feel like some progress has been made.