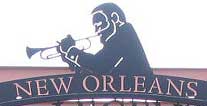 No, not THAT New Orleans post. This one's about the New Orleans that WAS. In June. When I was there for a week.
I know, I know. I was beginning to think I'd never get around to it either. But after recent events I sort of wanted to take a pass or two through the photographs I took then. It wasn't very long ago, but it was an entirely different world. And if I was already going through them, I might as well sort and give them captions.
The entire set is up in the gallery, though I've been seeing intermittant 403/service unavailable messages in there. It's possible that this site is finally bursting at the seams. Reloading seems to work the kinks out—so do so until I can find out what's going on. The page with all the thumbnails will look broken, but just click on the first one and you can walk through the rest just fine.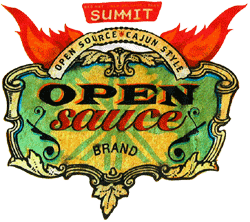 But… back to New Orleans. The New Orleans before.
The Red Hat Summit was happening from June 1st to the 3rd, but we were there for the week to help set up, run the show, break it down… and have a bit of fun. We stayed at the Hilton Riverside, which is on the south side of the city, in the lower right of the "u" formed by the Mississippi. It's right on the river, and near the convention center and Riverwalk.
The conference went great—we had something like 800 attendees, tons of lecture-type sessions, interesting speeches, and really incredible parties. S can throw down. But that's work stuff, and, really, I was there to see the city.
I'd always wanted to see New Orleans. My parents love the place. The Bon Ton is their favorite restaurant on the planet. Sitting in Cafe Du Monde, sipping cafe au lait and watching the street performers pleases my dad beyond words. And my Mom has a great tale to tell involving a few too many Hurricanes, a curb on Bourbon Street, and a very grumpy Clydesdale. Suffice to say, I grew up hearing their stories about the laid-back town, and always wanted to see it for myself.
And now I'm incredibly glad I got the chance when I did.
It's doesn't seem quite right, to mourn the city. To be so sad about bricks and wrought iron fences and buildings and pieces of art that disappeared when people—in horrifyingly large numbers—disappeared too. I think that there's enough misery to go around, though; I can be sad for both the people and the places.
The pictures don't do it justice. It's a swampy-hot strip of asphalt in the day, and at night it's a town full of drunk… but there's some kind of laid-back charm in the very air. Grassy parks filled with street musicians, cobblestone paving lined with open-air vendors. Puppeteers. Jugglers. People painted up and posing like statues. Music bouncing through the buildings. Artists everywhere.
I spent one of the first nights out on Bourbon Street with a large group of friends from work, including bosses a couple of layers up. One might think that would put a damper on things, but, oh-ho! Not so! We took in some live music, club-hopping. We made a pass through Pat O'Brien's, and I checked out the fire-and-water-features. We ended up at a piano cover bar, and after a couple of tunes, I moved out to the street corner, to watch the people go by. B was leaning against a wall, smoking a very long stogie next to one of the ubiquitous still artists. This fellow was copper-colored, with a newsboy cap and smile-wrinkles like crumpled tinfoil. He stood stock-still on a produce crate. C followed me out, and bummed a cigarette. He turned to face me, then suddenly jumped back, wide-eyed. A deep, gravelly laughter came from behind me.
I turned around and the living statue was moving, his lips parted wide to reveal the fleshy interior, stark against his shiny, alien skin. His teeth were white. He was full-body-laughing, his tinfoil face sparking in the gaslight. He leaned in and he spoke.
Gods, his voice. I can hear it in my head right now. It sounded though his throat was full of river rock and he smoked 10 packs of Lucky Strikes a day. Like the 'Hey, hey, hey" part of "it's Fat Albert." And that's what he said, basically. "Hey, hey, hey" followed by some nonsense words. "Shoombaroom zoom!" He laughed again and I was nearly blinded. C was laughing. I was laughing. C reached into his pocket and pulled out a couple of dollars. "You really got me, man." he said. "That was awesome."
And that was how we got to talking. We stood there for some time… I remember song after song and cigarette after cigarette. Goldie told us all kinds of things about New Orleans. The city itself, the people, the history. He talked about the town "now" and the town "then" which I'd guess covered 60, 70 years.
His wife eventually came by, to pick him up from work. She stopped, seeing him talking and got out and joined us, in a way that suggested she had done this gig before. She was white, younger, very friendly. He was older, black, and sweet. They were easy with each other, her popping inside to bring him a drink without being asked. Him handing her his wad of bills without bothering to count. They both talked with us for a few, but time and whiskey have removed most of the details of the conversation.
After a bit, we posed for pictures on C's phone, I think, and Goldie gave us each a string of gold beads. "The beads don't mean show your tits." he said "It's like the lei in Hawaii. They mean welcome. Welcome to New Orleans. Boo-yaaaaa!" He was very animated.
Eventually, they packed up his things as he gave us his last bits of advice: not to go too far down Bourbon Street, and not to take the side streets back. He waved and hurried to get on his way before the witching hour, when the hooligans appeared.
And that, really, is New Orleans in a nutshell. Beautiful, mad, dangerous, kindly.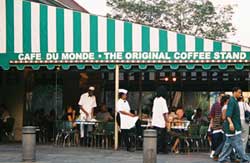 And delicious. Usually, when you spend a week somewhere, you have at least one bad meal. Whether it's fast-food, or room service, or a biscuit that you bought at a gas station because it was there and you were starving; with 21 meals or so to fit in, it's easy to get a dud.
Unless you're in New Orleans. Granted, the majority of my meals were served by the hotel, which had great food (again, S is a goddess!). But it was hotel food. Gourmet and delicious hotel food. Every time. Which is unusual, to say the least.
The local caterers, too, served up unbelieveable fare. Cajun seafood treats like spicy grilled shrimp and crawfish and crab cakes. Miniature sundaes. Tiny roast beast sandwiches. Gumbo. Sushi. We made dinner out of finger food on several nights, and ate like kings.
And when we did go out, it was mind-blowing. Muffaletta from a Jackson Square bar. Crawfish etouffe and bread pudding from the Bon Ton. Beignet from Cafe Du Monde.
And out of it all, Cafe DuMonde is my very favorite spot. That was where I was when it hit me where I was: my favorite place. So far, I've never loved a city like I did New Orleans. Just like my parents do, just like they said it would be for me. And then I sat back with a smoke and a cup of coffee and watched the crazy pigeons and the still-crazier balloon artist.
From what I hear, that small spot of real estate might actually still be there. But it will be months, perhaps, before the waiters with the white-and-green paper hats scurry around the dozens of round plastic tables. And some of them won't be coming back. It's hard to fathom, how different the city will be. I wish I had gotten to know her a little better.
But I'm glad what I have, I have on film.