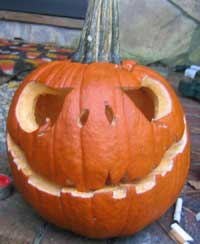 Halloween has come… and gone. I probably won't get to the full set of 200-odd pictures for a bit, but I pulled out a few of my favorite things from this year.
I wish I had gotten more pictures of the pumpkins we carved. I got a new Nightmare Before Christmas pumpkin carving kit, and I carved two Jacks (one happy, one fire-y), B hacked out Zero, and K produced an Oogie Boogie portrait. But they had softened up and rounded off a bit by the time I took the pictures, especially since we'd burned them throughout the party and most of Halloween night. And several other evenings when I needed to show them off to someone or other.
This jack is the angry one. In the movie Jack's eyes flame and his teeth turn cruel. It's one of my favorite Jack faces. I altered the pattern just a bit to make it more pointy. I will totally carve this Jack again.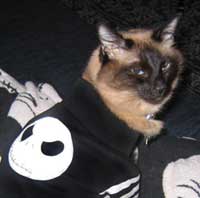 The pumpkins weren't the only things with a Jack face.
The Kitten didn't have a costume this year, but she did get a new and festive t-shirt. She was planning to make an appearance at the Hallow's Party to announce next year's theme, but she was in such joyful repose on K's velvet jacket that I didn't have the heart. Thanks Auntie K for loaning AllCats such a lovely bed for the night.
And, yes, as you may have guessed from her outerwear, next year's theme is Tim Burton. I was going to go totally Nightmare but why not have it all? Corpse Bride, Edward Scissorhands, Helena Bonham Carter, Johnny Depp… all good things. So? Bring it. Oh, dear, yes. Bring. It. On.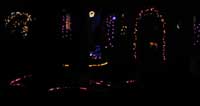 Ahem. But for this year, we had lights. Loads of purple and a few green, and some orange and pink, some white. It's hard to really capture the lights on film, digital or print. They're something that has to be experienced. Here you can kind of make out the archway, with the zombie sign inside it, the purple-c9-wrapped trees, and the blob of purple lights that is the animatronic cat. Off to the left are the white lights that lead along the side of the house and to the back gate. The white fetus-looking shape up high in the middle is the light-up skully. He's new.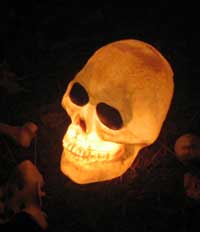 This was certainly a year for skulls and bones. I happened upon a medical supply company that sells 4th-quality skeleton models for mere pennies. I bought 2 full-size skulls, some nice fake eyeballs, a tiny skull, and a 5-lb bag of assorted bones, some of which you can see scattered at the base of this lovely light-up skull. The lit skull is a few years old at this point, but still quite nice-looking. We used rebar and a mallet to pre-drill holes for all our staked items this year. Highly effective.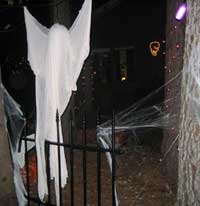 The bones were a big purchase for the year, but we had several larger projects that we built instead of bought. Most turned out well, but none surprised me quite as much as the black-lit whitened ghost. It was something really simple, fairly inexpensive, and easy to rig. It was built from parts we already had, plus a lucky purchase: a fluorescent black-light bulb from the Spirit Halloween Store (which is like Halloween crack for people like me).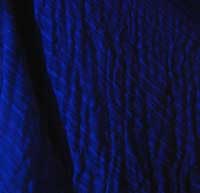 The gauzy material we had left over from last year. It was run through the washer with a couple of boxes of Rit Whitener and Brightener. It could also simply be sprayed with detergent and water, I think. The head is a leftover paper mache jobby from last year. It has a loop of heavy twine run through the top of the head (for hanging) and out a hole cut in the center of the the fabric (so it's securely draped). The fabric is gathered in the back with plastic brads (to hide the paper mache). We strung sisal rope between two trees, hung the head, and used 2 more brads to pin similarly sized pieces of the fabric up as the ghost's arms. We shredded the bottom of the fabric, roughing it up a bit, and gave the twine and the rope a light coat of black spraypaint to hide them in the dark (being careful to avoid the ghost).
It looked ok. I mean, it fluttered and was big and… white. So… we added the blacklight. I had a standard lightbulb socket that was part of a paper lantern set I bought in San Francisco. We hung that on a nearby tree and pointed it toward the ghost. After dark, he went from white and 'enh' to glowing blue and very very cool. Blacklight spots would totally be worth the money. Also, a Flying Crank Ghost with the truly moving parts… hmmmm?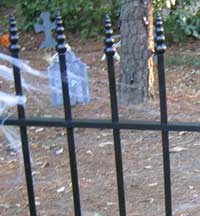 The other big project—and the one that I had little doubt about—was the big graveyard fence. I had seen a couple of variations on the pattern online, and really wanted to replace the tiny black plastic faux fence with something a little more… formidable. B and I put it together in shorter sections (4′ instead of 8′) for ease of storage, but other than that everything went smoothly according to the plans. With some help from R, M, and K we primed and painted it in place. My search for the perfect finials was belatedly fruitful: we cut out 64 slotted cardboard versions before I found the plastic Christmas ornaments I was looking for. But I did find them, so we used those instead of cutouts or the plastic whistles from the pattern. They look great. I chose to go with flat black paint instead of grey primer. They do disappear at night, but with blacklight and spiderwebbing, they pop back out.
There's always this period of about an hour—usually the hour preceding the actual arrival time—where I'm not so sure that we're actually going to pull this thing off. There's a list of things a mile long that I just need to get to and only enough time to do about half of them. But then the party happens anyway; it just sort of takes over. It waxes and wanes as people wander in and stumble away.
Or crash out on the floor sleeping on the dog's toy instead of a pillow, fall asleep sitting up in a chair, or pass out in K's bed.
We started at 7 p.m.; I think that's about the a.m. hour the last few hard-core partiers conked out, too. (Plus an hour of fall-back for the time change.) We only had a couple people get too rowdy for school, and my parents didn't leave till midnight. We had red beans (sans rice) and cafe au lait (sans beignet). Friends brought delicious cupcakes and cookies and biscotti and jambalaya and special brews and beverages. We ate ourselves silly, talked ourselves hoarse, and tried to drink like we were 22 again.
In short, it was Halloween at our house.
Of course, we learned things. Things about entertaining and things about social conditioning. And things to fix next year. Including:
Every outdoor surface that isn't covered in lights or food should be covered in ashtrays. Gigantic ashtrays. The amount of cigarette butts in our yard was rather apalling, but at least nothing actually ended up on fire.
Less beer, more wine and liquor. We've apparently grown up. We moved to a full keg a few years ago, and it looks like it's time to go back to a pony, and up the quantity of wine for our now-cultured tastes.
A bigger kitchen. Once again, I swear any home I buy will have a kitchen at least as large as my living room, and open to surrounding social spaces. People LIKE to hang out in the kitchen and when hostessing, one spends a considerable amount of time there. Ours is uncomfortably small.
Put all the games and contest stuff in one spot. In the middle of the living room. With signs. Instead of forgetting the signs and leaving them in the cabinet.
We pray that it never ever rains. We'd be SO fucked. We have nowhere to put people if it's pouring, and it gets kinda crowded even with half the crowd outside.
Don't forget the utensils
Take pictures during the actual party. I have no party pictures because I didn't take a single one. The camera sat out on a table all night long, and I didn't even think about it. Again. Anyone with pictures, comment with a link!
We learn new stuff every year as the party and its madness grows. It's exhausting and stressful and exciting and fabulous, all rolled into one big shindig. I'm glad we only do it once a year, but I'm awfully glad we do it. And we couldn't do it without all the help from friends and family. Thanks, guys! And Happy Hallows, Merry Samhain to all. From our insane Halloween house to yours. We'll do it again next year.