Camp Kanata 2003 - click image below for photos

Mount Morrow 2002 - click image below for photos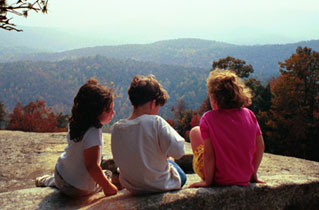 Hot LinkS:
• Minutes from latest longhouse meeting
• Upcoming events
Thars bears out thar
Pictures and text from Brian Preston
Ben and I were on a side trail hiking down the mountain to the
ranger station when we came across this FRESH large bear track, Ben spotted
it and I took this picture. There were several smaller cub tracks around
too. The bredth of this front paw track is about 5".
The ranger said it was probably at least a 300 lb bear but we (luckily)
never saw it... needless to say we picked up ad hoc clubs and made haste
down the trail!
blue ridge picture from 6,684 feet up at the summit:
---
The Pledge
"We, father and daughter/son, through friendly services to each other, to our family, to this tribe, to our community and country, seek a world pleasing to the eye of the Great Spirit."

The Aims
-To be clean in body and pure in heart. To be "Pals Forever/Friends Always" with my father/son/daughter.
-To love the sacred circle of my family. To be attentive while others speak.
-To love my neighbor as myself. To seek and preserve the beauty of the Great Spirit's work in forest, field and stream.


---
About the YMCA- Guide/Princess Program

-In today's world, a child and a father rarely have time together - to talk, to laugh, to really get to know each other and become friends. A sage Ojibway once said that "the white man spends time building cities, but the spends time building men." That sparked the idea for the formation of a parent-child organization centered around American values - the model for the present YMCA Guides program.
Y- Guides/Princesses, sponsored by the YMCA, is a program designed to bring fathers and their children together to build strong, lasting relationships. They do this by spending quality time together doing fun activities. Fathers and children 5-14 years of age are eligible to participate.
Fathers and sons age 5 to 8 participate in the "Braves" Program. Fathers and daughters age 5 to 8 participate in the "Princess" Program. Each program gives child and father the chance to participate in a variety of activities at a time in the child's life that can help shape their early growth experiences.
For girls and boys ages 9 to 14 and their fathers, the Y-Trailblazers program is continues to build on the relationships started in the Princess and Braves programs by emphasizing activitie that nurture wisdom, physical health, spiritual growth and service to others. Although many Y- Braves and Princesses graduate to Trailblazers, prior participation is not required.
Members of each program are placed in "Tribes" with each tribe consisting of 8-12 father/child pairs that live in the same area. Tribes meet once or twice a month at each members homes on a rotating basis. Tribes can also participate in outings together such as picnics, field trips, campouts and more. Meeting dates, times and activities are determined by the tribe to fit into everyone's schedule. Tribal meetings provide a forum for spending time together, telling stories, playing games, making crafts and other activities.
Trailblazers are not placed into tribes. This is one large co-ed group that participates in one adventurous activity per month.
The YMCA sponsors Federation Events which include all of the tribes. These include a Spring and Fall Longhouse (weekend campout), Thanksgiving Day Parade, Winter Sleepouts, Princess Date Nights and more.
To enhance the experience for the child and the father, members usually take names, many wear leather vests to display their names and activiy patches, the children perform services and crafts to earn "feathers" and tribes use drums, chief's headdresses and other -oriented items to create an atmosphere of excitement and enjoyment for everyone. The YMCA provides stories and activity suggestions that are inspirational and promote fun, fellowship and self-worth.
---
What is Guides?
- Fathers and children "Making Memories" together. It is a program designed to help fathers and their children build strong, lasting relationships. They do this by spending quality time together doing fun activities.

Who is Guides for?
- Fathers and their children ages 5-12.

What happens when I join?
- New members are placed into "Tribes" - a group of 8-10 father/child pairs that live in a certain area. Father/son pairs in Guides and Father/daughter pairs in Princess.

How much time will it take?
- From two to four hours a month. Tribes meet twice a month for one hour at members' homes on a rotating basis. Tribes also schedule one outing a month. When do tribes meet? All meeting dates and times are chosen by the individual tribe so as to fit into the father's schedule. Most tribes meet on a weeknight around 7pm or on Sunday afternoons.
What kinds of activities are involved?
- Tribe meeting activities include games, songs, stories, crafts, and refreshments. In addition, each tribe plans special activities such as hiking, campouts, community service, cookouts and family outings. Are there other activities involved? Yes. Federation Events, when all the tribes get together, include: Fall and Spring campouts (activities include archery, canoeing, horseback riding, fishing, swimming and hiking), Thanksgiving Day Parade, Winter Sleep out at the YMCA, Princess Date Night, and more.
How do I join?
- Fill out the registration form and mail to the YMCA.
How much does it cost?
- The fee is $45 per father/child pair for YMCA members, $60 for non-members and $20 per additional child. Financial Assistance is available. This fee includes newsletters, new members kit (manual, headbands and patches), professional YMCA staff leadership, and the opportunity to "Make Memories" with your child.
What if I'm a single mom?
- No problem, your child can still participate in the program with a close male relative or friend.
Can we join a friend's tribe?
- Yes, as long as the children are close to the same age.
How do I find out if there are any tribes in my area?
- Please contact our YMCA Guides office at 919-493-4502