Trip to White Pines (with pics!)
Sometimes things just work out right. The other day I took my son to White Pines Nature Preserve south of Pittsboro, NC. This is one of the properties owned and preserved by the Triangle Land Conservancy, and according to their Web site, the White Pines Preserve is "located at the confluence of the Deep and Rocky rivers." The preserve is unique in that it supports several stands of white pines and other plants that normally are found in the cooler mountain region of North Carolina.  Apparently, because of the rivers and a north-facing hillside, the area supports a cool microclimate, and because it is a little out of the way, people have left the area pretty much undisturbed.  The trails are well worn and easy to follow, so it seemed like a good day's hike for the two of us.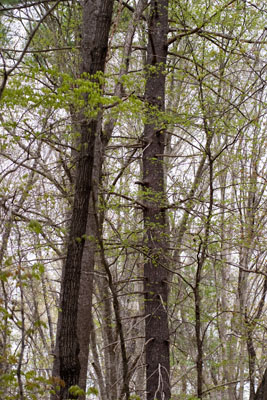 Everything turned out well, and I can't always say that. The weather was cool, and the early spring day was bugless and not too sunny. (Neither of us likes the blazing sunlight.) The white pines were much in evidence, along with many other tree species.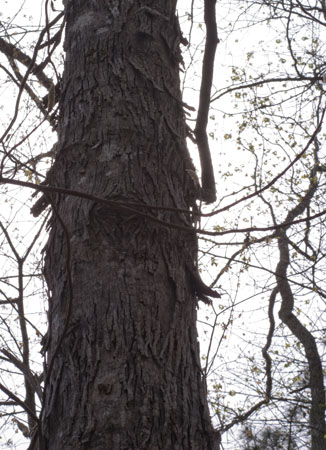 I have always had an affinity for shagbark hickories of which we saw a few remarkable specimens.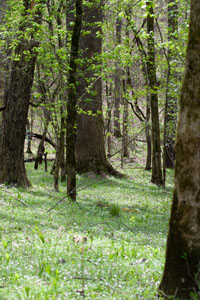 We also saw many different kinds of ferns in the "fiddlehead" stage and some nice jack-in-the-pulpit .
A few specimens of tiarella, or foamflower, dressed up the landscape. This native plant has been developed into a bedding variety similar to Heuchera.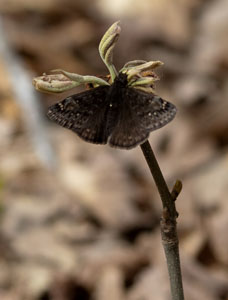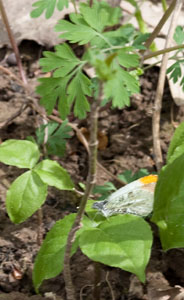 We saw some pretty butterflies as we walked through an extensive glade near the river. To the left is one of the "duskywing" varieties, probably a Juvenal's Duskywing. We also saw a really sporty little Falcate Orangetip who posed for a few quick snaps.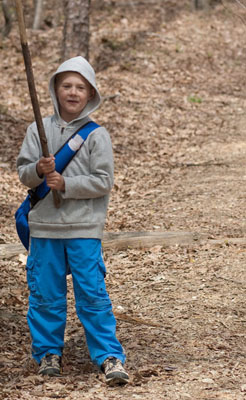 Nathaniel seemed to have fun on our excursion.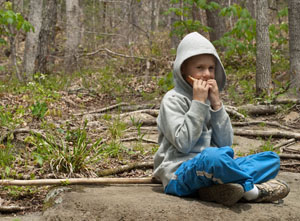 He got to do a lot of pretending, had some lunch,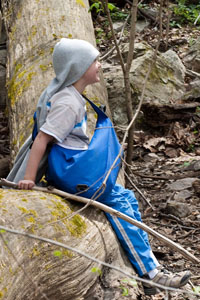 …and got to pose for his ol' Dad on an impressive fallen log.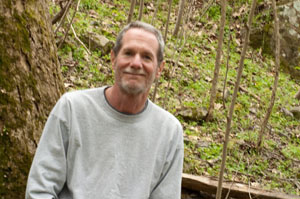 Then, to be fair, I let him wield the camera to take a picture of ol' Dad himself.