Why the LEFT?
Have you noticed that a lot of dog walkers seem to think it is proper for them to walk on the left side of the sidewalk or path?
Maybe this is a regional thing, but it sure does happen where I live. Now, being somewhat the reflective type, I have to wonder where this comes from. With few exceptions, all types of traffic in this country tends to wend to the right. Ok, if you're walking on a thoroughfare and encountering vehicular traffic, you're supposed to be to your left. OK, OK, and if you find yourself in Britain, the British colonies, or in Japan, you'll have different rules. I get that. But here, we walk, drive, bike, boat, and buggy on the right.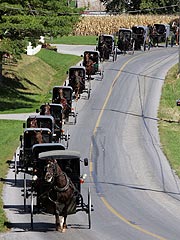 Thats right. Even horses and buggies are supposed to go on the right. Check it next time your'e in Amish (or Mennonite) country.
Maybe it is an example of our tendency toward blind conformity, but having some kind of conventional standard offers the advantage of not having to negotiate situations over and over all day long. Ever do one of those little dances with someone in a hallway or corner? Right? Left? Right? C'mon! Make up your mind! (Or just go to your frikkin' right so we can get on with our frikkin' lives, OK?)
So, why do people walking dogs think they should do something different? I mean, do they walk on the left all the time, like when they don't have dogs with them? How about in the halls of office buildings? City sidewalks, what about that? I just don't get this one.
Still, I look for answers. It occurred to me that it may have to do with some arcane doggy etiquette, like they think their dogs are walking "at heel" and there is some protocol for that. That doesn't do it, though. None of these dogs are at heel. And I watched the Westminster Dog Show to see what the pros do. I figured they'd know what was right, but do you know what? I didn't see it there. They switched hands back and forth, whatever showed the dog to best advantage.
Anyway, if you have a general clue about what's going on with this, feel free to comment. I'd love to hear what people think about this. I think it's just willfulness, myself. They have this dog, and they think they can get away with inconveniencing everyone, so they do it.
And don't get me started on those retractable leashes! Ill just say, "The essence of the retractable leash is that they retract. Retract the durned thing once in a while instead of trying to trip as many people as you can with them!"