Recent research from The Center for Academic Integrity indicates that the majority of college students have engaged in some form of cheating. Students rationalize this sort of behavior by asserting that grades are so important that they must cheat to maintain a high average. Despite this assertion, many sources indicate that grade inflation is at unheard-of levels at many major colleges and universities.

This is an odd combination of facts. Distill all this down and it is hard to ignore the obvious disengenuousness. This WebQuest is designed to help students stay alert for one of the common kinds of cheating, plagiarism, and avoid it in their work.

To see for yourself that these issues are current and important, check the following links to searches on Google News for the relevant words and phrases.

A search for the word plagiarism
A search for the words grade inflation
A search for the words honor code
---
Success in America:
A Reflection
The protagonists of The Great Gatsby and Death of a Salesman both come to tragic ends, but the author of each work makes clear that the stories did not have to end the way they did. Jay Gatsby and Willy Loman each suffered from a delusion about the nature of success in America and "The American Dream."

This project gives students a chance to examine their own thinking on this topic and to explore the mechanism in place in this country that leads to many of the misconceptions Americans have about what constitutes true success in life.
---
The "ancient" terminology used to analyze and discuss literature can often cause problems for students unfamiliar with its intricacies. This project gives students a chance to learn many of these literary terms by using them in the analysis of two great poems, one by Robert Frost and one by William Shakespeare.

These terms, as old as they are, just do not go away. They figure prominently in the AP exam but are also found in Wake county's English curriculum and the dreaded End of Course exams that have become a part of life in recent years. Students benefit in many ways from familiarity with these terms.

A useful side benefit of this project is that students become aware of the many resources available on the Web designed to break these terms down into understandable segments and clarify their meanings
---
Emily Dickinson and Walt Whitman:
Revelations on the Theme of Death

Most scholars and critics include Emily Dickinson and Walt Whitman among the very best poets in American history. Each of them contributed so much to the evolution of modern poetry that their influence continues to this day.

Aside from their status as great poets, these two individuals bore little resemblance to one another,

as people or as poets. Whitman traveled throughout America and developed free verse, in part, to help in his quest to become the "American Poet" called for by Ralph Waldo Emerson. Dickinson, on the other hand, rarely left her father's house in Amherst, MA, and published only a few of her intense, minimalistic poems in her lifetime.

While the authors' obvious individualism creates a basic similarity in perspective on some of topics treated in their poetry, one cannot help but notice a strong divergence in their view and treatment of the theme of death, a common topic in the Romantic period.
---
Folklore and the
21st Century
American Family

The works of Zora Neale Hurston take much of their texture from her folkloric story telling style. An understanding of folklore is important in fully appreciating Hurston's novels such as Their Eyes Were Watching God, but it can be surprisingly helpful in understanding ourselves, too. Part of each person's identity springs from cultural and familial roots that have nothing to do with education, religion or other, more formal ways of passing on the wisdom of the past. This WebQuest asks students to explore their own familial roots and to discover the degree to which folklore, defined broadly, affects their sense of self, even as we greet the dawn of the 21st century.
---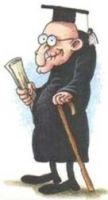 For some Bulldogs, Graduation Day seems like it will never come. That feeling may be more likely if they have procrastinated on their Graduation Projects. Unlimited stress can result as the time approaches and the moments tick by like hours.
We hope that does not happen to you. For that reason, you are being asked to begin the process now, as a junior, when you have some time to give it proper thought and consideration. This project will help you begin.
---
Temperament:
a Way to
Self-Knowledge

Among all the works of Herman Melville, students seem to respond most openly to "Bartleby, the Scrivener." Perhaps they find it easy to identify with a character who so simply replies that he would "prefer not to" when given tasks around the Wall Street law office in which the story takes place.

Bartleby's depression is quite obvious to the modern reader. What escapes students' notice is that it seems to have evolved from a job Bartleby held before the story begins; thus, Bartleby represents a person to whom a little employment counseling might have proved invaluable.
Unfortunately many students seem to think fairly unrealistically about their own career choices. They appear to think that they will be able to shape themselves to the demands of the job, whatever it is, as long as the pay scale seems adequate. This project is designed to allow students to get some accurate information about themselves, their temperaments and to begin thinking realistically about the kinds of careers that might suit them best.
---

Although probably best known as the Stephen King of his day, Edgar Allan Poe did not confine his talent to the writing of creepy, atmospheric tales of horror. He also found fame as a poet, a critic, and an advisor to many other authors of his time. In his short, unhappy life, he invented the short story form and took poetry to new heights.

This project allows students a chance to appreciate Poe on two levels--as a poet and as a humorist, one of the author's little-known abilities.
---
Understanding Dialects:
American and Otherwise
Students sometimes have difficulty reading dialect, a common element of American literature. The apostrophes and odd spellings can stop readers in their tracks as they attempt to figure out the text word by word. A better suggestion is simply to "read for sound," to try to hear the characters speaking in their regional dialects. Every word may not be clear immediately, but the reading will go faster and the story will seem much livelier.

This project is designed to help students understand the concept of dialect more deeply than they may already understand it. Students are encouraged to build upon their existing knowledge and experience as they research the topic and produce their papers.
---
Book Banning
in America's
Public Schools

Many school curriculums call for students to read Mark Twain's classic novel Adventures of Huckleberry Finn. This book is often challenged, however, by groups who take offense at the portrayal of the African American characters in the book and to the fact that these characters are routinely referred to with a racial epithet, one which would provoke confrontation in most inter-racial settings today.

Of course, teachers often choose to skirt the issue of book banning altogether, but significant intellectual growth can occur if students confront these controversies directly. This WebQuest is designed to confront the issue of book banning without establishing a prejudice either way. It also is intended to provide students with experience in the group consensus-building, decision-making process engaged in by school boards and curriculum committees at all levels.
---
Understanding Stereotypes
and Stereotyping
Just as people might tend to stereotype and "pigeonhole" one another from time to time, authors sometimes show the same tendency. Their characters may not ring exactly true or may appear two dimensional because they are so obviously stereotypical when examined closely.

It is wise to be careful when evaluating the characterizations of certain authors, however. Certain authors, Mark Twain for example, are skilled enough to represent characters so realistically that they even reveal how the characters behave as they are expected to do rather than as they really are when the situation seems to demand it.

This project allows students to think about the issue of stereotyping, especially negative stereotypes of African-Americans, as an adjunct to our study of Mark Twain's Adventures of Huckleberry Finn.
---
The Realist
Perspective:
W.E.B. Du Bois,
H.L. Mencken, and
Ambrose Bierce

Realism gave birth to many quotable writers. High school literature texts often overlook the work of three free-thinking journalists from the Realist period, W.E.B. Du Bois, H.L. Mencken and Ambrose Bierce.

Many of their more quotable statements survive today and can be found in several places on the Web. They still have the power to cause a reaction and even to shock in some cases; in fact, the insensitivity and bluntness of Mencken's words can be downright offensive to modern readers.

This project is designed to get students interested in the power of words and to help them become more analytical about their own reactions to statements such as these. Not only will they look outside themselves at the works of others, but they should also look within to assess the nature of their own personality and values as they gauge their reactions to the authors' statements.
---
The Declaration
of Independence:
Revised and Edited

Most people have heard that Thomas Jefferson wrote the Declaration of Independence. Many, however, do not realize that after he wrote his first draft, the document was further shaped by a committee and then by the Continental Congress. His draft underwent substantive changes, which in some cases changed the shape and effect of the final document. This project asks students to take an analytical look at both Jefferson's draft and the final document and discover the differences between them in light of the purpose of the Declaration, its intended audience, and the requirements put upon its creators by the politics of times in which it was written.
---

The Puritans initiated many traditional aspects of American life, but they did not institute the separation of church and state we have become accustomed to today. The Puritans' form of government, called a theocracy, depended upon church leaders who involved themselves in the colony's decision making to a far greater extent than one would see today. Biblical law formed the basis for their civil law, and church leaders played a powerful role in organizing the community and enforcing the law.

This form of government may seem like an artifact of the distant past to modern Americans, but the last few decades have witnessed the return of theocracy to many countries, the Taliban of Afghanistan, for example.

This project asks students to examine the idea of theocracy as a link between our current geopolitical situation and a group of colonists who probably had more influence on American history than any of the other early colonists.
---
Designed by Michael Byers
Orange High School
Hillsborough, NC
Last updated June, 2008.
Based on a template from The WebQuestPage