Originally published July 24, 2008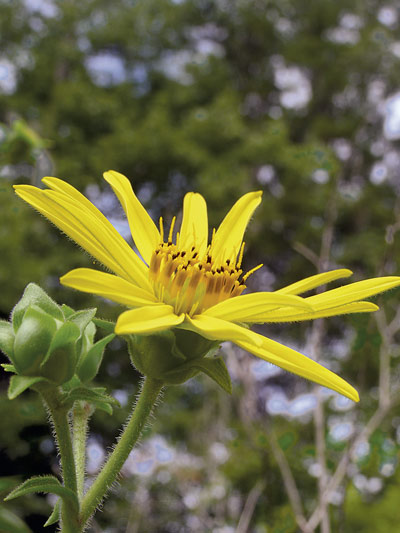 A silphium flower head contains a tight cluster of male tube flowers surrouned by a circle of lady ray flowers. A closer look may reveal to you the double thread-like female stigma at the base of the ray flowers. Photo by Ken Moore
By Ken Moore
Several days ago, I spied lots of yellow flowers along the edge of the power line crossing Poplar Avenue in west Carrboro. Infrequently cleared power line right-of-ways are great places to observe a diversity of both native and exotic plants and the critters that depend on them.
This past weekend, I walked through the tall grasses for a closer look. I found a vigorous stand of six-foot-tall rosinweeds, Silphium asteriscus. The Latin, silphium, refers to the rosin content. There are several species of silphium in our state, occurring mostly on dry prairie-like fields and roadsides. They have an interesting heritage of medicinal uses, including tonics given to horses. The rosin was used for gum and candy for the children. The frequently described action of burning the dried root as a charm against lightning during storms really fires the imagination.

Silphiums are in the composite (aster) plant family. I never miss an opportunity for a closer look at a composite head. It is always a wonder to discover that what looks like a single, multi-petaled flower is really a tight cluster of numerous separate tiny flowers. Having a hand lens in the pocket really does help see these details. (I assume that one never walks outdoors without their trusty hand lens.)
I counted the individual flowers in several silphium heads and discovered an average of 15 golden-yellow ray flowers encircling an average of 40 smaller greenish-yellow tube (disc) flowers. The tube flowers in the very center were unopened. Progressing outwardly, the flowers became fully mature, characterized by a star-shaped opening at the top of each tube. You can see the dark pollen-bearing anthers held inside.
I examined one of the older heads for the smallish sunflower-like seed I knew would be attracting goldfinches, chickadees and titmice later in the season. To my surprise, I discovered that maturing seeds were only in the outer perimeter of the head. Looking back at a head with petals still aloft, I realized that only the outer perimeter ray flowers are capable of producing seeds. A double-threaded stigma at the base of each ray flower is poised to receive the pollen from some roving insect or spider to fertilize the immature seed at the base. And all those tube flowers clustered in the center are busy producing pollen that eventually will be carried to ray flowers near and far.
One of the silphium flower heads was hosting a beautiful green spider awaiting the arrival of its next capture.
Couldn't help but imagine that flower head as a dance floor with those lady ray flowers encircling the anticipating crowd of tube flower guys and along the edge that unseen spider poised for a totally different kind of dance!
Wow, see what a hand lens and a composite head can do to turn your day into an adventure?
These silphiums will flower for a couple more weeks. A good place to get a closer look is the big stand growing in the Coker Arboretum, just west of the gathering circle entrance along Cameron Avenue. It is a fine drought-tolerant garden plant. I suspect the Botanical Garden will have seeds or plants available later in the year.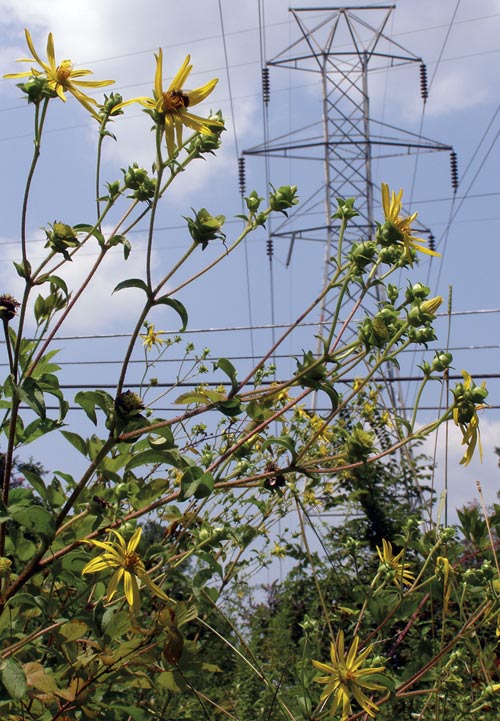 Silphium, rosinweed, standing tall in the power line right-of-way in west Carrboro. Photo by Ken Moore