Gimme Five! Pierce Freelon of The Beast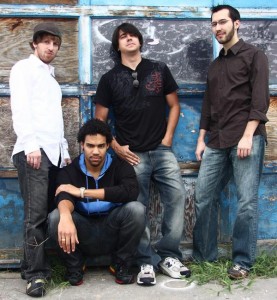 By the time they joined forces with emcee Pierce Freelon, Eric Hirsch (keys), Pete Kimosh (bass), and Stephen Coffman (drums) had been playing together for six years.  The guys had knocked out music degrees and honed their skills as musicians and performers and were looking for a way to channel that training in the most creative way. Teaming with Freelon and synergizing the improvisatory bombast of hip-hop with their jazz, afro-cuban minded compositions, was a chance. Thankfully (for listeners) it was one that paid off in a tangle of insightful rhymes, infectious instrumentals and a sophisticated new quartet called, audaciously, The Beast.
Now two EPs and one full length (2009's Silence Fiction) in, The Beast has found its footing, straddling the worlds of hip-hop and jazz. Freelon commands attention like an evangelist, but instead of hawking religion he's rebuking the ills of society or exhorting listeners to have a good time.  Beneath his flow, Hirsh, Kimosh, and Coffman keep a tight reign on the arrangements, knowing just when to pull back or explode out with expert swagger.
Taking to the road this summer, The Beast will share that dynamic sound with audiences in New York, Rhode Island and Washington DC.  So, unless you feel like making a trek, you'll have to wait till they land back in Durham for the Triangle Brewing Company Pub Crawl on July 10th to catch this energetic crew live. It seems waiting is a whole nother kind of beast.
And finally, five questions for the emcee in charge:
1. If your band were a fairytale, what would it be?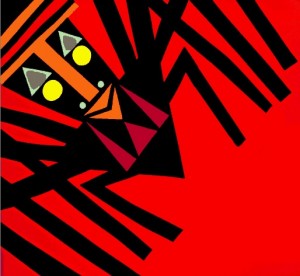 Anansi the Spider. Like Hip-Hop, spiders are feared and often misunderstood, especially by people who aren't familiar with them and don't appreciate their function in a healthy eco-system (or, music scene). But Anansi is that dude – he's a skilled wordsmith/trickster, a griot and progressive intellectual. And he's from Ghana – which is the North Carolina of West Africa.
2. What do you hope listeners' discover through your music?
Making music is like making a baby. You need to meet the right collaborator(s), have chemistry, work hard, (and hopefully have fun) and with good timing and a little luck you'll give birth to something that reflects each individual that contributed to creating it. So, I hope listeners will discover our baby – our musical progeny.
3. Describe your feelings toward vinyl.
I love vinyl. I also love 8-track tapes, VHS players, the Steam Engine and the Atari 2600. We should bring each of those back.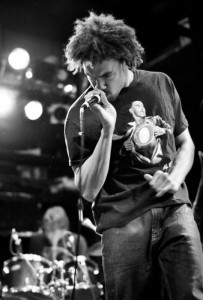 4. Who/what might be a few inspirations or influences that might really surprise people?
Other cool quartets like: The Beatles, RCDC, The Teenage Mutant Ninja Turtles, The Fantastic 4 (the "New" F4 squad with Ghost Rider, Spider Man, Wolverine and Grey Hulk), The A Team and KISS.
5. What did you dream of being when you were a kid? (How 'd that turn out?)
When I was a kid, I dreamed about being an astronaut. Totally blew it.
– – – – – – – – – – – – – – – – – – – – – – – – – – – – – – – – – – – – – – – – – –
While you to catch The Beast locally, keep up with all things Silence Fiction on the band's myspace, facebook, or twitter.  Check in for more five this time next week. And by all means, give Pierce a high five when you see him!
Comments are closed.