In 2006,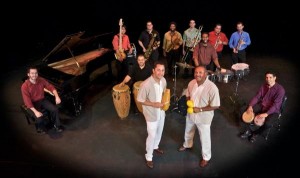 when David Garcia, a professor of Afro-Cuban music at UNC Chapel Hill, and Nelson Delgado, a singer and seasoned veteran of the Triangle latin music scene, decided to start a salsa group, they couldn't have known the powerful music explosion that would become Orquesta GarDel. The band began by digging deep into the roots of classic and modern salsa and has since stretched its repertoire to include a host of originals that play into the members own unique, jazz and afro-cuban influenced perspectives.
Now, eleven members strong, Orquesta GarDel is nothing short of a salsa super-group.  Featuring the talents of Eric Hirsh (piano, co-director), Neslon Delgado (lead vocals), Jaime Roman (lead vocals), Pete Kimosh (bass), Brevan Hampden (timbales), Julio Correa (congas, timbales), José Sanchez (congas, bongos), Ramón Ortiz (bongos, timbales, backing vocals), Alberto Carrasquillo (trumpet), Al Strong (trumpet), Andy Kleindienst (trombone, co-director), Tim Smith (saxophones, flute), and Bluford Thompson (saxophones, flute), this orchestra plays music that will make you listen, make you smile, and make you dance your heart out.  You can experience this GarDel fever at the Saxapahaw Farmer's Market Music Series next Saturday, July 31st.
Now just the five most furious questions in faux business:
1. If your band were a kitchen appliance, what would it be?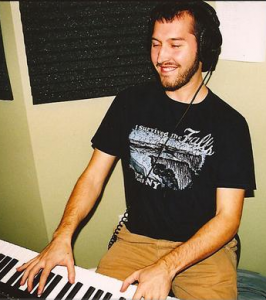 Definitely a Cuisenart food processor.   Its power is restrained by its simple design, and the careful attachment of the variety of accessory parts.  You can cut things up many ways, but at the end of the day you're just making salsa.  And everyone likes salsa.
2. How do you see Orquesta GarDel separating itself from other salsa bands that have played around this area?
We are inherently unique to this region for a number of reasons.  First, the size of the ensemble.  At twelve members, we are able to faithfully recreate the dense, polyrhythmic wall of sound that is the classic salsa orchestra.  There is just no substitution for having three percussionists, at least three brass players, and multiple vocalists.  Secondly, we strive for a very high level of musicianship, which includes picking a repertoire that avoids the 'low hanging fruits' of the salsa canon and seeking out the more interesting (and complex) arrangements coming out of Puerto Rico, Cuba, and New York from the seventies through today.  Finally, while this area has a great Latino music community, many bands and configurations have come and gone.  We hope that Orquesta GarDel will outlive its original founders and members and become a cultural institution with a long life and an open door for musicians to keep this art form alive and progressing.
3. Describe the dynamic of playing in such a large group.
The musical dynamic is actually very effortless.  I have much respect for large bands like Lost In The Trees, Efterklang, and Broken Social Scene, who must necessarily engage with new performance practices for their unique instrumentation.  But salsa comes with a deep tradition, rooted in West African and Afro-Cuban ritualistic musics.  Every player, each instrument has a defined role, a set of rhythms to play, locking in with each other in a very delicate way.  But you know what they say, out of constraint comes freedom.  The experience of playing a repeating-but-evolving part along with eleven other people is powerful and even trance-like.
The logistical dynamic of running such a large group?  Not so trance-like.
4. Who/what might be a few inspirations or influences that might really surprise people?
You know, salsa music, its subgenres, and its innovators are not really the main inspiration for the group.  That collective knowledge of the style ends up being very secondary when we get together to play or write.  Our biggest inspiration is probably the state of North Carolina, each other, and our community.  Though we play traditional music, we aren't a very "traditional" group of people.  We are men of different ages, some are dads with families, some are fresh college graduates.  We are Puerto Rican, Dominican, white, and African-American.  Most of us have jazz degrees, some of us used to play merengue seven nights a week in PR, many of us actively play in funk, reggae, or hip hop bands.  We live all over the state, and we play shows for mixed crowds in all sorts of unexpected venues.  This diversity, this set of seeming contradictions makes us both an anomaly and a perfect fit for the growing culture of North Carolina.  What compels us is to get up on that stage and make people dance and have a great time, and to be able to see it in their faces and the way they move.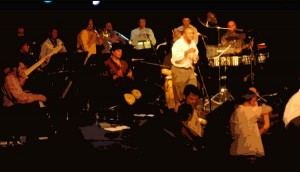 5. What did you dream of being when you were a kid? (How 'd that turn out?)
Surveyed the gang, got some responses back:
Eric Hirsh (pianist, co-director): Pretty early on I dreamt of being a musician, gave up on it in high school (for the sexy allure of…physics!), returned to it in college and it's stuck ever since.  Also as a kid I dreamt of being a train engineer (I might have even owned a pair of blue corduroy overalls; definitely owned a few dozen picture books on the subject).
Tim Smith (saxophonist): As a kid I always wanted to be a chef (been there, done that), a poet (I am and I know it) and a multi-faceted musician…the jury is still out on that last one.  GarDel is certainly helping me to explore one more facet of the plethora of musics out there in the world today and I must say that I'm lovin' it.
Nelson Delgado (lead vocalist): Nelson tells me that he can't even remember what he thought about as a kid anymore, but he does recall thinking it would be really cool to be a jet engine mechanic.  He ended up in research chemistry for agriculture.
– – – – – – – – – – – – – – – – – – – – – – – – – – – – – – – – – – – – – – – – – –
Head out to the Saxapahaw Farmer's Market Music Series Saturday, July 31st to hear Orquesta GarDel live.  And be sure to give Eric a high five when you see him!