PRODUCTION DESIGNER SPOTLIGHT: Mark Ricker
by Margot C. Lester
Like many kids, Mark Ricker dreamt of working in the movies when he grew up. But unlike most of us, the Burlington native made it a reality. Ricker is the production designer behind the sets of The Help, which debuted last month.
The production designer creates the overall look and feel of a film, working with the director and cinematographer to select or create locations and settings, right down to the paint on the walls and the knickknacks on the mantle.
"I love being part of that core group that figures out the best way to tell a story through cinema," explains Ricker, who graduated from UNC with an English degree 1990.
Southern roots
Ricker was drawn to The Help because it was a chance to work with an old friend, writer/director Tate Taylor, on his big-studio directorial debut.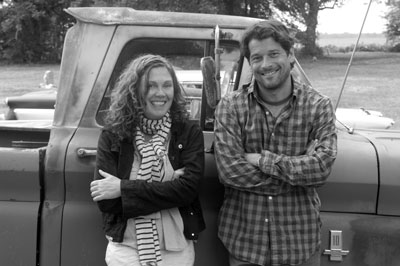 "Tate and I were production assistants for the J. Crew company almost 20 years ago," Ricker remembers. "We'd go out and buy chocolate-chip cookies and try to find puppies to use for catalog shoots. I was involved before any studio was. It was kind of fantastic having the director be a good old friend because I didn't have to go through assistants and people like that to get access to him."
As a Southerner, Ricker brought to the project "a respect for the South, a real attention to detail and a concern for not stereotyping that world," he says. His understanding of the South helped him recreate the time and place without relying on clichés.
"The architecture and sensibilities of the film ran from pre-Antebellum – if that's a term – to ranch houses built in the late '50s," he explains. "It was fun to figure out how different they'd all be and to put the history in all of them. It was like a huge scavenger hunt to fill the sets."
He and set decorator Rena DeAngelo scrounged around antique malls and flea markets in Greenwood, Miss., which was chosen to represent 1960s Jackson, where the book is set.
"There also was a wealth of stuff we got from the community. That's where shooting in the place really makes a difference. When you're shooting New York for Paris, like we did in Julie & Julia, those specific details are harder to replicate. I had to go to flea markets in Paris and ship stuff home."
Though loath to choose one set as his favorite, Ricker allows he does have a fondness for the home of Elizabeth Leefolt.
"We just nailed it. It had that perfect bland 1960s sensibility when we finished," Ricker laughs. "The crew walked in on the very first day and said, 'Oh my God. This is the house I grew up in.' Sometimes, it's easier to layer up a bunch of stuff. But with her house, I was very precise."
Ricker relies on a lot of archival documents – photos, articles, etc. – to create sets. There was more than enough of that for the homes of the white women in the film. But it was more difficult to research and design the homes of the black women.
"I had to really get into researching African-American homes of the time and had a time finding the right photographs of interiors from the period. We had to figure out what details made sense, the level of wealth the maids would have had and how they would have spent money, in terms of home decoration. It's a very specific thing we do, and getting it right is important."
The backstory
Ricker did theater at Williams High School, where he learned set design. While at Carolina, he landed his first film gig on 1988's smash hit Bull Durham. "I was in location casting, but I discovered the art department on that film and the light bulb went off. I knew that was where I was meant to be."
After graduating in 1990, he moved to New York and worked on several projects – commercials, industrials, TV and small films. In a bid to improve his career trajectory, he enrolled at New York University's Tisch School of the Arts, receiving a master's degree in set design in 1995. The gambit worked, and his role – as well as the scope of the projects – grew.
Ricker's taking some time off before his next project. He's looking forward to a chance to work again with Taylor, or cinematographer Steven Goldblatt (who shot The Help and Julie & Julia). Or maybe a chance to return to the Old North State, where his mother, Susan, father, Ed, and sister, Elizabeth, still live.
"North Carolina's got everything. I grew up equidistant from the beach and mountains and spent a lot of time at both," he remembers. "Many projects have tempted me to come back, though it hasn't quite worked out. But you never know."