Gimme Five! Hank Smith of The Morning After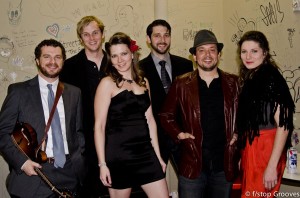 When the musicians of The Morning After first teamed up, their range of expertise made choosing just one style to focus on a difficult task.  Ultimately, they figured it's way more fun to share the love and throw out the rulebook. The resulting sound is a wild blend of rock, bluegrass, soul, jazz, funk, latin and beyond. They're part acoustic revivalists, part showstoppers.
Can their banjo-man handle his part in answering these five questions, though? See for yourself after the jump.
1. If your band were a vegetable, what would it be?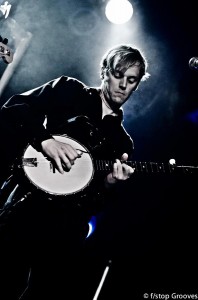 If The Morning After were a vegetable, we would be summer squash. Summer squash grow in humid conditions, like a nice topsoil bed and yield abundant fruit in the hot months of the year. Summer squash can be made into lots of things, fried, canned, or frozen, brought out to be enjoyed at anytime during the year, but tastes best right off the vine. They can also be used to throw at people, made into hilarious props, used in cornucopias, or loaded into cannons and shot. I guess that describes us!
2. When did you start to think music might really work out as something more than a bedroom hobby?
For me, personally, it was when I got to college at Winthrop University and played my first paid gig. I think I made $20 and got some beer, but I was 17 at the time, so that was pretty cool. I thought, "hey, maybe I can make some money doing this. I need to get in a band!" Some friends and I formed a college jam band and we rehearsed originals, played in local clubs, even recorded a demo. I eventually quit the band to pursue other musical interests, but they kept playing. My bands would play gigs with that band and we all had a great time. It just accelerated from that point. I would put bands together for gigs with my friends who i knew were extremely talented and would not require alot of rehearsal, because usually time was of the essence. One such collaboration included Bob Crawford on bass (who now plays for the Avett Bros.) and Charlotte drum guru, Adam Snow. Bob and I still keep in touch and it's pretty cool to talk to him about all this fame he has now. He was the most unlikely candidate for fame back in those days. Everyone figured it would be one of the guitar gods. Bob was always really quiet and humble. Super nice and grounded, so the success has not gone to his head at all.
3. Describe your typical band practice.
Our band practices are epic. Rachel, the lead singer, and I date each other and live together, so rehearsal occurs at our house. We always cook giant meals for the band and have beer for everyone. Once we're all fed and happy, we retire to the practice room and things are very efficient. We just finished recording our debut album of original material, so most of our rehearsals lately have been centered around writing and learning the material, working it up and deciding arrangements for the album. It was alot of fun to work all these new songs up and we played most of them at our New Year's show, so that felt great. Rehearsals are always recorded, so the recordings can be distributed among the band members the next day via dropbox. We get an immense amount of work done in a relatively short amount of time and keep at it pretty faithfully every Thursday night when we don't have gigs. Come by and eat with us sometime!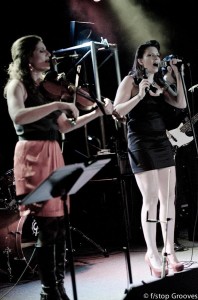 4. Who/what might be a few inspirations or influences that would really surprise people?
There are six of us in the band, so the range of musical influences is pretty broad. Rachel is very influenced by Aretha Franklin and Nina Simone, I cite Bela Fleck, Herbie Hancock and J.S. Bach as major influences, Pattie Hopkins is a classically trained violinist and plays fiddle so her influences include everyone from Bobby Hicks to Bach and Mark O'Connor. She also has a very soulful voice. Jamie Dawson, our bassist, also plays mandolin in Kickin Grass (of which Pattie and I are also members), so his influences include The Johnson Mtn. Boys, motown and the classic R&B bass sound. Mike Rosado, drummer, draws from Brian Blade, Tony Williams and his latin roots. Shawn Chase, our mandolin player, is influenced by David Grisman, Sam Bush, Ryan Adams and Hall & Oates to name a few. So you can see that there's definite diversity in our range of musical influence and it comes through in the best ways in the music. It's a combination of everything we've learned over the years, and we have a ton of combined experience for a relatively new ensemble. It's a blast and we wouldn't have it any other way! In general, as a band, we're influenced by The Muppet Show, and mockumentary comedies like Trailer Park Boys. A band influenced by TV?! Yes, it's true. Get to know us and you'll see. We're actually working on a music video and Jamie and I have written a TV show pilot that will be centered around a band. Be on the lookout for that!
5. What did you dream of being when you were a kid? (How 'd that turn out?)
I know I wanted to be an archaeologist or paleontologist when I was a kid because I was fascinated with dinosaurs (what kid isn't?). But that gave way to a love of history in general. Of course, when it was time to ask for musical instruments, I had dreams of playing said instrument professionally. I know I asked for drums, a guitar, the usual stuff. It wasn't until high school that I begged for a banjo and got one, finally! I thought it would be fun to learn "Dueling Banjos" to play at parties, just as a joke. Turns out, when I got it, I couldn't put it down. Now I make a living at it, and wouldn't trade that for the world! Banjo has taken me all over the US and abroad, to places I may not have seen otherwise. It's been a great 18 years, I can't wait to see what the next 18 years looks like!
– – – – – – – – – – – – – – – – – – – – – – – – – – – – – – – – – – – – – – – – – – – – – – – – – – – –
Swing on over to The Pinhook Saturday, February 4th to see The Morning After live. And by all means, give Hank a high five when you see him!
Comments are closed.