Gimme Five! Reed Turchi of TURCHI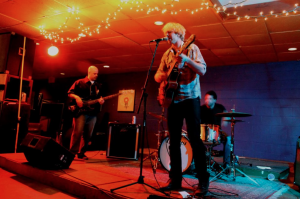 Reed Turchi, Cameron Weeks and Chris Reali play boogie blues with a north Mississippi bent. Their debut, Road Ends in Water, is a slide heavy guitar album that highlights their ability to conjure a slow groove, whip out a classic riff, or just rock out.
Sure, these boys have a handle on the sliding styles of blues, but can their leader handle a few hard hitting questions? See for yourself after the jump.
1. If your band were a sitcom, which would it be?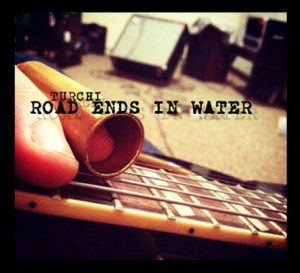 Unfortunately I don't have much of a sitcom vocabulary, but, The Mr. Bill Show comes to mind–endless optimism and blind faith in Mr. Hand despite a series of crushing defeats…or F Troop, and its carnivals of failure (though really, things aren't going that bad!)
2. When did you decide it was time to share this music?
Last July I decided to go ahead and try to make the album, and it's taken a while (most of a year, I guess), but in the end I think it turned out better than I possibly expected back then. So, hopefully the sharing is more worthwhile than when your best friend in first grade gave you the rest of his candy bar that fell in the sand box…
3. Describe your ambition.
Just trying to bring the boogie to everyone in need! Meat don't shake…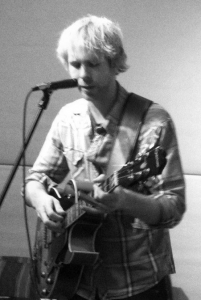 4. Who/what might be a few inspirations or influences that would really surprise people?
Well, I'm not sure if there are any big surprises here, but I would say our main influences are: Kenny Brown, Mississippi Fred McDowell, RL Burnside, and general slide-guitar boogie.
5. What did you dream of being when you were a kid? (How 'd that turn out?)
As far as I remember I wanted to do about everything that came to mind–no particular aspiration seemed to outlast whatever the next passing interest was. Which is to say I must not have a great batting average at this point, but hey, I'll keep rolling.
– – – – – – – – – – – – – – – – – – – – – – – – – – – – – – – – – – – – – – – – – – – – – – – – – – – – – –
Slide on over to the Cat's Cradle April 10th to see TURCHI live. And, by all means, give Reid a high five when you see him!
Comments are closed.