The Pig
Don't let the name fool you – The Pig is not your average simple barbecue restaurant. Tucked off Weaver Dairy Road, The Pig and owner/chef Sam Suchoff have been serving up antibiotic- and hormone-free, local pasture-raised pork "to bring regional flavors and local ingredients to the party in your tummy" since 2010. But in addition to its delicious pulled-pork offerings, The Pig has several options to delight vegetarian diners, including BBQ tempeh, country-fried tempeh and a shitake po-boy. Rotating specials like N.C. shrimp and bacon mousse or house-smoked bluefish with pickled green tomato cream cheese keep regulars coming back. And on Wednesday afternoons and some Saturday mornings, Carrboro Farmers' Market patrons can pick up The Pig's handmade sausages in downtown Carrboro.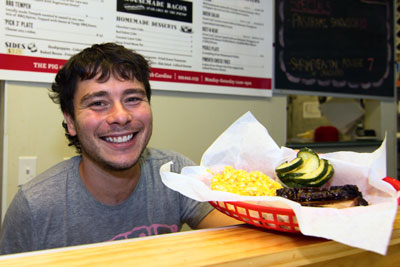 The Pig Coleslaw
Ingredients
5 pounds cabbage (about two large heads)
2 1/2 tablespoon salt
2 carrots, roughly chopped
1 garlic clove
3/4 cup cider vinegar
1/2 cup plus 1 tablespoon sugar
1/2 teaspoon ground black pepper
1 1/4 cups mayonnaise
3/4 cup canola oil
1 teaspoon celery seeds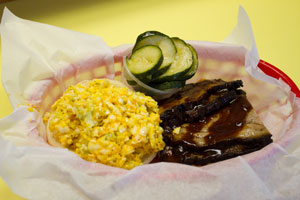 Method
Cut cabbage into quarters, core and shred or chop. We chop ours because it works better as a sandwich condiment that way. Toss with 1 tablespoon salt and set aside.
Combine all remaining ingredients except oil and celery seeds in blender and buzz until completely liquefied. Once smooth, drizzle in oil with the blender still on.
Mix cabbage, dressing and celery seeds.
Note: This dressing should not be limited to coleslaw; it is a great anytime dressing.