Wilson Swain Caldwell
"Tall, straight as an Indian, black, wiry and lithe, bland, affable, respectful and popular - carrying a bucketful of water in each hand up three flights of stairs and springing over two steps at a time - waiting on 40 or 50 rooms before eight o'clock in the morning and often blacking shoes at 25 cents a month in the bargain - supporting and educating a large family, and finally leaving behind a good estate, the fruit of his industry and economy - such was Wilson Caldwell, a philosopher of work, a leader of his race, the friend of the white people, a Christian, I believe, and a gentlemen of the old school."
--W.J. Peele
Wilson Swain Caldwell was born February 27, 1841 on the University property of President Swain. His mother was Rosa Burgess, a slave of President Swain. His father was November 'Doctor' Caldwell, a slave of Governor Caldwell. November was a college servant for more than 30 years. He waited on people who worked in Old East and half of South Building. Under the laws of the day which made children born to slaves the property of their mother's master, Wilson was owned by President Swain and used the name Wilson Swain until Emancipation when he took his father's surname.
President Swain and his wife were described as "exceedingly kind and indulgent to their slaves",(Battle).
When Wilson was a teenager, he spent eight years working for President Swain's son, Robert, who was helping an English gardener beautify the campus. After that, he became a waiter for the laboratories, dormitories and lecture halls until 1869 when he resigned because his wages were cut. Students effectionately called him 'Witlz', and apparently thought very highly of him, often seeking him out when they returned to visit as alumni.
"He was charitable to every fault except uncleanliness, woe to the student who fell under the ban of his withering smile italicized by his deprecatory grunt. It was worse than excommunication by the Society,"(Peele).
At the end of the Civil War, he walked out with President Swain, Judge W.H. Battle and others to the "foot of Piney Prospect to meet the incoming detachment of Kilpatrick's cavalry, in order to claim protection for the town and the University, which was promptly granted," (Battle).
When Governor Holden was inaugurated, Caldwell was appointed a Justice of the Peace and held that office for a year. One of his first cases was issuing a warrant for the apprehension of one of the old professors about to leave the country at the instance of a colored claimant to the ownership of a dog. The case was tried before Caldwell and another justice. "This trial, an ex-slave and University servant, sitting in judgment on an ex-professor of the institution, was novel spectacle to Southern people, and a good illustration of the changes of 'Reconstruction Times," (Battle).
After leaving the University in 1869, Caldwell opened a free school for colored children in Chapel Hill and was its schoolmaster for $17.50 a month. He later became the principle of a school near Elizabeth City and was paid $25 a month.
When the University re-opened in 1875, he took his old position back. In 1884, he moved to Durham to try to better support his family. He moved back to Chapel Hill shortly after and spent a year farming. He is quoted as saying upon his return to the University that "Durham is not a place for a literary man!" (Battle). Back at the University he became the curator of South Building and the head of the labor corps.
In 1886, he was placed without his solicitation on the Republican ticket for a seat on the Board of Commissioners and was elected over Professor Ralph Graves (the University was customarily given one seat on the Board), (Battle).
Caldwell's Children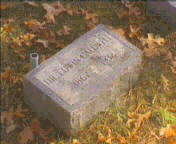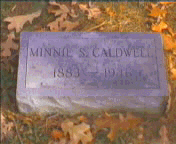 He was married to Susan Kirby and they had 12 children of which five died as children and two others predeceased their parents. His son Edwin Caldwell, attended Shaw University in Raleigh, became a doctor and developed the first cure for pellagra, a disease caused by niacin deficiency.
Caldwell died in 1898 and the class of 1891 had a monument placed on his grave. Inscribed on the resurrection side of it to catch the full glow of the last sunrise:
Here was laid the body of Wilson Caldwell
The Student's friend and servant,
An exemplar of modest merit,
The best type of black man,
Who he sought to elevate by labor;
The solution of the race problem.
Mindful Mainly of his duties,
His rights were cheerfully conceded.
Himself every respectful, he was always respected
Diligence dignified his service,
Three generations of white men testify of his faithfulness.
Let him rest here till he's ready for work again.
(Peele).
The standstone obelisk was once used to honor University president Joseph Caldwell, but when a new stone was commissioned for his grave, the obelisk was moved to the segregated section of the grave yard and rededicated in memory of Wilson Caldwell, his father November Caldwell and David Barham and Henry Smith, two other black university servants.