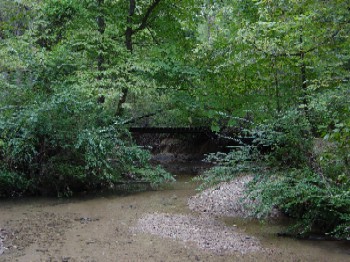 This local watershed planning initiative addresses the need for action in the Upper New Hope arm of Jordan Lake, a local watershed in Chapel Hill and Durham, NC. The focus of this local watershed planning activity is on upper Morgan Creek (30 square miles, potential habitat degradation), lower Morgan Creek (19.9 square miles, 6.5 miles impaired stream), and Little Creek (Booker and Bolin Creeks, with 24.6 square miles, 12.7 miles of impaired stream). These creeks have problems or are threatened with habitat degradation, sediment or fecal coliform. Manganese is also listed as a possible cause of impairment in lower New Hope Creek and lower Morgan Creek. Northeast Creek is listed as having low dissolved oxygen, as well. Urban runoff and effluent from wastewater treatment are possible sources of degradation. In upper Morgan Creek, agriculture is also a possible source of degradation. All of these creeks, with the exception of upper Morgan Creek, were on the Section 303(d) list for year 2000 and are within a water supply watershed.
---
Preliminary Findings Report
Download the Preliminary Local Watershed FindingsReport, prepared by TetraTech, Inc.

Map of Local Watershed
These creeks are tributaries to Jordan Lake. View the map of the local watershed at this link.

Meeting Materials
Meeting Agendas, Handouts, and copies of PowerPoint Presentations can be downloaded from this link.
To Meeting Materials>>
Participants
Follow this link to see the list of project participants, representing interests in the local watershed.
To Participants>>
Collaborators
Click here to meet the project "staff".
To Collaborators>>