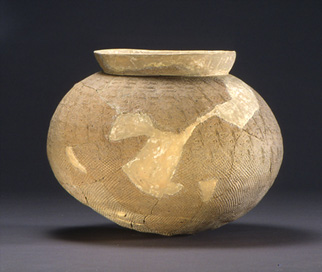 Image 02
Jar (guan), from Lantau Island, Hong Kong. Dated between the Western Zhou dynasty and the Spring and Autumn period (c 11th century BCE- 476 BCE), it was a utensil for ancient inhabitants to hold and store food.
The upper half of this jar is decorated with 'double-F pattern', while the lower half a checker pattern.
This kind of pottery vessel became widely distributed in the region of Lingnan. A kiln for firing pottery with the 'double-F' pattern was found at Meihuadun, Boluo County, Guangdong.
Many pottery vessels with a 'double-F' pattern were found in Hong Kong, but no kiln site has yet been discovered. The vessels probably come from the hinterlands of the Pearl River Delta.