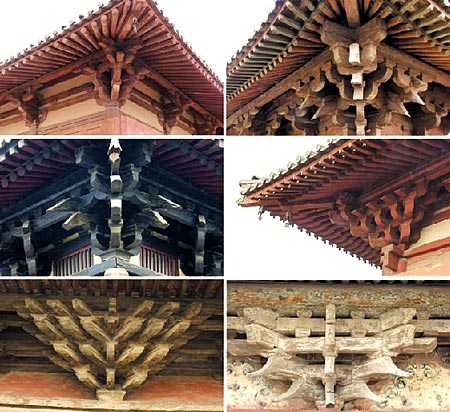 Image 04
Dougong Brackets.
The dougong is a system of brackets unique to traditional Chinese architecture.
These brackets, arranged like baskets of flowers, are set under the overhanging eaves, adding to the sumptuous magnificence of the buildings.
The dougong bracket is a structural member found between the top of a column and a cross beam.
Each is formed of a double bow-shaped arm (gong), which supports a block of wood (dou) on each side.
Fixed layer upon layer, the arrangements bear the load of the roof.
Owing to hierarchical restrictions in feudal society, the dougong structure can be found only in the most magnificent buildings such as palace and temple halls.
The number of layers of these bracket structures also depended on the importance of the buildings.