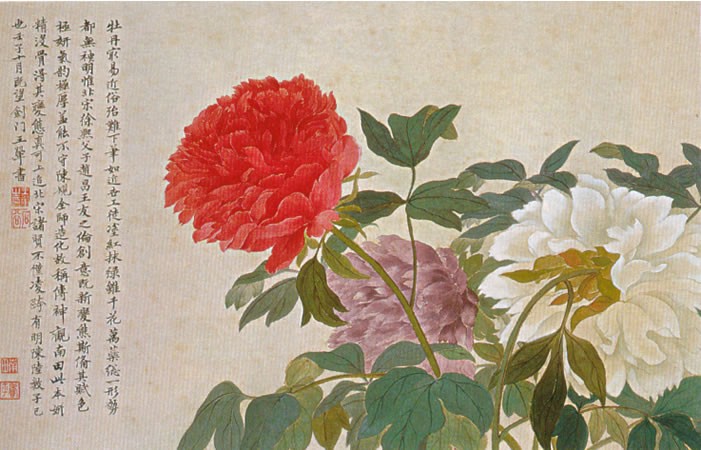 Leaf 2
Peonies

Inscription in regular script by Wang Hui: Peonies are the most subject to vulgarization, and the most difficult to paint. Take for example the peony painting of recent artisans. They smear on greens and reds, and in spite of ten thousand blooms,
they will stick to a single form and gesture, rendering the subject utterly spirit or vitality. Only masters of the Northern Sung like Hsu Hsi, father and son, Chao Chang and Wang Yu painted creatively and provided innovation.
Their coloration was beautiful to the extreme, their spirit resonance palpable. Looking at this album by Nan-tien, exquisitely done in the "boneless manner (without ink outlines) and catching all natural transformations,
It is because they were able to transcend the confines of canonical dicta that they were called transmitters of the divine (life-force).
(I can say that) it not only surpasses the art of Ming masters of floral painting such as Chen (Shun) and Lu (Chih), but matches that of the great masters of the Northern Sung.