Channel One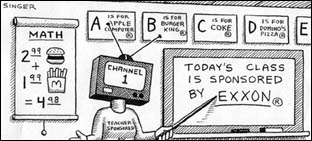 Find out why people across the country want Channel One out of their classrooms:
Is it possible that eight million students in 12,000 classrooms are being required to watch commercial-filled television every day? Yes - through the aggressive marketing of Channel One, an in-school news and advertising program has the dubious distinction of being both the largest form of commercialism in schools and one of the most exploitative. In return for lending schools a satellite dish, VCRs, and TV sets, Channel One requires that students spend class time watching the program.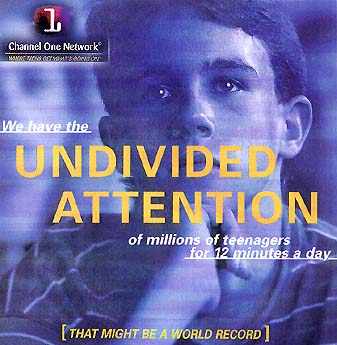 Every school that shows Channel One signs a contract, essentially promising to deliver a "captive audience" - as Channel One promotional materials call students. Most schools must air Channel One on 90 percent of school days and in 80 percent of the classrooms.
Students and teachers cannot change the channel, turn off the program, or turn down the sound - an ideal environment from an advertiser's perspective. In exchange for this irresistible opportunity to market to a captive audience, Channel One can charge advertising rates of up to $195,000 per 30-second ad.
[top]-[next]
It's about money, not education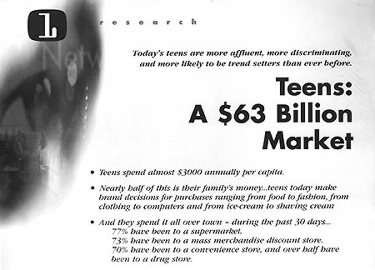 Channel One claims to be "the leading provider of television news and educational programs to America's secondary schools." But a University of Massachusetts-Amherst study found that schools that can afford to say no to Channel One do say no. The study found that the program is disproportionately shown in schools located in low-income communities and communities of color. Channel One is found where the least money is available for education, where the least amount is spent on textbooks and other academic materials.
Yet communities with schools that contract with Channel One still pay dearly for this "opportunity." Channel One takes up precious classroom time with advertisements: each minute the programs air, taxpayers are paying - and students are losing. A recent study by the University of Wisconsin -Milwaukee's Center for the Analysis of Commercialism in Education revealed that school time lost to Channel One costs taxpayers $1.8 billion dollars per year, $300 million to commercials alone.
[top]-[next]
What's on Channel One?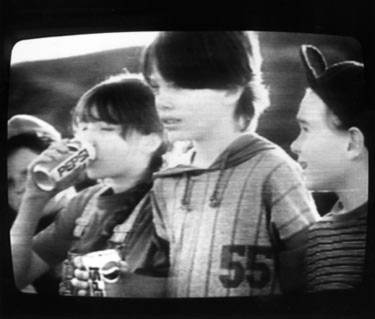 In 1997, the New York media watchdog group Fairness and Accuracy in Reporting coordinated the first comprehensive analysis of Channel One. Vassar College Sociology Professor William Hoynes and Johns Hopkins University Media Studies Professor Mark Crispin Miller analyzed 36 Channel One shows distributed between 1995-1996.
The researchers found that only 20 percent of Channel One airtime is spent on coverage of "recent political, economic, social and cultural stories." The remaining 80 percent is devoted to advertising, sports, weather and natural disasters, features and profiles, and self-promotion of Channel One. Professor Hoynes concluded, "It is dubious whether such news provides educational or civic benefits to either students or educators."
Shelley Pasnik, Director of Children's Policy at the Center for Media Education, analyzed Channel One's web site as part of the study. "Channel One's online forays don't stray from its main purpose to expose students to an endless stream of promotion," Pasnik said. She cautioned students and teachers against providing personal information online that could be used for marketing purposes.
Researchers encountered difficulties in obtaining Channel One tapes for the content study. While Channel One uses public schools as an outlet for its programming, it refuses to allow public access to its tapes and programs. The tapes for the study were acquired by parent and TV-Free America activist Brad Rockwell of Texas, who contacted the Texas Attorney General's office and threatened litigation after his child's school refused to yield the tapes for review. "I'm glad that after all these years, the actual content of Channel One is finally being brought to light. The content study shows that Channel One is all about providing a captive market of children to advertisers," Rockwell said.
While Channel One claims that schools can preview the program, the fact is that programs are broadcast into a locked box the morning before they are shown, making it virtually impossible for educators or administrators to review the programming before airing it in the classroom. While Channel One claims a 99 percent renewal rate of those schools subscribing to the program, the fact is that Channel One is generally automatically renewed and that the number of schools airing Channel One has remained about the same since 1990.
[top]-[next]
Resistance to Channel One
Communities across the country are fighting to get Channel One out of their schools - no simple feat as the contract lasts three years and generally renews automatically if no one protests. Students and parents have asked for alternative homerooms, spoken out at school board meetings, written newsletters, and even staged walk-outs during the program to protest its compulsory nature.
Communities protesting Channel One are in good company. Since the outset of the program, almost every national educational group has taken a strong stand against Channel One and other commercial broadcasts in the classroom. These include:
American Association of School Administrators
American Federation of Teachers
National Association of State Boards of Education
National Council for the Social Studies
National Council of Teachers of English
National Education Association (NEA)
National Parent Teacher Association (PTA)
National School Boards Association
National Association of Secondary School Principals
National Association of Elementary School Principals
[top]-[next]
Facts about Channel One
Channel One is an advertising vehicle owned by Primedia (formerly K-III Communications), a property of Kohlberg, Kravis & Roberts (KKR), which is well known for corporate takeovers. Channel One broadcasts into 40 percent of U.S. middle and high schools.


Channel One's daily broadcasts are twelve minutes long. However, only 20 percent of airtime is devoted to coverage of "recent political, economic, social, and cultural stories." The remaining 80 percent is spent on advertising, sports, weather and natural disasters, features, and Channel One promotions.

Channel One features two minutes per day of skillful advertising - primarily for junk food and video games - that must be shown to students under the terms of the Channel One contract. Because classroom advertising is compulsory under this contract, every constitutional and legislative mandate that makes school attendance mandatory also mandates commercials.


KKR is best known for its leveraged buyout of RJR-Nabisco. R.J. Reynolds (the RJR portion of the company) is the parent of Camel Cigarettes, whose skillful advertising made its "Joe Camel" mascot universally known and widely popular among school-age children.


Primedia also owns Weekly Reader, which is widely distributed in schools. A study by Professor Stanton Glantz of the University of California, San Francisco, found fault with Weekly Reader's coverage of smoking and health for favoring the side of tobacco companies.


Responsible educators oppose Channel One's imposition of commercials during class time. Groups on record against Channel One include the National Education Association, the National Association of Secondary School Principals, the American Association of School Administrators, the American Federation of Teachers, the National PTA, the National Association of State Boards of Education, the National Council for the Social Studies, and the National Council of Teachers of English. Consumers Union is also a leader in the fight to protect the classroom.


In the course of a school year, students spend the equivalent of six school days watching Channel One. The instructional time lost to the ads alone equals one entire school day per year.


Although Channel One's owners claim to "give" schools TV sets, the equipment is actually leased. Payment is the captive student audience, which costs taxpayers money. A research study conducted by Alex Molnar of the University of Wisconsin-Milwaukee's Center for the Analysis of Commercialism in Education, and Max Sawicky of the Economic Policy Institute found that Channel One costs taxpayers $1.8 billion annually in lost instructional time, including $300 million in class time lost to commercials.


A study commissioned by Channel One's owners reports that students, particularly those "at risk," do not remember much about its news content. A study by Michigan State University shows that students who watch Channel One do, however, remember the ads, and that "regular watching of Channel One reinforces materialistic attitudes."


Prior to acquiring Channel One, neither Primedia nor KKR were in the daily news-gathering business. Yet Channel One promotes itself as the primary news delivery system for school-age Americans.


Teachers cannot control the viewing of Channel One. Schools that contract with Channel One must regularly show the entire program.


Channel One's owners describe the program to potential advertisers as a "Direct Pipeline" to teenage consumers and as the "Most Efficient Way to Reach Teens." Advertisers pay $200,000 for each 30-second commercial on Channel One. Channel One effectively diverts revenues from local broadcasters.


A study done by Professor William Hoynes of Vassar College found that despite the diversity of Channel One's anchors, the on-camera sources are, with few exceptions, "white and male."


Hoynes also found that only three of the 91 news stories in the study sample focused on the economy, which is particularly striking given that Channel One is disproportionately aired in low-income school districts. Hoynes found that "the implicit message is that students' relationship to the economy is solely as consumers."