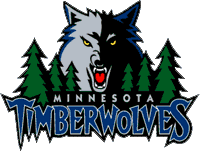 The 20th pick belongs to the Minnesota Timberwolves. In the real draft, this pick is still up in the air (Portland currently owns it). However, Portland owes Minnesota either this pick or next years so it looks like they will give it this year. This pick has a long history. See the web site for details. The GM is:
James Cowherd
he selects: Reggie Freeman

 



---


The first time in about 5 years that the Timber-Wolves havent made an
apperance the the lottery!  Kevin McKale has done a great job in recent
drafts with the picks of Stephon Marbury, Kevin Garnett, Isiah Rider, and
Donyell Marshall (was traded to Golden State for Tom Gugliota).  McKale
then made moves to get Cherokee Parks from Dallas and dealing away with
J.R. Rider to get James Robinson from Portland.

	These moves finally got the Timberwolves the first ever winning 
season and first playoff apperance.  Now the Timberwolves are set to 
make Kevin Garnett the next 100 million dollar man!

	I looked at mostly shooting guards in the draft because, at this 
spot they have Doug West and James Robinson who is undersized for this 
position.  And Minnesota also needs a shooter in the offense.  I gave 
Schea Seals of Tulsa, Derick Anderson of Kentucky, Jason Lawson of 
Villanova, and Serge Zwikker of North Carolina all looks.  But Freeman 
is more versitile and can also play the the small forward position and 
can help back up Stephon Marbury and Terry Porter at point guard.  
He is also a deadly shooter from the 3 point arc!

	The T-Wolves will probally look for mostly centers in this years 
draft and may take a forein player maybe Chris Anstey if he is available!