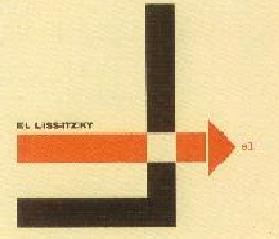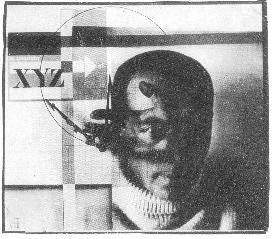 El Lissitzky
(1890-1941)
El (Elizar or Lazar or Eliezer) Marcovich Lissitzky was a designer, typographer, artist, photographer, architect, and teacher (among other jobs). He had a great influence on the design work from the Bauhaus and De Stijl movements, and on modern commercial art and design. Here we present in full one of his great books, as well as other examples of his work in various media. In addition, we present art from other Suprematist painters, especially Kasimir Malevich.
Some other El Lissitzky on the Internet
An explication in Dutch by Tom Frantzen of a proun.
An Encyclopedia Britannica article on El Lissitzky is now available free. It includes a short biography and links to other art criticism articles and books. We are not responsible for advertising.
Bowling Green State University used to have on the web a design project (some VRML done with Silicon Graphics workstations but usable via some web browsers), and a short biography, at: http://giotto.bgsu.edu/pilot/projects/el/
Some El Lissitzky books
Camilla Gray, The Russian Experiment in Art 1863-1922, revised and enlarged edition by Marian Burleigh-Motley, copyright 1962, 1986, Thames and Hudson, Ltd., London, LC 86-50219, ISBN 0-500-20207-9, pb.
Harvard University Art Museums, El Lissitzky, 1890-1941, catalogue for an exhibition of selected works from North American collections, the Sprengel Museum Hanover and the Staatlice Galerie Moritzburg Halle, copyright 1987 by the President and Fellows of Harvard College, ISBN 0-916724-662.
Sophie Lissitzky-Küppers, El Lissitzky: Life, Letters, Texts. Translated by Helene Aldwinckle and Mary Whittall, 2nd rev. ed., New York, 1980.
Patricia Railing, More About 2 Squares, copyright 1990 Patricia Railing and Artists Bookworks, Forest Row, Sussex, England, MIT Press edition, 1991, ISBN 0-262-12158-1, LC 9027444.
Eric Dluhosch, English translation and appendix to El Lissitzky's 1930 Russia: An Architecture for World Revolution, Copyright 1970 by The Massachusetts Institute of Technology, ISBN 0-262-12034-8, LC 70-92782.
El Lissitzky, 1890-1941, by Frank Lubbers, Retail Price: $55.00, Format: Paperback, 219pp. ISBN: 0500973938. Publisher: Thames & Hudson. Pub. Date: June 1991.
The Struggle for Utopia: Rodchenko, Lissitzky, Moholy-Nagy, 1917-1946, by Victor Margolin. Format: Paperback, 251pp. ISBN: 0226505154. Publisher: University of Chicago Press. Pub. Date: March 1997.
---
URL: http://eldred.ne.mediaone.net/el/el.html
Last updated: 1999-12-02T03:57:49Z
mailto: Eldritch Press at http://eldred.ne.mediaone.net/