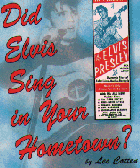 Did Elvis Sing in Your Hometown?
By, Lee Cotten
(The following excerpts from this fascinating book have been reproduced with the permission of the author, Mr. Lee Cotten)

Check out flyers from concert dates in the late 1950s from the following towns:
---
Read the whole book and see if Elvis did indeed sing in your hometown. The book contains complete coverage of over 500 shows, with pictures of posters, ads, and tickets from many of them. Available from High Sierra Books, P.O. Box 601014, Sacramento, California, 95860. The author may be reached at LEE_COTTEN@MSN.COM.
---
---
Andrea H. Berman - andrea@sunsite.unc.edu