Rouelles de Veau Bourgeoise
Veal with Pickling Onions and Mushrooms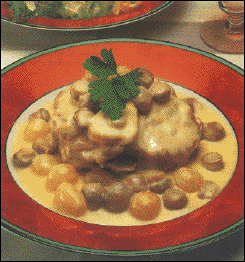 6 SERVINGS
Veal shin is rarely cooked whole in France. It is often sliced and simmered slowly before being combined with a vegetable garnish that is prepared separately to preserve individual tastes. This recipe, with its pickling onions and mushrooms, is called "bourgeoise" because the garnish and the egg yolk and cream liason or thickener, are characteristic of family-style dishes, particularly in Paris and the surrounding Ile de France.
1.5 kg (3 lb) ossi buchi (veal shin, hind cut), sawn into 6 slices each about 4 cm (1.5 inches) thick
75 g (2.5 oz) butter
30 g (1 oz) flour
1 Bouquet Garni
Salt and freshly ground pepper
30 pickling onions, peeled
1 clove
350 g (12 oz) small button or quartered large mushrooms, trimmed and cleaned
2 egg yolks
Parsley leaves, to garnish

The chef has something to tell you about liaisons
Put the veal in a large saucepan and cover with cold water. Bring the water to the boil reduce the heat and simmer for 15 minutes, skimming any impurities that rise to the surface. Remove the veal and set asite. Strain and reserve the cooking liquid.
Melt 60 g (2 oz) of the butter in a large, deep frying pan over low heat. Add the flour and whisk for 2 minutes without allowing it to colour. Whisk in 500 ml (16 fl oz) of the strained cooking liquid. Arrange the veal in the pan and add more cooking liquid as necessary to just cover the veal. Bring the liquid slowly to the boil scraping the bottom of the pan to make sure that the flour does not stick. Add the bouquet garni and season with salt and pepper. Reduce the heat cover and simmer for 45 minutes. Then stud one of the onions with the clove and add it with the other onions to the stew. Continue cooking for about 30 minutes, until the veal is tender when pierced with the point of a small knife.
While the stew is cooking, melt the remaining 15 g (0.5 oz) of butter in a medium frying pan over high heat. Add the mushrooms and cook quickly until all the moisture has evaporated. Season with salt and pepper. Add the mushrooms to the stew about 5 minutes before the end of the cooking time.
When tender, transfer the veal to a serving platter with a slotted spoon. Spoon the onions and mushrooms around it. Cover with aluminium foil to keep warm.
Whisk the egg yolks in a small bowl with a little of the hot cooking liquid. Return the mixture to the pan of cooking liquid and cook over medium heat for about 1 minute, whisking constantly, until the sauce thickens. Remove from the heat. Taste and adjust the seasoning. Pour the sauce over the veal and garnish with parsley leaves.