Pâte à Choux
Choux Pastry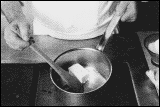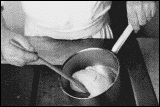 1) Combine the water, butter and salt in a saucepan and heat until the butter melts and the water boils.
2) Remove the pan from the heat and add the flour all at once.
3) Beat until a thick mixture forms. Stir over low heat until the mixture pulls away from the pan. Cool slightly.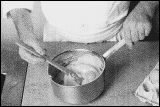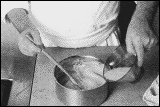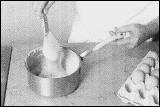 4) Beat in the first 2 eggs, one at a time, beating until thoroughly blended after each addition.
5) Then lightly beat the third egg in a small bowl and add it little by little.
6) Add just enough beaten egg for the mixture to become smooth and shiny and fall slowly from the spoon in a point.