<![if !supportEmptyParas]> <![endif]>
<![if !supportEmptyParas]> <![endif]>
<![if !vml]> <![endif]><![if !supportEmptyParas]> <![endif]>
<![if !supportEmptyParas]> <![endif]>
<![if !supportEmptyParas]> <![endif]>
<![if !supportEmptyParas]> <![endif]>
<![if !supportEmptyParas]> <![endif]>
<![if !supportEmptyParas]> <![endif]>
<![if !supportEmptyParas]> <![endif]>
<![if !supportEmptyParas]> <![endif]>
<![if !supportEmptyParas]> <![endif]>
<![if !supportEmptyParas]> <![endif]>
<![if !supportEmptyParas]> <![endif]>
<![if !supportEmptyParas]> <![endif]>
Last year I had the rare treat of sitting next to septuagenarian flute player Jack Coen, a guest at our local session. Jack was originally from Woodford, east Galway, although a resident the Bronx, N.Y., since 1948, and long a revered senior member of the New York Irish traditional music scene. He is one of a large musical family that includes brothers Anthony (fiddle) and Father Charlie Coen, noted singer and concertina player, who have also been guests at our session—all heirs to an east Galway tradition of smooth, slow and stately playing.  Jack was asked at one point in the evening if he would play a solo air, but, characteristically shy, he demurred and suggested a ceili dance tune instead, choosing a set called "The Three Tunes," which our piano player, Cyrilla, joyously launched into with him.  The set was unusual in that it is composed not of Galway tunes, nor even originally of Irish ones, but rather of a series of old English melodies, "Haste to the Wedding," "Leslie's Hornpipe," and "The German Beau."  The set was originally associated with County Antrim dancing, an area of Northern Ireland that was heavily colonized by the English some 400 years ago, and bears derivatives of such colonization throughout the local culture to this day.  What surprised me was how unchanged Jack's Irish set was from the originals, with their 'Englishness' still sounding clear. Each of the "Three Tunes" has an interesting origin in Georgian era country dancing, and the first and last may yet the subject of future articles.
The middle tune, however, "Leslie's Hornpipe," yields a rather odd and fascinating history that has to do with, of all things, the beginnings of the modern circus—seemingly about as far removed from east Galway ceili dancing as one can imagine!  In fact, there are interconnected relationships between the early circus and several still-popular and important fiddle tunes.  So, who was the un-Irish sounding 'Leslie' and what was his hornpipe?
The title "Leslie's Hornpipe" seems to be the name the melody was known by in Ireland and, through Irish sources, sometimes in America, and, not surprisingly, there was no actual 'Leslie'.  Rather, 'Leslie' is one of many corruptions of the original English title "Astley's Ride," also known as "Drumley's Ride" and "Ashley's Ride." To further confuse the issue there was another, different, melody called "Astley's Hornpipe" (also called "Ashley's Hornpipe"), and the 'Ride' and 'Hornpipe' parts of the titles seem to have been used somewhat interchangeably over the years—but it is easy enough to see where Jack's ceili dance tune title derived from.   All the titles stem from circumstances surrounding a rather remarkable 18th century personage, Philip Astley (1742-1814), who has been credited with founding the modern circus.
<![if !vml]>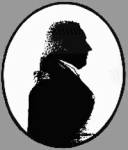 <![endif]>Born the son of a cabinet maker from Newcastle-Under-Lyme, Astley early on developed a fascination with horses. At the age of seventeen he borrowed a horse and joined the 15th Dragoons as a rough rider and horse-breaker and was soon sent across the channel with the unit to serve under the King of Prussia in Europe. Astley proved to be an independent and resourceful soldier, and acquired a reputation for bravery on and off the battlefield (he was also said to have been a sturdy six feet tall with a booming voice). He enhanced his career by saving the life of the wounded Duke of Brunswick, and when he was discharged from the cavalry in 1768 he was presented with the regimental commander's white charger, named Gibraltar, as a present.
Philip Astley
Astley was still a young man when he returned to England, and his civilian ambition was to start a riding school, although he lacked the funds to go into business directly by himself. Nevertheless, he was determined, and started by securing a position as a horse breaker with a riding school master in the fashionable resort of Islington (which featured tea gardens and other amusements that catered to the Georgian noble class). This and similar resorts provided recreation for the well-to-do and attracted many riding masters who provided public entertainment with demonstrations of skill in order to build up a clientele. It was at Islington that Astley met and married an accomplished horsewomen, whose name is known to us only as "Petsy." Luck was the vehicle for his next career move, however, when he found a diamond ring on Westminster Bridge. The item brought him £60, with which he bought a second horse, and he and Petsy began to give unlicensed open-air equestrian displays at Glover's "Halfpenny Hatch" field in Lambeth. The hat was passed among the crowd at every performance. Luck again smiled upon Astley when he helped King George III subdue a spirited horse, again near Westminster Bridge, earning the reward of a performing license.
By this time, only a year or two after his discharge from the military, Astley was in a position launch his career. He purchased land close to his lucky Westminster Bridge and constructed a roped-off enclosure that he surrounded with stands, later adding a canvas roof. For the price of admission one could sit in the stands at his "Royal Grove," as he called it, or, for a lesser fee, secure a standing space. Astley's first musical idea was to hire a drummer-boy to accompany his act, to add punctuation to his tricks, perhaps a carry-over from his military days. His main inspiration of this early period, however, was the realization that a circular ring rather than a straight list would allow his audience consistently better viewing and a more cohesive, flowing performance, and, in addition, a larger audience could be accommodated. Best of all, Astley discovered performing in a circular ring generated centrifugal force, an aspect of physical science that Astley quickly harnessed for his horseback routines. Through experimentation, he discovered the optimum diameter for the performance ring was forty-two feet.
<![if !vml]>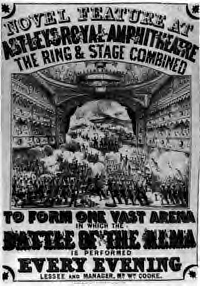 <![endif]>In 1777 Astley expanded his equestrian show to include a strongman, Signor Colpi, and by 1780 had employed two clowns by the name of Fortunelly and Burt, and a number of acrobats who performed rope-vaulting tricks. He hired other noted equestrians, Miller, Griffin and Jones, but it was Astley who remained the artistic creator and director of the show.
The title of the melody "Astley's Ride" refers to yet another innovation by this talented performer. Although he was judged to be the greatest horseman of his age, Astley was not prideful, and was able to poke fun at himself in his work. He developed a new act, a clown character, called Billy Buttons, or The Tailor's Ride to Brentford, based on a popular tale of a tailor with rather poor riding skills, who attempts to ride a horse to Brentford to vote in an election. The tailor, acting the buffoon, has difficulty in mounting, then falls off the horse when it starts up at a fast pace. The Billy Buttons act became an institution at Astley's circus (although Astley had other of his performers learn the act after a time), and indeed it survived for a century as an integral part of circus offerings. It is not known whether "Astley's Ride" was played as accompaniment to the routine, or simply a tune whose title was associated with the comic act.
Astley-associated tunes start cropping up in publications and fiddler's manuscripts in the last decades of the 18th century. "Astley's Hornpipe" titles generally predate "Astley's Ride" in printed manuscripts, showing up in a number of publications of the 1790's, including Thompson's 200 Favourite Country Dances, Vol. 5 (London, 1788), Evening Amusement (Phila., 1796), Carr's Gentleman's Amusement (Phila., 1795, 1796), and several American commonplace books for flute and violin players of around the turn of the 19th century. Samuel Bayard found a strain of "Astley's Ride" surviving in Pennsylvania fiddle/fife tradition in the early 20th century, as part of a tune he collected called "Frank Keeney." There are several different 'Astley' tunes that have survived, and it is likely that they were played at circus performances at various times, or were otherwise associated with the showman.
<![if !vml]>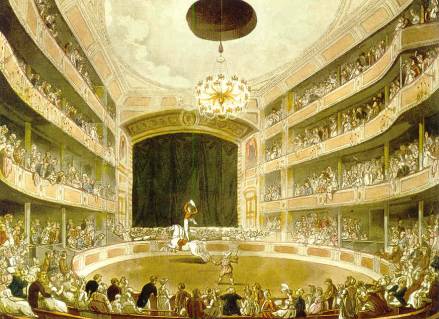 <![endif]>Astley's luck did stumble at times. His Royal Grove burned in 1794, was rebuilt (as Astley's Royal Amphitheater) and burned again in 1803, followed by yet another rebuilding. In 1782 a former member of Astley's company, Charles Hughes, struck out on his own with his "Royal Circus," much to the discomfort of his old employer, but, undeterred, Astley at the same time opened a venue in Paris for his brand of entertainment.
<![if !supportEmptyParas]> <![endif]>
<![if !supportEmptyParas]> <![endif]>
Astley's Amphitheatre
<![if !supportEmptyParas]> <![endif]>
<![if !supportEmptyParas]> <![endif]>
<![if !supportEmptyParas]> <![endif]>
The scene now shifts to the aforementioned competitor Hughes, who learned his horse riding and entertaining trade with Astley. Hughes also became a successful circus promoter, and in turn established a reputation of his own for his ability to train first-class trick riders. Among his many protégés was a Scotsman by the name of John Bill Ricketts, who leant his name to one of the most famous hornpipes of all, particularly in America, and to whom our story now turns.
            John Bill was to the North American circus what Astley had been to England's. After working for Hughes and developing his craft in London the 1780's (where he became an accomplished horseman and performer), Ricketts transported across the Atlantic and, in 1792, established himself in Philadelphia, Pa.  Erecting a building in that city, he began a riding school where he started by training a group of local horses. By the spring of the next year he was ready to give exhibitions several times a week.  Early advertisements touted an equestrian exhibition in a ring at Ricketts' Circus, and, taking a page from the English circuses, he soon sought to increase his draw by featuring clowns, comic dancers and acrobats, and a rope walker. His first clown was a man named McDonald, and he hired Sig. and Mme. Spinacuta, a tight rope walker and an equestrienne, respectively. Typically, performances alternated with equestrian instruction, each stand lasting from three or four days to several months. A handbill from May 15th, 1793, reads:
                        This day, at the Circus in Market, the corner of Twelfth
                        Streets.  The doors will be opened at 4, and the Performance
                        begin at , precisely Will be Performed—
                        A Great variety of EQUESTRIAN EXERCISES, By Mr. &
                        Master Ricketts, Master Strobach and Mr. McDonald, who is
                        just arrived from Europe.
                        In the course of the Entertainment, Mr. Ricketts will introduce
                        several New Feats, particularly he will ride with his Knees on
                        the Saddle, they Horse in full speed; and from this position
                        leap over a Ribbon extended 12 feet high.
                        Mr. Ricketts, on a single Horse, will throw up 4 Oranges, playing
                        them in the Air, the Horse in full speed.
                        Mr. McDonald will perform several COMIC FEATS (Being his
                        First Appearance in America).
                        Seignior Spiracota will exhibit many Surprizing Feats on the
                        Tight Rope.
                        The whole to conclude with Mr. Ricketts and his Pupil in the
                        Attitudes of two Flying Mercuries; the Boy pois'd on one
                        Foot on Mr. Ricetts' Shoulder, whilst Mr. Ricketts stands in
                        the same Manner with one Foot on the Saddle, the Horse being
                        in full speed.
                        Those Ladies and Gentlemen who wish to embrace the present
                        Opportunity of seeing the Exercises of the Circus, are respectfully
                        informed, that Mr. Ricketts intends closing it for the Season within
                        three Weeks from the present Time, as he is about to take a Tour to
                        some other Parts of the Continent.
                        Tickets sold at Mr. Bradford's Book Store, Front street, and at the
                        Circus.  Box 7/6—PIT 3/9. (1)
            As can be seen, the equestrian acts were the heart of the circus. Similar to Philip Astley's London-based circus, Ricketts included comic acts on horseback, and he himself also astounded audiences by dancing a hornpipe on the back of a galloping horse, somersaulting backward on horseback, and leaping from the speeding animal and remounting in the same spring to face the horse's tail (2)
Increasingly successful, Ricketts expanded his venues through the 1790's to include New York City, Charleston, Boston, Hartford, Albany, Lancaster and Montreal, each one housed in a temporary building. Ricketts' circus was given an initial boost by the attendance of a noted riding enthusiast, George Washington, who patronized the exhibition when it first opened, on April 22, 1793 (note that Philadelphia was the country's capital at the time).  He must have enjoyed the spectacle for the first President again patronized the circus in January, 1797.  There some speculative reports that Ricketts was even a distant cousin of Washington's. LaVahn G. Hoh and William H. Rough, in their book Step Right Up: The Adventures of Circus in America (1990), claim "The two men later went on recreational rides together and soon became good friends, sharing among other things their uncommon love of horses. In fact, Washington ultimately sold his favorite white charger, Old Jack, to Ricketts for $150, for display at his circus." (3)
A more permanent structure for the circus was erected by John Bill in 1795, called the "New Ampitheatre," which incorporated both a riding ring and a stage. Located on Chestnut Street, just behind the famous Independence Hall, the building was a round wooden structure that may have had a canvas roof (4).  Additional acts were added: a Master Long, a popular clown named Mr. Sully, John Durang (of whom more below), and various other acrobats, riders and rope walkers. At this time also, Ricketts' younger brother Francis was a member of the company.
An unfinished portrait of Ricketts by the famous American painter Gilbert Stuart (1755-1828) resides in the National Gallery of Art in Washington D.C., and it has been suggested that the artist and the equestrian met in Dublin, prior to each of them coming to America. The portrait is incomplete as Stuart evidently became impatient with the sitter, yet Rickett's head appears finished, and there is a sketch of a horse with Rickett's hand around its muzzle.
<![if !supportEmptyParas]> <![endif]>
Unfortunately, neither Ricketts nor his circus survived long into the 19th century. There were several rivals, of course—Nathaniel Lee opened a theatre just across the street from Ricketts, and featured America's first elephant. Both Francis and John Bill had to supplement the circus draw by producing (and sometimes acting in) more mainstream theatrical productions to help ends meet. In December, 1799, just before the turn of the new century, John Bill's Philadelphia amphitheater burned to the ground, and, further misfortune, his Greenwich Street amphitheater was likewise destroyed at about the same time. Desperate financial straits ensued, and, after a few attempts to restart a touring show, Ricketts threw in the towel. His friend Durang recalled Ricketts was "out of heart at doing business in the bodge way." (5)  Ricketts and many of this company determined to remove to the West Indies to try their luck with the circus among the rich plantation communities there.  Fortune, however, seemed to entirely have deserted him, for Ricketts was captured and held for a time by French privateers, and although he was rescued, several of his company soon died from the endemic fevers which plagued the islands. His brother Francis married a native girl, but was incarcerated for deserting her. Ricketts had enough. He decided to retire, sell off his remaining assets and to return to England.  On the voyage home his ship was wrecked, and the impresario drowned with everyone on board. Hoh and Rough (1990) report that Francis was eventually released and returned to America, where he related what had befallen his brother and the company. He returned to performing and was recorded to have been a clown with the Boston Circus in 1810.
            "Ricketts'" is one of the few original hornpipes to survive relatively intact in American tradition that are actually played as hornpipes (although un-dotted note renditions are also heard).  Although it may have always been more popular in the Northern states where it was frequently published in dance tune collections, it was also fairly common in the South, and has been collected in the Ozarks, Mississippi (as "Raker's Hornpipe"), Alabama and Kentucky. A version was even recorded on 78 RPM by the Irish-American group Dan Sullivan's Shamrock Band. "Ricketts" proved a popular enough tune to be transported back to England, where it appears in publications and fiddlers' manuscripts as "Manchester Hornpipe" "The New College Hornpipe," "The One-Eyed Fiddler," and, in southern England, as "Pigeon on the Gate" and "We'll Sit Upon the Gate."  Like Astley-named melodies, Ricketts-tune names ("Ricketts' Ride," "Ricketts' Hornpipe," "Ricketts' Quickstep" etc.)  appear in many American fiddlers' manuscripts throughout the 1790's and early 1800's as well as early American dance music publications, and continue to be present in the literature throughout the 19th century and into the 20th.  English versions do not appear prior to the mid-19th century.
            In seeking to present new and attractive acts for his patrons, John Bill was constantly on the lookout for talent.  In addition to the aforementioned acrobats and clowns, one talent he hired was a dancer and thespian named John Durang, whose name is attached to a hornpipe that rivals Ricketts' in popularity among fiddlers.  Durang was born in York, Pennsylania, in 1768, and was the first native-born American to win widespread recognition as a theatrical dancer.  In fact, the versatile Durang also was at various times a dancer, singer, mime, tightrope walker, puppeteer, scene painter, manager, and an actor (4). He made his debut in Philadelphia in 1784 with Lewis Hallam's company at the Southwark Theatre, and his hornpipe dancing seems to have been an immediate success, perhaps because audiences appreciated a native-born American performer in what was a largely English company in the years just after the American Revolution. Durang toured with Hallam for seven years, performing as Scaramouche in a harlequinade called The Touchstone, while dancing and playing other roles.  In the 1790's a host of European-trained dancers appeared on American stages, and Durang's reputation was pressed, but he reinvented himself, and in 1794 danced an Indian Dance in an opera called Tammany, based on the famous Native American chief.  Also in 1794 he performed on the slack wire and choreographed pantomimes.  It was this last talent that brought him to the attention of John Bill Ricketts, who hired Durang to produce pantomimes as part of his circus, and the dancer performed in Ricketts' Philadelphia and New York venues from 1796 to December, 1799. When Ricketts closed his shows, Durang returned to the Southwark Theatre and became a partner. From 1800 to 1819 he acted, produced and directed theater in Philadelphia during the winter, while touring with his own company to outlying areas in the summer. He retired from the stage in 1819 and died in Philadelphia in March, 1822 (5).
            For much of his career his hornpipe dancing was both his and his audience's favorite.  He boasted in his memoirs that, around 1790, he danced "a Hornpipe on thirteen eggs blindfolded without breaking one." Durang is also credited with popularizing the nautical-style hornpipe dance that is still thought of as the 'Sailor's Hornpipe'.  It is the hornpipe that bears his name for which fiddlers remember him, however, and, according to his memoirs it was composed specifically for him by one "Mr. Hoffmaster, a German Dwarf, in New York, 1785." Durang had taken violin lessons from Hoffmaster, who was all of three feet in height and who was married to a wife of similar stature.  Hoffmaster had "a large head, hands and feet," yet must have been an accomplished musician. The hornpipe became famous in his own time, for Durang noted (again, in his memoirs) that it was written "expressly for me, which is become well known in America, for I have since heard it play'd the other side of (Pennsylvania's) Blue Mountains as well as in the cities." (6)  The original appears below, as given by Durang. Professor Samuel Bayard was of the opinion that the 'folk process' had been kind to the tune over the years, honing the rather banal original into a rather more distinctive and powerful piece.
            A final connection with the early circus—The tune "Acrobat's Hornpipe" appears in Ryan's Mammoth Collection (1883), but has some 20th century currency under that title in the repertoires of such varied fiddlers as Winston Fitzgerald of Cape Breton and Irish fiddler Martin Mulvihill in the Bronx.  It was based on a tune called the "Nightengale Clog," one variant of a large tune family (also set as a clog, breakdown, schottische, etc.). The 'Acrobat' title came through its adaptation by 19th century circus entrepreneur P.T. Barnum, for use in his shows, presumably as accompaniment to acrobatic acts.  It is however, one of the more widely disseminated tune families in North America—some of the many variants of the tune family in just Old-Time tradition include West Virginian Burl Hammond's banjo piece "Wilson's Clog," Kentucky great Ed Haley's "Parkersburg Landing," North Carolinian Lauchlin Shaw's "Rustic Dance," Tennessee fiddler Arthur Smith's "Peacock Rag" and Mississippi duo Narmour and Smith's "Limber Neck Blues"—truly a large, varied and vibrant tune family. 
Andrew Kuntz 12/15/03.  Revised 08/12/05.
8 Veatch Street
Wappingers Falls, NY 12590
aikuntz@optonline.net
Notes: 
1-3. Hoh, LaVahn G. & Rough, William H.  Step Right Up: The Adventures of Circus in America (Chapter III. New World Roots). White Hall, Virginia: Betterway Publications, Inc. 1990.
4-6. Downer, Alan S., ed.; The Memoir of John Durang. Historical Society of York County/American Society for Theatre Research by University of Pittsburg Press. 1966
X:1
T:Leslie's Hornpipe
M:C|
L:1/8
K:D
A2|d2 d2 d2 cd|e2 e2 e2 fe|dcBA B2 c2|defg agfe| d2 d2 d2 cd|e2 e2 e2 fe|
dcBA B2 c2|d4 d2::A2|f2 f2 f2 df|g2 g2 g2 ag|e2 e2 e2 de| f2 f2 fgaf|
d2 d2 d2 cd|e2 e2 e2 fe|dcBA B2 c2|d4 d2:|
X:1
T:Astley's Ride
M:2/4
L:1/8
K:D
|: (a/f/) | dd dc/d/ | ee e(f/e/) | d/c/B/A/ Bc | d/e/f/g/ a/g/f/e/ | dd d(c/d/) |
ee e(f/e/) | d/c/B/A/ Bc | (d2 d) :: A | ff f(e/f/) | gg g(b/g/) | ee e(d/e/) |
ff f/g/a/f/ | dd dc/d/ | ee ef/e/ | d/c/B/A/ Bc | (d2 d) :|
X:1
R:Rickett's Hornpipe
M:2/4
L:1/8
S:Elias Howe – Diamond School for the Violin (c. 1861)
K:D
(3A/B/c/ | d/c/d/A/ F/A/d/f/ |e/d/c/B/ .A.g | .f/g/a/f/ g/f/e/d/ | e/d/c/B/ A/g/f/e |
d/c/d/A/ F/A/d/f/ | e/d/c/B/ .A.g | f/a/f/d/ e/g/e/c/ | ddd :|
|: .f/.g/ | a/f/a/f/ .d(g/a/) | b/g/b/g/ .e(f/g/) | a/f/b/a/ g/f/e/d/ | e/d/c/B/ A/g/f/e/ |
d/c/d/A/ F/A/d/f/ | e/d/c/B/ .A.g | f/a/f/d/ e/g/e/c/ | ddd :|
X:1
T:Durang's Hornpipe
M:C
L:1/8
S:The 1785 original, from John Durang's memoirs
K:D
DAFA DAFA | BcdB BAGF | DAFA DAFA | BGED DCB,A, |
DAFA DAFA | BcdB BAGF | fgaf gedc | d2d2d2 z2 :: fgaf ecBA |
BcdB BAGF | B2B2 BAGF | GEed dcBA | A^GAB cBcd |
e^def e^gaf | e^gbf edcB | A^GAB A=GFE :|