<![if !vml]>

<![endif]>
               "The Contradiction" is a four-part reel that is more two centuries old and which features a fascinating musical weaving between four countries: Ireland, Great Britain, America and Canada. Surprisingly, the melody has maintained currency into modern times, especially among both Irish and Cape Breton musicians who happened upon it independently, and it has a recording history of nearly 80 years between the genres. At the beginning of the 78 RPM era the great Sligo-born fiddler Michael Coleman waxed a version in New York in 1922 with fiddler Tom Gannon (as part of a medley that features only the title of the first tune, "The Prohibition"). In more recent times "The Contradiction" has been heard on the works of such Irish music luminaries as flutist Matt Molloy (Heathery Breeze, 1999), the groups Solas (Words that Remain, 1998) and Craobh Rua (The More That's Said the Less the Better, 1992), and accordion players Joe Burke (Traditional Music of Ireland, 1973) and Joe Derrane (Give Us Another, 1994). The collector Brendan Breathnach printed an untitled 1966 setting from Sligo fiddler Willie Coleman in his Ceol Rince na hÉireann (No. 135, vol. II, 1976). Cape Breton musicians who played the tune included the influential older fiddlers Angus Chisholm, Dan R. MacDonald and Winston Fitzgerald, and more recently the melody can be heard on recordings of Ashley MacIsaac (Fiddle Music 101, 2001) and Joe Cormier (Old Time Wedding Reels, 1992). A Cape Breton version appears in print in Paul Cranford's Brenda Stubbert's Collection of Fiddle Tunes (1994). 
               Since the beginning of the 20th century the tune has been held by many fiddlers in both traditions to be a mark of the skilled player, particularly in the ease and accuracy with one manages the third part, where position shifts are required. This story was communicated by accordion player Jim Coogan, who well remembers the hey-day of the Bronx Irish musicians:
               Jimmy Kelly was present in his father's Brookside Inn when a fiddler
               (of not the greatest repute) announced to [Bronx fiddler] Johnny Cronin
    -- "I just learned this 4- part reel in O'Niell's book;  it is called the   
  Contradiction -- listen to it -- which John did and when it was played –
  Johnny smiled, looked at the man and said: "The Contradiction? – the
  way oo play it - ye should call it the Crucifixion!!"
            How did this dual-tradition popularity come about? Irish sources ultimately derive from Chicago Police Captain Francis O'Neill's (1848-1936) collection Music of Ireland (1903), and this is in fact the first appearance of the tune under the title "The Contradiction." (Police) Sergeant James O'Neill (1863-1949), a fiddler originally from County Down (no relation of the Munster-born Francis O'Neill), is credited as the source in the volume, on which James had tirelessly worked for the older Francis as a collaborator. It is not known where James O'Neill obtained the piece, or where he might have picked up the name "Contradiction" for the melody, but James learned a core repertoire of Ulster melodies from his father, a fiddler and compiler of music manuscripts, which the younger O'Neill inherited. Did James get it from his father? Francis O'Neill seems to suggest this is so, for he later penned "it was found in Sergt. James O'Neill's manuscripts" which seems to indicate it was not part of their own collecting work in Chicago. However, ultimately the good Captain was well-aware that the tune did not have an Irish provenance, for in one of his last works, Waifs and Strays of Gaelic Melody (1922), he identified "The Contradiction" as an elaboration of a tune called "Miss Gunning's Delight," and printed the version of the latter found in Aird's collection for comparison.
While O'Neill obtained most of his tunes from Irish expatriates living in Chicago, many of his tunes came from older manuscripts—for example, many of his airs are direct from the earlier works of Bunting and Joyce, and a few seem to have been culled from Ryan's Mammoth Collection of 1050 Reels and Jigs, published in by Howe in Boston in 1883 (and more familiar to us under its modern title Cole's 1001 Fiddle Tunes).  Therein "The Contradiction" appears under the title "Miss Gunning's Fancy Reel" in a nearly identical four-part setting. In fact, it is so close that one can argue that the O'Neill's sourced the tune from Ryan's, or at the very least from a musician who had learned the tune from Ryan's. Why the name might have been changed to "The Contradiction" remains a mystery.
Working backward, where did publisher Howe obtain his version of "Miss Gunning's Fancy Reel"?  Again, this is not known, although it is more than likely Howe obtained it from Scottish sources, where it appeared in print 130 years prior to Irish versions. Kerr printed the same four-part tune and title "Miss Gunnings Fancy Reel" in his Merry Melodies, a collection that appeared at about the same time as Ryan's Mammoth (the actual dates of the Kerr collections are somewhat in dispute). The four-part tune first appears in the Howe/Kerr collections, however, three-part versions of a less elaborate "Miss Gunning's" appear in Scottish publications of a century earlier. Borders- region publisher James Aird included it in his Selection of Scotch, English, Irish and Foreign Airs, (Vol.1, 1782) as did Scots bandleader "King" McGlashan in his Collection of Reels (1786). Brendan Breathnach thought "Miss Gunning's" was the creation of renowned strathspey composer William Marshall (1748-1833), an opinion apparently based on the fact that Marshall's publisher had included "Miss Gunning's" as a filler tune on a music sheet printed in 1800 called the Kinrara Collection. Interestingly, Cape Breton fiddlers were aware of both three and four-part versions but in the 20th century  preferred the more complicated four-part setting in O'Neill for their repertoire, and thus the melody is known primarily as "The Contradiction" on that island. Interestingly, the tune as "Miss Gunning's Rant" appears in the late 19th century manuscript of Stephen Grier, a musician from County Leitrim. This establishes that the melody was current with at least one musician in the northern part of Ireland at a time concurrent with James O'Neill's father.
But is "Miss Gunning's" a Scots tune? It apparently was popular in Scotland during the later 18th century and beyond, however, working backwards again, it appears that still earlier printings establish an English provenance. William Vickers, a Northumbrian publisher, it in his Great Northern Tunebook (1770), but even earlier printings appear in collections from London.  The very earliest publications of the tune "Miss Gunning's" appear in Thompson's 1st Collection of 200 Country Dances, printed around the year 1758 (reprinted around 1764 and again around 1780), D. Rutherford's 1st Collection of 200 Country Dances (c. 1756), and finally J. Johnson's 6th Volume of 200 Country Dances (c. 1751). There is even a historical basis for the title of the tune at that time in England's capital city.
It turns out that there were actually two Miss Gunnings—sisters Maria (1732-1760) and Elizabeth (1734-1790), who in the early 1750's became the toast of London and whose rags-to-riches story that captured the imagination of Georgian-era Britain. They were the daughters of John and Bridget Gunning of Castle Coote, County Roscommon, the grand-daughters of Theobald Burke, 6th Viscount Mayo, on their mother's side. Interestingly, the girls were the great-great-great granddaughters of the female Irish pirate Grace O'Malley, one of the few men or women who successfully stood up to Queen Elizabeth I, and a grand story in itself. However, the Irish family had fallen on very hard times, especially when the girls were young, and as they grew they dreamed of taking to the stage. Even when young they were known as 'the handsomest women alive', blessed with wit and grace, and it was said their fine complexions came from taking the waters of St. Brigid's Well at St. Brigid's Church in Roscommon. When they were first presented to the Lord Lieutenant, at Dublin Castle, a kindly woman named Peg Woffington had to lend them the clothes in which to appear.
<![if !vml]>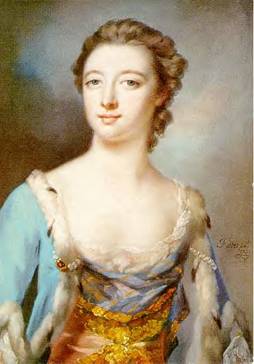 <![endif]>
Elizabeth Gunning
Instead of a career on the stage, however, they traveled to London, where they soon became as renowned there as they had been in Ireland. During the Gunnings' hey-day in the early 1750's, high and low, rich and poor, worshipped at the shrines of these Venuses. They were mobbed at their doors by the multitude eager to catch a sight of them and crowds would descend upon London theaters at the rumor that the sisters would attend that night. Within one year of their arrival they skillfully parlayed their celebrated beauty into marriages to the most eligible and noble bachelors in Britain. Maria married an earl in 1752 and became Lady Coventry, while Elizabeth followed with a wedding a month after her older sister Maria, and became the Duchess of Hamilton. Not only were the marriages social coups for the once-destitute sisters, but they both re-established their fortunes as their husbands were counted among the richest families in the country. The fame of these matches was such that in Ireland, according to Horace Walpole, a common blessing of the beggar-women was:-" May the luck of the Gunnings attend you !" One London gossip wrote in a letter (with all the fervor of a romance novel):
                Elizabeth Gunning
                                                                                                                                                       The event that has made most noise since my last is the extempore wedding
of the youngest of the two Gunnings, two ladies of surpassing loveliness, named
respectively Mary and Elizabeth…whom Mrs. Montague calls "those goddesses
 the Gunnings." Lord Coventry, a grave young lord, of the remains of the patriot breed,
has long dangled after the eldest, virtuously, with regard to her honour, not very
honourably with regard to his own credit. About six weeks ago Duke Hamilton,
the very reverse of the earl, hot, debauched, extravagant, and equally damaged
in his fortune and person, fell in love with the youngest at the masquerade, and
determined to marry her in the spring. About a fortnight since, at an immense
assembly at my Lord Chesterfield's, made to show the house, which is really
most magnificent, Duke Hamilton made violent love at one end of the room,
while he was playing at Faro at the other end; that is, he saw neither the bank
nor his own cards, which were of three hundred pounds each: he soon lost a
thousand. I own I was so little a professor in love that I thought all this
parade looked ill for the poor girl; and could not conceive, if he was so
much engaged with his mistress as to disregard such sums, why he played
at all. However, two nights afterwards, being left alone with her, while her
mother and sister were at Bedford House, he found himself so impatient
that he sent for a parson. The Doctor refused to perform the ceremony
without license or ring; the Duke swore he would send for the archbishop;
at last they were married with a ring of the BED-CURTAIN, at half-an-hour
after twelve at night, at May-fair Chapel.
<![if !vml]>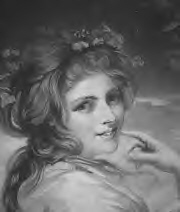 <![endif]>Alas, beauty has its price. The prevailing fashion of the period demanded white skins and red rouged cheeks, and lead was used as the basis of many cosmetics. The noxious effect of the lead caused skin eruptions, which encouraged ladies to powder their skins ever more vigorously to mask these unsightly blemishes. Several ladies of fashion thus poisoned themselves, the most famous of whom was Maria, who died in 1760 at the age of 28.
<![if !supportEmptyParas]> <![endif]>
A Bachante.  John Rafael Smith, after Joshua Reynolds
Thought to be based on Elizabeth Gunning
<![if !supportEmptyParas]> <![endif]>
<![if !supportEmptyParas]> <![endif]>
<![if !supportEmptyParas]> <![endif]>
<![if !supportEmptyParas]> <![endif]>
<![if !vml]>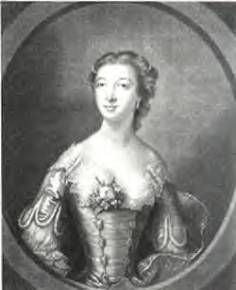 <![endif]>Elizabeth fared rather better. Her first husband died within several years of their marriage, and Elizabeth then wedded John, the fifth Duke of Argyll, in 1759, assuming the dual title of Duchess of Hamilton and Argyll. She became a celebrated socialite in Scotland, and the couple remained married until her death in 1790. Both Duke and Duchess were subscribers to Robert Burns Poems, although the poet became famously annoyed at the couple. Burns arrived at Inverary, Scotland, in June 1787, when it happened that the Duke of Argyll had a large house party. The inn-keeper was too busy attending to the Duke's guests to have time for passing travelers. Burns is supposed to have scrawled his 'On Incivility shown him at Inverary' on one of the inn windows:
"Whoe'er he be that sojourns here,
I pity much his case —
Unless he come to wait upon
The Lord their God, "His Grace...."
                                                                                                                                Elizabeth Dutchess of Hamilton c. 1752,
                                                                                                                                                                           Richard Houston
<![if !supportEmptyParas]> <![endif]>
It has been a long journey for a fine melody. Created to honor to figures of popular London fashion (see Thompson's 1758 version below), the tune worked its way northward through Britain propelled by Elizabeth Gunning's influence until it became ensconced in Scottish dance tradition (see McGlashan's elaboration in 1786). From there it was exported to Ireland and to America, where it re-emerged in the latter country in a famous compendium of Irish tunes with a new title and an even more elaborate setting (see "The Contradiction" below). Finally, the tune in its Irish setting worked its way northward in the new continent to be taken up again by descendants of Scotsmen who found it more compelling than the older versions from their fathers' homeland.
(The author wishes to acknowledge the kind assistance of Bruce Olson, Henrik Norbeck, Nigel Gatherer, Jim Coogan and Philippe Varlet in the preparation of this article).
01/21/02
Andrew Kuntz
8 Veatch St.
Wappingers Falls, NY 12590
aikuntz@optonline.net
X:1
T:Miss Gunning's
S:Thompson's 1st coll'n of 200 country dances
S:via c 1780 reissue of c 1758 collection
M:C|
L:1/8
Z:Transcribed by Bruce Olson
K:A
c2BA (G/A/B) ED|CEAc BE E2|c2BG G/A/B Ed|(c/d/e) EB|cAA2::\
aAaA aAA2|(G/A/B) "tr"B2 (G/A/B) "tr"B2|aAaA aAA2|c2BA EAA2::\
ce"tr"fe ce"tr"fe|fedc BE "tr"E2|(ce)"tr"fe ce"tr"fe|\
fefg aAA2:|]
X:2
T:Miss Gunning's Reel
M:C|
L:1/8
S:McGlashan – Reels  
Z:AK/Fiddler's Companion
K:A
e|(dc)(BA) (G/A/B) (.E.D) | CEAc BEEe | (dc)(BA) (G/A/B) (.E.d) | (c/d/e) Bd c>AA>e |
(dc)(BA) (G/A/B) (.E.D) | CEAc BEEe | (.d.c.B.A. G.F.E.D) | CEAd cA A || e |
aAaA aA (d/c/B/A/) | GB "tr"(BA/B/) GB "tr"(BA/B/) |
aAaA aA d/c/B/A/ | (c/d/e) (Bd) cAAe | aAaA aA (d/c/B/A/) |
GB "tr"(BA/B/) GB "tr"(BA/B/) | .e(cBA) .a(cBA) | (c/d/e) (Bd) cA A ||
|: e | dcBA G/A/B/G/ .E.D | CEAc B/A/G/F/ Ee | (dc)(BA) G/A/B/G/ Ed |
c/d/e/c/ B/c/d/B/ cA A :: e | cefe cefe | fedc BEEe | cefe cefe | fefg aA A :|
X:3
T:Contradiction Reel, The
R:reel
D:Matt Molloy: Heathery Breeze
Z:id:hn-reel-167
Z:transcribed by henrik.norbeck@mailbox.swipnet.se
M:C|
K:A
c2cA BE~E2|GABc dfed|c2cA GABc|1 defg afed:|2 defg ~a3z||
|:aA~A2 aAcA|GBEB GBE2|1 aA~A2 aAcA|GBEB cA~A2:|2 agfe fedc|Begb ~a3z||
|:aec'e aec'e|bed'e bed'e|c'ee'e c'ee'e|d'bc'a ea~a2:|
|:ce~e2 cefe|d2cA Be~e2|1 cefe cefe|fege ~a3z:|2 cBce ~f3a|(3gab eg ~a3z||