Feature of the Month
August 28 New Exhibit Love & War: The History of Wartime Weddings
August 28, 2010 until March 6, 2011
Come see a New Exhibit – Love & War: The History of Wartime Weddings, which opens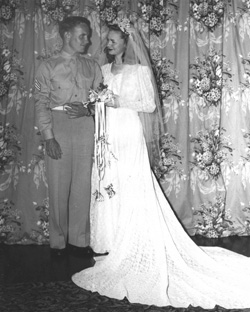 August 28, 2010 and runs until March 6, 2011 at the Gaston County Museum.
This exhibit will feature an exciting collection of wedding dresses, photographs, military uniforms, and weapons that span from the Revolutionary War to the Iraq War. Visitors will learn how wedding traditions and fashions have changed over the years and how war has affected these changes.
Read local stories of couples who have experienced marriage during wartime, test your knowledge of wartime facts, and even dress up in military uniforms and load your pack as if going to war. This fun and interactive exhibit will help you explore the compelling connection between love and war.