Thanks for all the yesterdays / Tennessee hound dog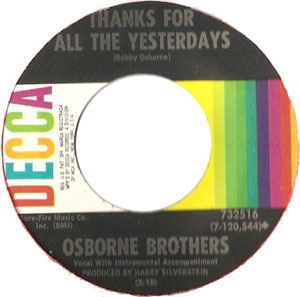 Song Information:
Expand All
A.
Thanks for all the yesterdays
Recording Date:
1968-06-20
Composer:
Bobby Osborne
Place:
Bradley's Barn, Mt. Juliet, TN
Master:
15173 / 120544
Instruments:
Sonny Osborne-5-string dobro; Bob Osborne-m; Ray Edenton-g; Grady Martin-electric g; Dale Sledd-g; Hal Rugg-steel g; Lightnin' Chance-bs; Willie Ackerman-drums; Pig Robbins-piano
Vocals:
B. Osborne-L/T; S. Osborne-H; D. Sledd-H
B.
Tennessee hound dog
2:33
Recording Date:
1969-04-24
Composer:
Boudleaux & Felice Bryant
Place:
Bradley's Barn, Mt. Juliet, TN
Master:
15582 / 121566
Instruments:
Sonny Osborne-bj; Bob Osborne-m; Dale Sledd-g; Ray Edenton-g; Grady Martin-g; Leon Rhodes-electric g; Hal Rugg-steel g; Ronnie Reno-bs; Willie Ackerman-drums; Pig Robbins-piano
Vocals:
B. Osborne-L; S. Osborne-H; D. Sledd-H