Each season changes you / Please help me to be wrong
Label:
Hickory
45 1035
Release Date:
1955-09
Format:
45
Country:
United States
45cat.com ID:
nc131267us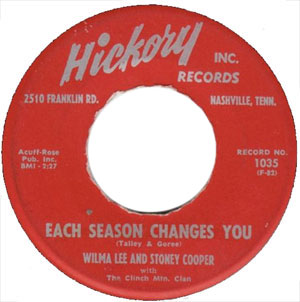 Song Information:
Expand All
A.
Each season changes you
2:27
Recording Date:
1955-05-24
Composer:
Talley-Goree
Place:
Hickory Studio, Nashville, TN
Master:
82-2
Instruments:
Wilma Lee Cooper-g; Stoney Cooper-f; James Edward 'Eddie' Hill-g; Chester B. 'Chet' Atkins-electric g; Thomas Lee 'Tommy' Jackson-f; Ernest 'Ernie' Newton-sb; Jimmy Crawford-steel guitar; Robert Lee 'Bob' Foster-steel g
Vocals:
W. L. Cooper-L; S. Cooper-B
B.
Please help me to be wrong
2:24
Recording Date:
1955-05-24
Composer:
Miller-Guillot
Place:
Hickory Studio, Nashville, TN
Master:
85-4
Instruments:
Wilma Lee Cooper-g; Stoney Cooper-f; James Edward 'Eddie' Hill-g; Chester B. 'Chet' Atkins-electric g; Thomas Lee 'Tommy' Jackson-f; Ernest 'Ernie' Newton-sb; Jimmy Crawford-steel guitar; Robert Lee 'Bob' Foster-steel g
Vocals:
W. L. Cooper-L