Prime cuts of bluegrass. Vol. 43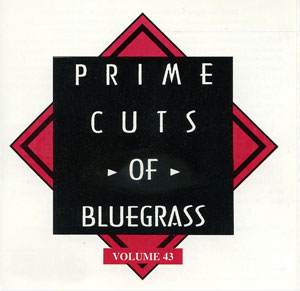 Song Information:
Expand All
1.
Bluegrass signal
John Reischman
2:49
Composer:
John Reischman; Badger Blue Music, BMI
Instruments:
John Reischman-m; Jim Nunally-g; Nick Hornbuckle-bj; Gabe Witcher-f; Rob Ickes-db; Todd Phillips-sb
2.
What more do you need?
Cumberland Highlanders
3:28
Composer:
Russell Wilson; Black Mountain Publishing, BMI
Instruments:
Curnie Lee Wilson-g; Campbell Mercer-m; Tater Tate-sb; Billy Rose-bj; Jimmy Campbell-f
Vocals:
Russell Wilson-LV/TC; Curnie Lee Wilson-LC; Campbell Mercer-B
3.
Just another hill
Easter Brothers
3:44
Composer:
Russell Easter-James Easter-Edd Easter; EBEA Publi
Instruments:
Bryan Sutton-g; Sammy Shelor-bj; Aubrey Haynie-f/m; Mark Fain-sb
Vocals:
Edd Easter-L/H; Russell Easter-L/H; James Easter-L/H; Rex Nelon-BS
4.
Oddest sights
Fred E. Smith
1:24
Vocals:
Fred E. Smith-comedy
5.
Still love Friday
Molasses Creek
3:04
Composer:
Gary Mitchell; BMI
Instruments:
Gary Mitchell-g; David Tweedie-f; Louis Allen-harmonica; Stan Brown-bj; Brent Truitt-m; Dennis Crouch-sb
Vocals:
Gary Mitchell-L; David Tweedie-T; Louis Allen-B
6.
It's raining in the valley
Tylers
2:38
Composer:
Dee Ann Tyler-Kathleen L. Tyler; Tylertoons Publis
Instruments:
Peter McLaughlin-g; Bobby Anderson-bj; Billy Parker-m; Peggy Peterson-db; Evan Daine-bs
Vocals:
Joe Tyler-L; Kathy Tyler-H; Dee Tyler-H
7.
Heartmender
New Road
2:40
Composer:
Mona Ramsey; Eastern V, BMI
Instruments:
Mark Ramsey-m; Randall Massengill-g; Stuart Wyrick-bj; Jeff Tolbert-f; Vic Graves-db; Scott Payne-bs
Vocals:
Mark Ramsey-L; Randall Massengill-T; Stuart Wyrick-B
8.
Wings of a white dove
Clint Miller & the Del McCoury Band
3:32
Composer:
Clint Miller; Clint Miller Publishing, BMI
Instruments:
Clint Miller-g; Terry Eldredge-g; Ronnie McCoury-m; Jason Carter-f; Mike Bub-sb
Vocals:
Clint Miller-L
9.
So fine
The Lewis Family
3:19
Composer:
Wayne Haun-Joel Lindsey; Christian Taylor Music/Pa
Instruments:
Little Roy Lewis-bj; Lewis Phillips-bj; Bruce Watkins-g/m; Buddy Spicher-f; Travis Lewis-sb; Hargus "Pig" Robbins-piano; Jim White-percussion
Vocals:
Little Roy Lewis-L; Miggie Lewis-H; Pop Lewis-H; Janice Phillips-S; Polly Copsey-A
10.
Long, long drive
The Abeels
3:13
Composer:
Charity Zerull-Jack Abeel; Abeel Publishing, BMI
Instruments:
Jack Abeel-g; Anne Abeel-sb; Amanda McDaniel-rhythm g; Eddie Adcock-bj; Ron Stewart-f; Pete Smith-db
Vocals:
Charity Zerull-L; Jack Abeel-H; Anne Abeel-H; Amanda McDaniel-H
11.
Hound dog
Fred E. Smith
0:58
Vocals:
Fred E. Smith-comedy
12.
The Stanley's will sing again
Ralph Stanley with the Cumberland Highlanders
4:42
Composer:
Russell Wilson; Black Mountain Publishing, BMI
Instruments:
Curnie Lee Wilson-g; Wayne Lewis-g; Travis Brown-bj; Jimmy Campbell-f; Campbell Mercer-m; Billy Rose-bs
Vocals:
Russell Wilson-L; Ralph Stanley-T; Julie Ann Mercer-HB