My little home in Tennessee / I haven't got the right to love you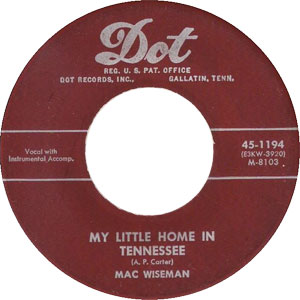 Song Information:
Expand All
A.
My little home in Tennessee
2:13
Recording Date:
1953-04
Composer:
Carson J. Robison
Place:
Castle Studio, Tulane Hotel, Nashville, TN
Master:
8103
Instruments:
Mac Wiseman-g; Thomas Thomas Grady Martin-g; Walter L. 'Hank' 'Sugarfoot' Garland-m; Claude J. 'Jackie' Phelp-bj; Ernest 'Ernie' Newton-sb; Thomas Lee 'Tommy' Jackson-f; Dale Potter-f
Vocals:
M. Wiseman-L
Matrix:
E3KB-3920
B.
I haven't got the right to love you
2:26
Recording Date:
1953
Composer:
Sam Buchanan-Vernon Claude
Place:
Castle Studio, Tulane Hotel, Nashville, TN
Master:
8181
Instruments:
Mac Wiseman-g; Chubby Collier-f; Allen Shelton-bj; Ernest 'Ernie' Newton-sb; Thomas Lee 'Tommy' Jackson-f
Vocals:
M. Wiseman-L
Matrix:
E3KB-5327