Chapter IV
The Winter Campaign

On 29 November, the day of the optimistic paratroop drop at Depienne, General Spaatz went down to Portreath in Cornwall. Next morning he left by air for Gibraltar and on the 1st of December landed at Tafaraoui where XII Bomber Command officers informed him that, except for Tafaraoui, the area was under Fighter Command's headquarters at La Senia, that XII Bomber Command's area lay farther east, and that the Casablanca region was in charge of XII Air Support Command. Doolittle, by now a major general, had put his territorial organization into operation, although no general orders had been issued.1

It was Spaatz' second trip to Africa since the landings. On 17 November he had flown to Gibraltar upon Eisenhower's invitation and gone on to make an inspection of the African theater during which he remarked the B-17's position at Algiers.2 His main purpose, however, had been to discuss the theater air force organization which had been hotly favored by Arnold and finally approved by Eisenhower just before Forward AFHQ moved to the Gibraltar command post.* During that first visit, Spaatz had achieved substantial progress, so much that AAF Headquarters assumed that the theater air force was an accomplished fact.3 It had nevertheless been necessary to shift the rationale somewhat. Spaatz' original plans had set forth the standard AAF doctrine that Germany was the principal enemy and proposed that the flexibility of the theater air force be employed with the paramount end of subjecting the Reich to heavy strategic bombardment, an air war on Italy to be a secondary objective. Eisenhower perused the plans briefly on 18 November and suggested some changes. Possibly, in view of the uncertainty of the direction of Allied strategy, he objected to the low

---

* See above, pp. 60-66.
--105--
---
priority given an air war on Italy. At any rate, Spaatz left his most experienced planners, Hansell and Brig. Gen. Laurence S. Kuter, to rewrite the justification for the theater air force while he went on his inspection, and the revised draft omitted any reference to the priorities of Germany and Italy as targets for air bombardment.4

Even so, Eisenhower hesitated to go ahead until the Tunisian bases were secured, and apparently it was the arrival of a letter from Arnold which finally decided him. Reorganization day was set for 1 December.5 Spaatz went back to England, planning to return to Africa for a month's stay. When he landed at Tafaraoui on the 1st, he must have expected shortly to take command of the theater air force, as Eaker that day took command of the Eighth.6

Emergence of the Allied Air Force

Much had happened in the interim, however, to make Eisenhower wary of appointing Spaatz immediately to the position of commander of the AAF in ETO. Nehring's forces, far from showing signs of collapse, had stopped Anderson's advance and were about to throw in a damaging counterattack. On the other hand, except for Tunisia, the Northwest African theater had been pacified. These developments invalidated the separate air commands enjoined by the TORCH plan. It was obvious that both the Twelfth Air Force and the Eastern Air Command would have to be used in the same area-and in collaboration with the RAF, ME and RAF, Malta in a common campaign to rid Tunisia and Tripolitania of the Axis. Logically, the answer lay in unified command.

This was quickly realized in London, and on 19 November, at the behest of the British, the CCS called for the views of interested parties on the subject of combined air command in the Mediterranean.7 Moreover, while Spaatz had been back in England, Tedder, with Andrews' blessing and accompanied by Sir Keith Park (the AOC RAF, Malta) and by Brereton, Timberlake, and Col. Uzal G. Ent, had visited Algiers to urge that the system of area commands in Northwest Africa be superseded by an air command for the entire Mediterranean.8 With his Malta and Gambut bases striking at the common enemy, Tedder could demonstrate that the efforts of the Middle East and Northwest Africa were at least as complementary as those of the United Kingdom and Northwest Africa. The British chiefs of staff, sharing this view, urged that Tedder be accepted by Eisenhower as his air commander.
--106--
---
This suggestion was reiterated on 3 December,9 evidently as part of protest against the appointment of Spaatz on that day to the relatively modest position of "Acting Deputy C-in-C for Air, Allied Force."10 In rebuttal, Eisenhower pointed out that his problems were immediate, not permitting of delay while the optimum air organization was studied; that Tedder could not well serve with two ground commanders; and that Spaatz' appointment was as a staff officer, not as a commander, and therefore did not interfere with the prerogatives of the CCS. AFHQ expressed a wish to postpone the question of Mediterranean air command.11 Spaatz wrote back to Eaker and Stratemeyer that clarification of his status awaited clarification of the Tunisian situation.12 As air officer of ETOUSA, of course, he still controlled the Eighth Air Force and thus he performed such tasks as dividing B-17 replacements between the Eighth and Twelfth, urging on Eaker the necessity of expediting the Twelfth's aircraft, and ordering Eighth Air Force units into Africa.13

At AFHQ, however, Spaatz' chief duty became the coordination not of the Eighth with the Twelfth but of the Twelfth with the RAF's Eastern Air Command, for the air command arrangements prescribed by the TORCH plan had broken down in fact as well as in theory.14 Since it had not been anticipated that the Twelfth and the EAC would be operating so soon from the same area, such coordination of their efforts as might be necessary had first been the responsibility of Eisenhower and his assistant and deputy assistant G-3 for air. This simple arrangement became impracticable when substantial elements of the Twelfth began moving eastward, to Maison Blanche and beyond. The integration of their efforts with the EAC was then given over to Welsh, logically enough, since it was on his territory and resources that the Twelfth was impinging. Doolittle had moved into Algiers from Tafaraoui, but his headquarters was separate from Welsh's at Maison Carree outside the city, from Admiral Cunningham's aboard ship in the harbor, and from AFHQ at the St. George Hotel. Welsh's principal subordinate, Air Cdre. G.M. Lawson, was with the First Army at Philippeville.15

This dispersion of headquarters might have been borne had communications throughout the theater not been appalling. Welsh could not command the American squadrons, and so had to work through Doolittle; frequently this involved traveling considerable distances for personal conferences. Moreover, an AFHQ directive had subordinated
--107--
---
the available forward air forces, both RAF and USAAF, to the pressing needs of the drive for Tunis; this meant that the First Army had practical command over the aircraft. It resulted in misuse of air power: for instance, apparently on the day after Spaatz' appointment, a whole squadron of the lightly armed Bisleys was lost on an unescorted daylight attack on a Stuka base ordered by a ranking ground officer over the protest of the RAF wing commander. Neither Doolittle nor Vandenberg felt that the early employment of the B-17's against airfields rather than ports was justified (the Luftwaffe also thought that the Allied air forces would have been better employed at this point against the Tunisian ports).16 This situation might have been more excusable had Anderson taken Tunis in his first lunge, but it could not be allowed to endure in any sustained campaign. Such were the immediate problems Spaatz faced as Eisenhower's deputy.

By 4 December exercising, as he put it, only the authority that Eisenhower would normally try to exercise himself, Spaatz had switched the heavy bomber effort from airdromes to ports, ordained some rest for the weary air forces, and achieved a rough division of labor between the EAC and the Twelfth whereby the former was generally to cooperate with the ground forces and the Twelfth to concentrate on "strategic" bombing, i.e., ports. By 12 December detailed air command arrangements had been made for the renewal of Anderson's drive, which were remarkable chiefly in that they delivered all available tactical aircraft, RAF or USAAF, to Lawson's control once the drive had begun. But these arrangements were never tested in batt1e.17

Eisenhower spent most of the remainder of 1942 in a vain effort to extricate his forces from the mud before Mateur and Tebourba for a decisive blow at Tunis.18 Although the closest cooperation was maintained with RAF, ME, Tedder, who had attended organization conferences at AFHQ in mid-December, persisted in his belief that a unified air command for the whole Mediterranean was needed. Finally, at the end of that rainy December which buried hopes for the immediate capture of Tunis, Eisenhower, increasingly receptive to Tedder's ideas, took advantage of the lull in the ground battle to straighten out his air command.19

On the 31st he proposed to the CCS that Spaatz be set up directly under AFHQ as commander of the Allied air forces in Northwest Africa; he stressed that the utilization of British and American units in
--108--
---
the same area required such a step. At the same time, he proposed to leave the full unification of air effort in the Mediterranean to a later CCS decision.20 To this measure the reaction of the British chiefs was favorable.21 They pointed out, however, that Spaatz' chief of staff should be an RAF officer and that his staff should include a senior RAF officer well qualified in maintenance and supply.

As to the subdivisions of the unified air force, the British chiefs made some suggestions which seemed fairly revolutionary, although the pattern had been partially established in the Middle East-that British and American air units be grouped according to their functions, tactical requirements, and logistic possibilities, regardless of nationality. They recognized the AAF's aptitude for daylight strategic bombing but considered the RAF especially capable in the support of land and sea forces, general reconnaissance, and the operation of night fighters. They proposed therefore that an American head a subcommand engaged in strategic bombing and that he control the necessary escort fighters-Doolittle's XII Bomber Command was already using this system. A second subcommand, under an RAF officer, would employ general reconnaissance and day and night fighter aircraft for port defense, shipping protection, and cooperation with the Royal Navy. A third subcommand, likewise under an RAF officer, would devote itself to cooperation with ground forces. Attached to it would be light bombers, fighters, and army cooperation squadrons.

On 4 January, Eisenhower reported to the CCS his essential agreement with the British plan. But he stated that he meant for the present to preserve the continuity of the Eastern Air Command and the Twelfth Air Force. The old organizations had already solved many of the difficult administrative problems peculiar to the theater, and, as he put it, the areas in which AFHQ was currently interested with respect to ground operations were widely separated.22 He intended, however, to assign functions in general accord with the British recommendations. EAC would control a general reconnaissance and striking force to hit shipping at sea and a day and night fighter force to defend the ports and back areas. Through a subordinate command (Lawson's No. 242 Group) it would be responsible for close cover and cooperation with the First Army. To the Twelfth was assigned the task of carrying out strategic bombardment with heavy and medium bombers and the double duty of cooperation with American ground forces in Tunisia and, if need be, in Morocco.
--109--
---
In closing, the TORCH commander stated that in view of the "relatively minor" differences in the plans and because of the necessity of immediate action he was organizing forthwith. Next day, 5 January, he activated the Allied Air Force, and Spaatz passed from air adviser to air commander over the EAC and the Twelfth. Air Vice Marshal J. M. Robb became his chief of staff. Spaatz' directive did not change his relationship to the Eighth Air Force, over which he retained his old control under ETOUSA. His duties were to coordinate the operations of the Eighth with those of the Allied Air Force, to cooperate with RAF, ME, and when necessary, to divide replacement aircraft among the Eighth, Twelfth, and Eastern Air Command.23 The Allied Air Force represents the link between the U.S. theater air force which had been projected for the post-TORCH period and the Northwest African Air Forces which later emerged as the answer to the organizational needs of the continuing African campaign.

That the Allied Air Force was a stopgap and a compromise should not obscure its merits. It satisfied Eisenhower's conviction that the Eighth Air Force was necessary to the fortunes of TORCH. By placing a common commander over the Twelfth and the EAC, it ended the de jure separation decreed by the TORCH plan-a separation long since rendered anomalous by the course of events in Africa. Its great failure lay in the fact that no central direction had been provided for the tactical or "air support" air forces facing the Tunisian bridgehead, but this deficiency was to be remedied within three weeks-at the plans level by a CCS decision and at the operational level by the necessities of battle.

During the last two months of 1942 the Twelfth Air Force also was in process of adjusting to the changing requirements-tactical and strategic-of the African campaign. In those days the planners, air and ground alike, labored under severe handicaps. They could not be sure from day to day whether Tunis would fall or hold out, or whether peace or war would prevail around Gibraltar. Yet each combination of circumstances called for different commitments and consequently peculiar organizational patterns.

Doolittle's reaction to these early uncertainties was his concept of area composite commands exercising both tactical and administrative control over the major base areas and prepared, in any emergency, to operate both bombers and fighters. This concept he did not put into effect officially until 11 December, although he had broached it to
--110--
---
Arnold almost a month earlier,24 one cogent reason for the delay being that he was under the necessity of locating and developing eastern fields for his fighters and bombers. On 11 December,25 however, XII Bomber Command was established in the new air base area south of Constantine, which city was designated its headquarters. Its territory extended from Bougie east to the Tunisian border except for XII Fighter Command's sector (which Welsh had assigned) in the Tebessa-Feriana region. Existing organizations were drawn upon for the other composite commands: 51st Troop Carrier Wing furnished the cadre for the Central Algerian Composite Wing in the Algiers area; XII Fighter Command's rear echelon became Western Algerian Composite Wing at La Senia; and XII Air Support Command fathered the Moroccan Composite Wing at Casablanca. According to the Twelfth Air Force's administrative historian the Central Algerian Composite Wing never really functioned; nor did the Moroccan Composite Wing come to life until the end of December, in the meantime entering into a series of intricate relationships with XII ASC. At one point Cannon commanded both organizations.26

Dunton's XII Air Force Service Command, on the other hand, since its responsibilities in the major base areas were more constant, was able to set up agreeably with the order of 11 December the elements of a stable organization. Its own order of 14 December27 merely legitimized three service area commands already operating in the areas controlled by Moroccan Composite Wing, Western Algerian Composite Wing, and XII Bomber Command. Cols. Harold A. Bartron, George H. Beverley, and Ray A. Dunn, respectively, took over command of the Casablanca, Oran, and Constantine service area commands (provisional). Service units in the Central Algerian Composite Wing's area operated directly under the headquarters of XII AFSC, which had been moved from Oran to Algiers on 13 December. With minor changes in designation and location, XII AFSC organization remained substantially as above throughout the Tunisian campaign, although subsequently an attempt was made to organize a fourth service area command for the Algiers area. The three existing commands were respectively redesignated 1st, 2d, and 3d Service Area Commands (Prov.) on 23 December.28

The key to the understanding of the subsequent organization of the Twelfth lies in Eisenhower's appreciation of the developing situation in the Mediterranean and his plans for destroying the Axis in Tunisia.
--111--
---
In respect of the Strait of Gibraltar, he had tended to weaken the American forces kept in readiness for action against Spanish Morocco in order to help on the initial drive for Tunis, relying on the England-based Northern Task Force for insurance against a hostile move.* Moreover, after his repulse in December on the muddy Medjerda route to Tunis, he pulled additional American units eastward for use in the drier area of central Tunisia against Rommel's communications in the Sfax-Sousse-Gabes region.29

The date 5 January 1943 was important in the organizational history of the Allied Force. Not only was Spaatz' Allied Air Force created but at Oujda, in the northeastern corner of French Morocco, Lt. Gen. Mark Clark activated the American Fifth Army.30 One of Clark's responsibilities at the time was to prepare for a possible BACKBONE II, combined action of his command and the Northern Task Force against Spanish Moracco.31 The Twelfth Air Force, whose chief task in the beginning had been to cooperate with just such an operation, was initially committed to the extent of furnishing three fighter groups, if the necessity arose. To control these groups, on 6 January the Detachment, XII Air Support Command, was set up under Col. Rosenham Beam. It consisted initially of a headquarters, an air support communications squadron, a provisional air support signal battalion, and the 68th Observation Group.32 On 1 March the Detachment, XII ASC, was relieved from attachment to the Fifth Army,33 and long before that time the danger to the strait had appreciably diminished.

The changing complexion of the North African theater was reflected in another reorganization accomplished on 5 January. Doolittle's General Order No. 3 announced that the composite wings--Moroccan, Central Algerian, and Western Algerian--would be replaced by the 2d, 1st, and 3d Air Defense Wings, respectively, upon the arrival of these organizations from the United States. The three air defense wings were put under the jurisdiction of XII Fighter Command, which was giving up its sector forward of Tebessa.34 Western Algeria and Morocco had taken something of the character of back areas. Later, the air defense of Algiers was reassigned to the RAF and the wing thus displaced was eventually attached to XII Air Support Command in central Tunisia.35

XII Air Support Command was designated as the air force contingent for Fredendall's II Corps, which Eisenhower was moving into the

---

*See above, p. 50.
--112--
---
Tebessa region with a view to striking a blow in a sector more favorable to winter operations. Previously, XII ASC had been relatively inactive, engaged in administering the Moroccan area, and the 336 and 310th Groups originally assigned to it had passed through to the active front in the east. General Cannon was transferred to XII Bomber Command at the end of December, and XII ASC was then briefly under Beam (30 Dec.-1 Jan.) and Col. Peter S. Rask (1-10 Jan.). On 10 January, General Craig, formerly AFHQ's deputy assistant G-3 for air, took command--with the prospect of an early test of American techniques of air-ground cooperation.36

The Casablanca Conference

On 14 January the President and the Prime Minister came together at the Anfa camp on the outskirts of Casablanca. There for ten days the state of the war and designs for its vigorous prosecution were considered by the Combined Chiefs of Staff in the wide terms of global strategy, the task not lightened by the nonattendance of the U.S.S.R. In the nature of the case, plans and prospects for the African campaign played a leading role in the discussions.

Most important strategically was the decision to exploit the African lodgment and deployment by further Mediterranean offensives. The previous lack of such a decision at the highest level had exercised a muddying effect on contemporary planning: the planning subcommittee of the CCS wasted three weeks in November and December trying to devise a recommended course of action subsequent to TORCH, finally giving up when it was apparent that there was no agreement even as to the general strategic area for future offensive.37 From the AAF point of view, one of the best features of the theater air force during the uncertainty of the winter of 1942-43 was its flexibility, the assurance it offered that, whatever projects were finally undertaken, U.S. air resources would not be parceled out to subordinate ground commanders but fought according to the airman's principles of mobility and economy of force and in relation to the total, not the local, situation.38

The decision to continue the Mediterranean strategy did not come without argument. The U.S. Joint Chiefs hewed to their preference for a 1943 cross-Channel operation, and, although they did not prevail on this point, the British receded from an earlier contention that Sardinia, not Sicily, was the proper next objective in the Mediterranean. In the
--113--
---
end it was decided that HUSKY, the assault on Sicily, would be undertaken during the favorable July moon or, if possible, during the corresponding favorable June period.39

In accordance with the primary strategic decision and in view of the progressive de facto fusion of the Middle East and Northwest African theaters, the CCS at Casablanca prescribed new command arrangements for the Mediterranean. For HUSKY, the present naval commander of X Force, Fleet Admiral Cunningham, was to assume the title of Commander in Chief, Mediterranean, the incumbent of that position to become Commander in Chief, Levant. At an unstipulated time after the Eighth Army had crossed the Tunisian frontier, General Alexander was to be designated Eisenhower's deputy commander in chief and the Eighth Army would pass to AFHQ's control. Subject to Eisenhower's approval, Alexander's immediate task thereafter would be to direct all Allied ground forces on the Tunisian Front.40

The CCS also agreed on an over-all air command for the Mediterranean by adopting the substance of the proposals the British chiefs had previously made to Eisenhower. Tedder was chosen as air commander in chief. Under him were to be two principal subordinates, an air commander for Northwest Africa (Spaatz) and an air commander for the Middle East (Air Chief Marshal Sir Sholto Douglas). The broad outlines of Spaatz' command, the future Northwest African Air Forces, were specifically laid down.

Spaatz would have at his disposal the Western Desert Air Force, the Twelfth Air Force, and the Eastern Air Command. From these elements he was required by the CCS to form three main subcommands-a heavy and medium bomber force with appropriate escort fighters, a coastal air force for port and shipping protection, and a tactical air force or air support command. The last was to work in conjunction with General Alexander and to comprise the three air detachments cooperating with the main ground forces bent on destroying the Axis bridgehead, the British First and Eighth Armies and the U.S. II Corps. It was generally agreed that Coningham would command this new tactical air force. The date for implementing the new organization was not specified and important details were left to be worked out, but thereafter air organization in Northwest Africa followed a master plan.41

General Arnold had arrived at Casablanca in hopes that the unity of strategic air operations in the United Kingdom-North African-Middle East
--114--
---
areas would be recognized in the new command system. He conceived of these regions as one vast encircling "horseshoe area" from which Allied air power could strike at Axis Europe utilizing whatever point on the perimeter was best favored by seasonal weather and convenience to the targets of current strategy. Once the North African bases had been captured and furnished with the facilities for servicing a mobile heavy bomber force, true strategic mobility could be achieved and the strain on the IAF and GAF increased by the necessary dispersion of their defense efforts.42

The air force Arnold projected for the horseshoe area could not be reconciled with the strategic decisions arrived at by the Casablanca conferees. Nor was opinion at the conference universally favorable to the U.S. doctrine of strategic bombing; in fact, the Eighth Air Force, pioneering in the application of that doctrine, was under attack. Eaker was called down from England. He managed to convince Churchill that the Eighth's ineffectiveness was no fault of its own and that the proposed conversion of its heavies to night operations would be impracticable and wasteful. Once this crisis was passed, the Eighth was treated generously at Casablanca. On 21 January the CCS issued a directive on the bomber offensive from the United Kingdom. This document assured the continuance of daylight bombing from the United Kingdom and freed Eaker's force to a large extent from the exigencies of aiding TORCH. Hereafter the Eighth went its own way in England.43

The formal separation of England and Africa came later when Headquarters, North African Theater of Operations, United States Army, was established on 4 February under Eisenhower's command. American forces in England remained in ETOUSA and Andrews was brought in from the Middle East as commander. The control of Eisenhower and Spaatz over the Eighth Air Force ceased. The setting up of NATOUSA symbolized and implemented the Casablanca decision that the imminent attempt to break into the European fortress was to be made in the Mediterranean, from the African springboard. From England, for the time being, only an air offensive would be mounted.44

New Air Bases

By 14 December 1942 the Axis establishment in Tunisia numbered an estimated 38,500 men--nearly 20,000 German combat troops and over 11,000 Italian, together with 2,500 GAF and 5,000 service troops.
--115--
---
Substantial increments were arriving daily. By the 18th the estimated total had risen to 42,100. Not only did these enemy forces lack for little but an abundance of extra supplies was going down from Tunis and Bizerte by rail to Sfax and thence by rail, by road, and sea to Rommel in Tripolitania. In the north, Col. Gen. Jurgen von Arnim, the new enemy commander in Tunisia, was defending his lodgment along a line west of Mateur-Tebourba-Mohamadia with local attacks employing armor and infantry. With patrols and defensive positions west of Zaghouan and Kairouan, he protected the coastal corridor to the south. Defense of central and southern Tunisia was an affair of outposts and motorized cavalry at Djebel Krechem and Kebili and south of the Mareth Line at Medenine and Foum Tatahouine.45

At this point, Eisenhower was still in hopes of striking a decisive blow in the north to avoid settling down to the "logistical marathon." He had set 20 December as the date of another try for Tunis. But the weather, worsening after mid-December, frustrated his plans, and the possibility of a major offensive in the north passed over until March. He turned his attention to preparing operations in central Tunisia and to methods of limiting, in the interim, the Axis build-up. The air forces, whose part in these endeavors was expected to be considerable, meanwhile were working hard to remedy one of their greatest problems, the scarcity of airfields.46

It had been Anderson's opinion that the lack of airfields within convenient fighter radius of the front had been responsible for his check early in December. A report of the distribution of Allied aircraft at that time (the 5th) showed that all suitable fields, front and rear, were being used to capacity. Bone held 76 fighters; Youks, 37 (besides 9 DB-7's); and Souk-el-Arba, 45. Canrobert and Djidjelli, some distance back, together had a total of only 19 fighters and light bombers, but in the Algiers area Maison Blanche and Blida together counted 150 aircraft, and four fields around Oran had 180, mostly at Tafaraoui and La Senia. Even two weeks later, when a great improvement had been made, Doolittle estimated that of 600 planes at his disposal only about a third could be effectively employed at one time against the Axis.47

The pre-invasion plans had specified that the British were responsible for the development of airfields from Algiers eastward as their offensive moved on towards Tunis.48 They brought in two airfield construction groups, Nos. 14 and 3, and detachments of the former were by 20 November working in the area of Souk-el-Arba. The British
--116--
---
were baffled, however, with the onset of the rains in the Medjerda valley. They laid Sommerfeld mat, well suited to the English sod fields, but at Souk-el-Arba it simply sank in the mud. An underlayer of cork was added; it buckled, and the Spits proceeded to rip up chunks of runway. No better success was had with bamboo rushes. Pierced steel plank might have served; but enough for a 5,000-foot runway weighed 2,000 tons49 and Eisenhower explained that 2,000 tons would have taken up the entire capacity of the railroad in the forward sector for a whole day.50 (At Christmas time two of the pierced steel plank runways received in Africa were either laid or being laid in the back area, at Mediouna and Rabat-Salk, and the third was on its way by sea up the Tunisian Coast.51) Eventually, the solution in the Medjerda valley grew out of a local Frenchman's remark that he had a field which never became waterlogged. Its soil was sandy, and the British fields were subsequently built on a number of sand outcrops in the Souk-el-Khemis area.52

The Twelfth Air Force arrived in Africa with responsibility for airdrome construction and maintenance around Casablanca and Oran, and it was anticipated that the Twelfth would push its area of responsibility eastward in the wake of the First Army.53 Two battalions of the 21st Engineer Regiment (Aviation) with its headquarters and service company and two companies of the 871st Airborne Engineer Battalion landed with XII ASC in Morocco. The airborne engineer unit had been activated especially for TORCH at Westover Field, Massachusetts, on 18 August, and only the utmost dispatch had got the two companies ready by the sailing date.54 Four aviation engineer battalions came in at Oran, the 809th, 814th, 815th, and 817th. Brig. Gen. Donald A. Davison, formerly engineer for the GHQ Air Force, was engineer on Eisenhower's staff, and Col. John Colonna and Lt. Col. Henry Hoeffer were engineers on the staffs of Twelfth Air Force and XII ASC, respectively.55

Despite its sizable contingent of aviation engineers the Twelfth did not immediately make much headway against the airdrome shortage in the battle area. With its primary responsibility for the Oran and Casablanca regions, where the fields sadly needed attention, it was required in addition to prepare bases facing Spanish Morocco. (A string of border fighter fields was readied and kept stocked until the end of the Tunisian campaign: Oujda, Meknes, Ras el Ma, Fez, Taza, and Guercif; and the Mediterranean Base Section built heavy bomber bases in
--117--
---
the Oran region.56) During November the only U.S. aviation engineers working as far east as Algiers were a detachment of the 809th which arrived at Maison Blanche on the 29th. Meanwhile, a good deal of equipment had been lost or appropriated by other units, and off Oran a sub had put a torpedo into a ship loaded with bulldozers and other machinery.57

The hurry call for eastern airdromes came around the 1st of December. Doolittle was anxious to get his B-17's out of Tafaraoui and his mediums out of Maison Blanche. Tafaraoui's two incomplete hard-surfaced runways ranked as luxurious facilities in Africa, but the surrounding earth was a mass of sticky mud after the frequent rains and no aircraft could be moved off the runways except at the risk of being glued in. Maison Blanche had only one macadam runway, plenty of mud, and was invariably congested.58 Visitors to the theater were always struck by the conditions at Oran and Algiers. One general reported that all the airdromes in Africa presented perfectly uniform aspects: if a field boasted two hard-surfaced runways, the longer would be employed as a hardstand, the other, cross-wind, for landing-and the rest of the landscape was muck.59

It was known that the plateau between the Saharan and maritime ranges of the Atlas Mountains was somewhat drier than along the coast, and on 2 December, Davison, reconnoitering in the interior, located a suitable small field at Telergma in the Rhumel valley. By the 13th, Arabs, French troops, and aviation engineers had finished a dry-weather field for the mediums, the first B-26 coming in on that day. Work was also got under way on additional fields in the neighborhood.60 However, for his heavies, Doolittle wanted an all-weather airdrome. For that, recourse was had to the desert itself, at Biskra, an oasis and winter resort beyond the Saharan Atlas. The airborne engineers were picked up in Morocco by C-47's and set down to enlarge the desert field. On 13 December it was ready for the B-17's. In anticipation, XII Bomber Command planned to move forward two squadrons apiece of the 97th and the 301st from Tafaraoui to Maison Blanche and Blida, where they apparently operated for a time before moving down to their new home. Although dusty, Biskra was a good bomber base, its huge runway allowing three B-17's to take off abreast. The climate could be expected to be favorable during the winter, but a south wind off the Sahara would be blowing by mid-March and so it was planned eventually to send the heavies to the Telergma area. The use of the airborne
--118--
---
engineers at Biskra was successful and spectacular, but farther east they were given a job beyond the capabilities of their light equipment. It took one company fifteen days to construct an earth field at Tebessa; and before a battalion with heavy equipment was sent forward an appreciable delay had occurred in-the construction in the important Tebessa region.61

To add to other handicaps, command difficulties arose. The battalions were under the "operational control" of the engineer, Twelfth Air Force, but orders for construction had to be issued from headquarters of XII AFSC to the appropriate service area command. Despite the fact that Colonna was also engineer, XII AFSC, his control was not as absolute as the tactical situation demanded, and debate as to the assignment of U.S. aviation engineers went on for some time. No difficulty was experienced during this early period in integration with the First Army's airdrome construction groups primarily because the British were fully engaged in their own areas along the coast and in the Medjerda valley.62

On 3 December, Eisenhower, considering his available bombers too few to do much to limit the enemy build-up, signified his intention of seeking their augmentation from the United Kingdom or the Middle East. Welsh thereupon requested two squadrons of Wellingtons from the Air Ministry, which referred him to Tedder. Tedder, however, felt unable to spare the aircraft; and in the end the metropolitan RAF furnished Nos. 142 and 150 Squadrons, which moved down to Portreath for staging on 9 December, landed at their Blida base on the 19th, and had commenced night bombing before the end of the month.63

The Eighth had long been preparing its groups for temporary duty in Africa, such employment being the core of the theater air force plan. On 5 December, Eaker, acting on Spaatz' instructions, ordered the air echelon of three squadrons of the 93d Group (B-24's) to move out, its period of operations in Africa to be approximately ten days. The 93d arrived at Tafaraoui on the 7th, its group historian, fresh from England, registering the opinion that the base was unfit for operations.64 The 93d did not stay long at the much-maligned field. Three scheduled missions were called off on account of rain and a fourth canceled when one of the first B-24's to start taxiing collapsed a nose wheel in the mud. On the 13th, however, Bizerte was attacked and one B-24, badly shot up, crash-landed at Maison Blanche. Next day the 93d ran its last mission for the Twelfth Air Force when twelve B-24's again attacked Bizerte,
--119--
---
straddled a ship in its harbor, hit the docks, and claimed three Me-109's shot down.65

After this brief sojourn in Algeria, the 93d Group departed for the Middle East, pursuant to an agreement Spaatz had negotiated with Brereton and Andrews by which the Ninth Air Force's 513th Squadron (B-17's) would be shifted to Northwest Africa in return.* The 93d could be more useful in Libya where the B-24's superior range permitted strikes at Naples and Palermo. The B-17, on the other hand, was altogether suitable for operations from Algeria against Tunis and Bizerte. The exchange of three squadrons for one probably reflected Spaatz' difficult logistics and airdrome shortage-which prevented him from ordering in the two remaining Eighth Air Force heavy groups earmarked for TORCH, the 91st and 303d.66 He did attach a proviso to the Ninth Air Force's use of the 93d: the group's overriding targets were to be those affecting the Tunisian campaign. On 15 December it left for Gambut.67

During its first seven weeks in Africa, XII Bomber Command had a total of four commanding officers. By 24 November, Duncan, who had brought the organization down from England, had been relieved and Col. Charles T. Phillips, heading the Eighth Air Force 3d Wing, was being requested as his replacement.68 Phillips took over around 11 December, only to be killed on a B-26 mission against El Aouina on the 15th. Bomber Command headquarters had been successively moved from Tafaraoui to Algiers to Constantine and Col. Carlyle H. Ridenour assumed command on the 16th. On New Year's Day, Cannon was brought over from XII ASC, and he continued in charge of XII Bomber until 18 February.69

In his position as Eisenhower's deputy, Spaatz had earned the gratitude of the Twelfth Air Force by his efforts to get its purloined transportation back from the ground forces and by his representation of the airman's point of view at AFHQ. In one particular, however, the December routine at AFHQ worked unfavorably for the Twelfth's operations. Not only the specific objectives for the following day but the time over target and number of attacking aircraft were determined by a daily war-room conference at 0900 attended by representatives of the Twelfth, AFHQ, the RAF, the Royal Navy, and of Spaatz' staff. This procedure, although an improvement over complete control by Anderson, converted Twelfth Air Force and XII Bomber Command into

---

* See above, p. 98.
--120--
---

Airfield Construction in Africa
Above: Breaking Ground Below: Three Days Later

---

Mediums in Africa
Above: B-25 Mitchellsd Below: B-26 Marauders

---

The Rugged B-17
Above: This One Got Back Below: Part of the Crew Bailed Out

---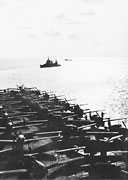 USS Ranger Delibers P-40's to AAF in Africa
---
agencies which did no more than pass on orders to the unit commanders. These, in turn, seldom received the orders in time to select proper bombs and fuzes, so bombs were loaded and fuzed a day in advance and dropped on whatever target was later designated. By 27 December this procedure had been abandoned and the Twelfth was given a directive which allowed it some latitude.70

If, however, the heavies' pay loads had been preselected and fuzed for ports and shipping each evening, little would have been lost the next day, because during December and early January the bomber command mostly confined itself to the harbors at Tunis and Bizerte, undertaking strikes against Sousse and Sfax when weather or unusual enemy activity favored them as targets. Daylight pounding of Tunis and Bizerte was nearly exclusively the B-17's job, the ports having become too hot for medium or light bombers. No longer, as in the first days of December, did the DB-7's visit El Aouina or the mediums the Bizerte docks, although occasionally mediums attacked difficult targets when B-17's were along to saturate the defenses.71

As operations go, the early missions had not been costly: in fact, on 30 November, Doolittle reported that only eight Twelfth Air Force aircraft had been shot down by enemy planes and twelve by ground fire, friendly or hostile. Seven had been lost on the ground by enemy bombing and strafing and forty-nine through miscellaneous and unknown causes. This last, Doolittle admitted, was "rather appalling," but it had been predicted that wastage from crashes, disappearances, and internments would be high in TORCH. Personnel losses had been relatively slight; pilots regularly walked home and the Arabs received considerable sums of blood money.

But after their fields had recovered from the rainy spell which set in on 8 December, the Allied airmen found that the Axis had put the respite to good use. The B-17's discovered new and formidable yellow-nosed FW-190's at Bizerte, and flak so markedly increased that Tunis and Bizerte soon compared with the more heavily defended targets in northwestern Europe.72 The Twelfth's B-17's attacked Tunis and Bizerte day after day, going in with forces which seem pitifully small in comparison with the armadas of 1944 and 1945. That their losses remained low must be attributed to the fact that they usually had P-38's escorting, not many P-38's but enough to divide the opposition's attention. Moreover, the German pilots had not evolved any very satisfactory way of attacking the heavily armed B-17, and they were properly
--121--
---
respectful. For example, on 15 December two formations were sent out from Biskra for simultaneous attacks on Tunis and Bizerte. Six P-38's accompanied seven B-17's bound for Tunis; another six escorted the dozen heavies which could be mustered for Bizerte. All aircraft returned despite flak and enemy fighters, and according to an investigation of the port after its capture, with one 500-pounder the Tunis contingent sank the 10,000-ton Italian freighter Arlesiana. On the 18th, however, at Bizerte, four escorts and a bomber were shot down (another B-17 crash-landed at Le Kef) out of a formation of sixteen P-38's and thirty-six B-17's. Thirty-three of the bombers had attacked the target; the remaining three dropped on two naval vessels between Cap Zebib and the Cani Islands.73

Thereafter, until 26 December, foul weather plagued XII Bomber. On the 21st at Sfax and Gabes and on the 22d at Bizerte, Sousse, and Sfax, 10/10 cloud prevented an attack. On the 23d, seventeen B-17's of the 301st Group, escorted by eleven P-38's of the 1st, took off for Tunis and Bizerte. Five bombers returned early after encountering cumulus and icing at 25,000. The targets were completely shrouded, and four wandering B-17's turnedup at distant airdromes, Tafaraoui, Nouvion, and Relizane.74

By the end of December, XII Bomber Command organization began to take form, incorporating one feature novel in bomber commands: the escort fighters were attached. Between 14 and 18 December, two squadrons of the 1st Fighter Group (P-38's) moved to the bomber station at Biskra and came under the control of XII Bomber. Part of Doolittle's regime of composite commands, this innovation did away with the necessity, of coordinating each mission with a fighter command headquarters, and the P-38's presence on the bomber airdrome simplified such problems as rendezvous. The step seems to have been well suited to the operating hazards in Africa, especially to the miserable communications which Doolittle rated on 30 November as the chief bugbear of efficient operations.75 The system worked to the satisfaction of USAAF commanders, but, later, Coningham and other observers came to believe that continual employment of fighters as escort detracted from their efficiency in their primary role. The fighter pilots tended to regard themselves as stepchildren of the bomber command.76 In the early days, the bomber command passed down directly to the units the operational instructions for the missions. As the available groups became more numerous, however, wings were interposed. For
--122--
---
this purpose the wing headquarters originally attached to XII ASC were utilized. On Christmas Day, Col. J.H. Atkinson, commanding the 97th Group, was promoted to brigadier general and later made commander of the 5th Bombardment Wing (Heavy), the organization gradually assembling at Biskra in mid-January. Moreover, shortly after New Year's, personnel of the 7th Fighter Wing headquarters in Morocco were alerted for a move eastward, and on 7 January, Ridenour replaced Col. John C. Crosthwaite as commanding officer. On 1 February the 7th began operating at Chiteaudun-du-Rhumel, near Constantine, as a medium bombardment wing, an arrangement solemnized when it was redesignated 47th Bombardment Wing (Medium) on 25 February.77

AfterChristmas, the bad weather having worn itself out for the time being, the B-17's turned their attention chiefly to the east-coast ports of Sfax and Sousse, which were building up supplies against Rommel's arrival in southern Tunisia. Seven missions were run against them late in December, the results showing the high degree of accuracy the B-17's were achieving. P-40's of the 33d Group, by then operating out of Thelepte in central Tunisia, took the 301st to Sfax on 26 December; the bombs evidently wrought havoc in the harbor, one small and two large vessels being assessed as sunk. Next day the 301st attacked Sousse, claiming hits on four ships, one of which was reportedly blown to bits. Sfax absorbed further punishment on the 30th and 31st: the 97th started fires in the marshalling yards and on the west end of its north quay on the 30th, and next day the 301st claimed hits on two medium-sized ships in the harbor.78

On 4 January weather prevented all but one of a formation of B-17's from bombing La Goulette, but on the 5th and the 8th effective strikes were carried out. The 5th saw the 97th Group over Sfax, weather reconnaissance having disclosed solid overcast at Tunis and Bizerte. Eleven B-17's bombed and completely destroyed the Sfax power station, hit at least one vessel in the harbor, and left the entire dock area smoking. Bad weather did not protect Ferryville on the 8th. The 97th found holes in the overcast, bombed through them, and reported hits on oil storage tanks, docks, and ships. After Tunis had fallen in May it was learned that the ships included five French vessels sunk or damaged beyond repair: a submarine, a sailing vessel, a tug, an aircraft tender, and a patrol vessel.79

During their early operations in Africa the Twelfth's medium bombers
--123--
---
did not achieve the performance of its heavies. For this there were cogent reasons: the medium groups had no previous combat experience and their tactics and employment remained to be worked out; they arrived in the theater mostly in driblets, and the 319th, for one, kept losing its commanding officers; once operational, they could not be kept at strength and suffered loss of morale and combat effectiveness.80

Medium bomber targets comprised, for the most part, airdromes, marshalling yards, and railroad bridges, although unsuccessful forays were made against shipping at sea and Sousse harbor was twice attacked. The outstanding lesson taught by these operations was that B-25's and B-26's could not be used profitably in low-level attacks on localities where the Germans had had time to get in any considerable amount of their light AA. The mediums were speedily driven to altitudes of 7,000 to 9,000 feet; and even there violent evasive action was necessary, with the result that their accuracy was not so great as that of heavies at 21,000 to 24,000 feet. All missions were on an extremely modest scale: for a time after 5 December the 310th's striking force consisted of a half-dozen B-25's, and the heaviest medium attack during 1942 mustered only thirteen bombers, the resources of both the 310th and 319th.81

The first attempt to bomb Sousse harbor was frustrated on 12 December when two B-26's were lost to the winter elements. Next day six B-25's, escorted by four P-38's, bombed from 7,000 feet plus and reportedly hit the docks and two ships in port. On the 14th, the Sousse antiaircraft gunners were apparently befuddled when six of the 319th's B-26's swept in at 900 to 1,200 feet, hit the docks and, it was thought, three vessels in the harbor; bombers and escort got away unscathed. But when this tactic was repeated on the 15th and 18th it proved so dangerous that low-level bombing against land targets was virtually abandoned except where little or no AA was expected. Phillips was killed over El Aouina on the 15th in a flak barrage to which a cruiser and four destroyers off Carthage contributed. On the 18th, four P-38's from the 1st Group escorted five B-26's and six B-25's to the Sousse marshalling yards where they attacked at from 700 to 1,500 feet. They were greeted by a mile-long box barrage which shot down a pair of B-26's, one of which defiantly continued to fire at the flak barges until it crashed into the harbor.82

After the Sousse marshalling yards, the mediums were quiescent for more than ten days, the crews spending their time sweating out bad weather and practicing minimum-altitude bombing, soon to be effectively
--124--
---
employed against shipping in the Sicilian narrows. At the end of December, when operations were resumed, the effort was concentrated on airdromes-the mediums having largely taken over this function from the heavies-and on the Tunisian railroads which were carrying supplies not only for Rommel but for the growing Axis establishment in central and southern Tunisia.83 On 30 December the 17th Group made its debut, six of its B-26's hitting the Gabes airfield. (The 17th had arrived in Africa via the southern route, Natal-Ascension-Bathurst.) On the 31st, when it returned to the Gaes field with a mixture of demolition bombs and the 100-pound frag clusters which subsequently proved their worth in the Tunisian air war, enemy fighters downed one B-26 which had first been hit by flak.84

On New Year's, while the 310th was moving to Berteaux, another of the new fields near Constantine, the 17th went to the heavily defended Tunis marshalling yards, where the intense flak shot down one B-26 and the escort lost a P-40 in an encounter with a half-dozen Me-109's. On 4 January the GAF discovered that unescorted B-26's were to be handled with care. The occasion was a coincidence: an Me-109-Ju-88 formation arrived to bomb Thelepte at the moment when eleven B-26's arrived over near-by Feriana to pick up escort from the field. The B-26's turned for home, were attacked by five Me-109's, and promptly shot down two. Meanwhile, the Ju-88's were, one by one, dive bombing across the field. Five P-40's got off, made interception, and shot down one of the offending Junkers and one of the remaining Me-109's.85

Logistics in Africa

When, on 2 January, Eaker, who had just returned from Africa, informed Stratemeyer that the failure to "sweep the Axis out of Tunisia" was due, among other causes, to the breakdown of supply, his statement was profoundly representative of sentiment in Africa. In fact, the rate of Axis build-up as compared with what the Allies could get forward to Tunisia was at the time a matter of no little concern in Algiers.86

The Twelfth was especially bedeviled by the difficult logistics of Africa because the planners had not anticipated that in the early stages of the operation it would be a highly mobile air force, nor that it would be operating so far east. The Twelfth's chief bases in the final months of 1942 were Oran and Casablanca; units--in four or five echelons--
--125--
---
aircraft, and equipment all came into these areas, whereupon a large part had to move again to the active sectors in the east. Some of their equipment did not catch up with the tactical units until the Tunisian campaign was virtually over. Early in January when the Twelfth had begun sizable operations in eastern Algeria, AFHQ designated as its forward base the port of Philippeville, whence a railroad led south to Constantine and connected with the lines serving Telergma and Biskra and with the line running to the installations at Tebessa and Youks-les-Bains.87 The daily capacity of the Biskra line was 400 tons, and the Twelfth's allotment of that tonnage (reportedly 250) was not enough, with its other requirements, to bring in its bombs and fuel.88 On 4 January, Cannon reported to Doolittle that he had to reduce operations or his units would run out of 500-pounders altogether.89 Here the C-47's were lifesavers. Frequently the B-17's took all Biskra's available bombs with them to Tunis or Bizerte, depending on the transports to replenish the stock before the next mission.

As serious as the faiblesse of the French African railways was the Twelfth's poverty in motor transportation. This shortage apparently derived from a number of causes: the current Air Corps system of assigning transportation did not provide as many vehicles as corresponding ground units possessed; many service units had been left behind because of the necessity of orienting the initial convoys for an immediate battle with the French.90 According to a Services of Supply source, there came a time in the preparation of the Western Task Force when the planners discovered that the force was literally too large for its ships. The dilemma was referred to Clark, who decided to cut vehicular transportation, on the reasonable ground that the Western Task Force's role after French resistance had been quelled would not require as much mobility as that of the First Army.91 (The historian of the 14th Group reported ruefully from Youks that RAF units had transportation adequate to move every man and piece of equipment in one trip, in contrast to the unhappy situation in which his organization found itself.) The lack of motor transportation was not peculiar to the Twelfth but extended throughout most of the Allied Force, and Doolittle complained that he had lost additional trucks and jeeps to the pools which were organized to equip the spearheads of the eastward drive. The situation was so bad that during the Casablanca conference a special convoy was laid on, which subsequently brought 5,000 trucks from the States.92
--126--
---
All of this enhanced the value of the three American troop carrier groups. Eaker reported on 2 January that out of the original 154 air transports, 135 were still in operating condition and that without them the problems of transport and supply in the theater would have been insoluble.93 They had dropped paratroops, ferried airborne engineers, and stocked advance airfields before the fighters moved in. Reflecting the decline in paratroop operations, on 5 January the 1st Troop Carrier Wing was assigned to Dunton's service command. Taking the view that this relegated them to mere service organizations, the troop carrier units seem to have contested the assignment. Not until February did they cease dealing directly with Twelfth Air Force headquarters.94

All observers remarked on the poor communications in Africa, on the overcrowded telephone circuits, and the extensive use of motorcycle couriers. In mid-December there was no D/F, radio range, or beacon equipment at either of the bomber stations, Telergma or Biskra, nor any radio equipment for controlling the traffic at Tafaraoui or Maison Blanche. This situation only improved slowly.95

Conditions at Thelepte, a base forty miles southeast of Tebessa which was occupied by XII Fighter Command early in December, must have been fairly typical. In the semidesert country of Tunisia, Thelepte was a good dry-weather field, commodious and less subject to miring than Youks back in the mountains. It had no radar and, properly speaking, no warning net; willing French gendarmes telephoned in when they saw aircraft but reported all aircraft as hostile. Day airdrome patrol was maintained, and although the field was frequently bombed, as were Youks and Biskra, the attackers, mostly Ju-88's, were not very numerous or successful.96 The AA defense at Thelepte late in December consisted of four 40-mm. Bofors and four .50-cal. machine guns. At about the same time, Youks could count on eleven 40-mm. and four 90-mm., besides some .50-cal. positions,97 an armament which was much better than that at Biskra, where at Christmas the only AA defense was that of the twelve .50-cal. guns furnished by the resident aviation engineers.98

At Thelepte the men lived largely in a ravine forty minutes' walk from the aircraft dispersal area. (At Youks they had gone underground in tarpaulin-covered dugouts.) Spare parts were quickly exhausted and thereafter came from wrecks; tin from flimsies became aluminum for patching holes; cannibalization and improvisation were the rule. All work went on in the teeth of a high, cold wind-the Biskra oasis with its
--127--
---
palm grove must have been one of the few combat bases that corresponded to the average GI's notion of Africa-with insufficient tools and equipment and in constant expectation of enemy air attack. Morale among ground personnel at these stations nevertheless remained high.99

According to its own estimates, the Twelfth Air Force consistently inflicted heavier losses than it suffered at enemy hands. In November it had lost only 19 aircraft to enemy air action, AA, and unknown causes but had shot down a total of 48 enemy planes. In December the Twelfth accounted for 61 hostiles as against its own loss of 49; the "box score" read 167 to 72 for January and 1 36 to 74 for February. A good many factors conspired to prevent the Twelfth from building this advantage into air superiority, but high among them was the continuing shortage of replacement aircraft and crews.100

The prelanding plans had contemplated that because of the difficulties of replacement the American air units in TORCH must initially live on their own, drawing replacement aircraft from first-line strength;101 and Doolittle was quickly forced to this device to fill up his active P-38 squadrons. But when by 6 December no aircraft replacements had yet reached the Twelfth (except for the "advance attrition" of the 33d Group which had been catapulted from HMS Archer on the D plus 5 convoy) Doolittle pointed out to Arnold that the TORCH plans had not contemplated an early move to the east nor early contact with the GAF.102 His problem was not alleviated by the fact that for a variety of reasons a good portion even of the Twelfth's first-line strength had not arrived. This factor was particularly serious, however, only in the case of the P-38's and medium bombers; it is probable that the Twelfth could not in any event have deployed its P-39 groups in view of the scarcity of forward airdromes.

In the latter part of October, because of the losses incurred on the North Atlantic ferry route by the 319th Group (B-26's) and the 47th Group (A-20's), it had been decided that the remaining medium and light bombers allocated for the Twelfth would be flown over the South Atlantic to central Africa and thence northward into the theater.l03 As the winter drew on, the northern route closed down altogether. By 11 December only four-engine bombers were using it; a week later they had to abandon the crossing.104 This meant that all replacement aircraft for the Twelfth, except for fighters, would fly via central Africa. It also meant that the Twelfth was placed strategically athwart the Eighth's bomber pipe line: the first twenty-eight B-17
--127--
---
replacements coming over the southern route stayed in Africa on Spaatz' instructions.105

The original staging arrangements for the medium and light bombers (the question was more important for them than for the longer-range heavies) contemplated a South Atlantic crossing via Ascension to Accra on the Gold Coast; depending on the reaction of the Vichy-controlled areas of western Africa, they would then be flown from Kano, Accra, or Maiduguri to Oran and Casablanca once communications were established. Such was the plan advanced from Washington by the Air Transport Command (ATC) late in October.106 Doolittle, concerned over the long distances involved in the final leg, had suggested that the overwater terminus be shifted to Bathurst in Gambia and that Atar in French Mauritania be considered as a way station on the hop to Casablanca. Use of Atar, of course, depended on a change of heart by the French command in western Africa.107

After D-day the Africa-Middle East Wing (AMEW) of the ATC established a C-87 shuttle from Accra to Oran via Kano, the first flight being made on 13 November; and the 68th Group's two A-20 squadrons had successfully negotiated this route before the end of the month.108 However, when the 17th Group arrived at Accra on 26 November, Col. Curtis D. Sluman advised that his B-26's as then equipped and loaded lacked 100 miles of the range necessary for the 1,700-mile Kano-Oran leg. It was then necessary to reroute them to the westward.109 After a two-week delay at Accra, Roberts Field in Liberia, and Bathurst, the group finally got off to Marrakech after Governor Pierre Boisson on 7 December had removed the long-time threat of Dakar by agreeing that all French West Africa and Togoland would thenceforth cooperate with the Allies.110

With Allied access to its airdromes Dakar became the logical terminus for the overwater hop of all aircraft bound for North Africa and England over the southern route. But, during the time it took to negotiate further with the French and to complete arrangements, Bathurst in neighboring Gambia was the most important ferrying station and headquarters of AMEW's 14th Transport Group.111 The more easterly routes to Algeria and Morocco were gradually abandoned: the ATC gave up the uneconomical C-87 run from Accra to Oran; and the 320th and 321st Groups, following the 17th into Africa in December and February, respectively, proceeded via the west coast to Marrakech. At the latter point, early in January, Spaatz set up a control center where
--129--
---
aircraft bound for the United Kingdom and North Africa could be sorted out and briefed accordingly.112

Despite all efforts, the medium bomber replacement rate continued unsatisfactory into February and, with the concurrent shortage of replacement pilots and crews, caused a serious lowering of morale in the operating groups; during that month it became necessary to retire the 319th Group for rest and refitting. The Twelfth could not maintain the policy of the "full breakfast table" so important to morale and effective operations. Instead it was forced to the uneconomical policy of relieving entire squadrons and groups, often in the stress of battle when transportation facilities were heavily burdened.113 This unfortunate situation existed in an acute form in the fighter groups.

Because of considerations of weather and their shorter range, fighter aircraft replacements in the winter of 1942-43 had to make the journey into the theater by boat, thus running into the shortage of shipping and the competition of other cargo. Of course, most of the aircraft set up for the early phases of TORCH had been prepared by Eighth Air Force depots and flown into Africa; and during December small shipments of fighters for the Twelfth were routed to the United Kingdom simply because cargo space to Africa was at a premium.114 By the New Year, this practice had ceased and, except for the large backlog of aircraft the Eighth was still preparing for TORCH, the Twelfth imposed no further burdens on VIII AFSC. It began to rely on its own depots and erection facilities, particularly Cazes where assembly lines-one manned by French civilians-had been put into operation.115

The fighter replacement problem first became critical with the P-38's, which because of their versatility and endurance were used in a variety of roles during the early Tunisian fighting. (In November 1942 no other available Allied fighter, RAF or USAAF, had the tactical radius to operate from Youks against the front at Djedeida.) Doolittle had been forced to take planes from the 1st Group to keep the 14th at strength and use the 82d to make up attrition in the 1st and 14th.116 Nevertheless, at times the bomber command could not find a dozen P-38's for escort, and Cannon's pleas for fighters became progressively more desperate during January.117

The total strength of the three P-38 groups (minus one squadron) was down to ninety when Arnold came to the Casablanca conference. He initiated drastic action,118 ordering all P-38's in from England. The Twelfth had already scoured the United Kingdom for P-38's, and this
--130--
---
order brought down the last of the Eighth's P-38 units, the 78th Group, which had been held in "strategic reserve" for Doolittle.119 Eisenhower having assigned the necessary priority, Arnold sent instructions that additional P-38's were to be sent from the United States as deck loads on cargo vessels--a novel method of carrying them on specially constructed stands on tanker decks had also been devised120--and still others were to be flown over the South Atlantic via Ascension.

By the time of the conference, a shortage had also developed in P-40's. The 33d Group had brought with it two months' replacements (Spaatz recommended that all groups committed to an operation such as TORCH carry along at least the first month's replacements),121 but it had donated twenty-five planes to re-equip a French squadron, the Lafayette Escadrille,122 and its losses at Thelepte began to be heavy. Here the Ranger proved invaluable. Admiral King made the carrier available as a result of a plea from Eisenhower to the War Department in December: it ferried the air echelon of the 325th Group--seventy-five P-40's and pilots diverted from the Ninth Air Force--in mid-January, the planes landing at Cazes;123 at the Casablanca conference Arnold asked for its continued good offices, and it brought seventy-five P-40L replacements in February.124 However, out at Thelepte, the 33d Group, short of new pilots and down to thirteen aircraft by the 1st of February, had to be relieved in the midst of intensive operations.125

On 2 February, Spaatz reviewed the Twelfth's aircraft status for AAF Headquarters and indulged in some general remarks on aircraft serviceability in Africa.126 He reported that so far as the number of aircraft was concerned his heavy bomber situation was for the moment excellent, permitting all replacement B-17's in Africa to be dispatched to the United Kingdom, and that the low number of heavy bombers in operation traced to motor changes due to sand. He pointed out that in a theater like Africa in ordinary course no more than 50 per cent of over-all aircraft strength would be serviceable for operations and that, therefore, to keep at strength an active combat unit, strength at least 50 per cent above T/O must be available. On the 20th he was complaining of a "critical" situation in his medium and light units and had warned the 2d Air Defense Wing at La Senia that the 319th Group would be retiring to Oujda, turning over enough of its B-26's to the 17th to bring the latter to strength.127 Not until 26 March could he write home of a "very, very noticeable improvement" in replacement aircraft.128
--131--
---
Table of Contents
Previous Chapter (3) * Next Chapter (5)
---
Notes to Chapter 4:

1. AFSHO Special File 706, 29 Nov.-1 Dec. 1942; CM-OUT-7113 (11-22-42), TAG to CG ETO, R3425, 21 Nov. 1942.

2. Ltr., Spaatz to Arnold, 23 Nov. 1942.

3. R&R, Arnold to Stratemeyer, 23 Dec. 1942.

4. Memo for CG ETOUSA from Spaatz, 14 Nov. 1942; ltr., Spaatz to Arnold, 23 Nov. 1942.

5. Ltr., Spaatz to Arnold, 23 Nov. 1942, and incls.; ltr., Arnold to Eisenhower, 15 Nov. 1942.

6. CM-IN-10304 (11-24-42), USAWW to AGWAR, 183, 24 Nov. 1942; ltr., Spaatz to Maj. Gen. H. J. F. Miller; 27 Nov. 1942; ltr., Eaker to Stratemeyer, 6 Dec. 1942.

7. Ms., S/Ldr. J.N. White, Evolution of Air Command in the Mediterranean, 13 Nov. 1944, prepared for inclusion in history of MAAF; notes by S/Ldr. White for a study on air command in the Mediterranean, for use in history of MAAF; Brit. Air Ministry, Air Hist. Br. (hereinafter cited as BAM [AHB]) narrative, Operation "TORCH," chap., Air Command in TORCH.

8. G-2, USAFIME, Mil attaché Rpt. D792, 3 Dec. 1942, Observations by Col. U. G. Ent; ltr., Andrews to Arnold, 22 Nov. 1942.

9. Msg., Algiers to ABFOR, 107, 3 Dec. 1942.

10. File 706, 3 Dec. 1942.

11. Msg., Algiers to ABFOR, 1107, 3 Dec. 1942.

12. Ltr., Spaatz to Stratemeyer, 9 Dec. 1942; ltr., Spaatz to Eaker, 9 Dec. 1942.

13. Ltr., Spaatz to Eaker, 9 Dec. 1942; ltrs., Eaker to Stratemeyer, 2 Jan. 1943, and Eaker to Spaatz, 4 Dec. 1942.

14. Msg., Algiers to USFOR, 3650, 31 Dec. 1942. Cf. Eisenhower's comments in Commander in Chief's Dispatch, North African Campaign, 1942-1943 (hereinafter cited as Eisenhower's Dispatch), p. 51.

15. Evolution of Air Command in the Mediterranean; AFSHO Special File 77 (msgs.).

16. Evolution of Air Command in the Mediterranean; File 706, 2 Dec. 1942; report to Arnold by Brig. Gen. L. S. Kuter, Organization of American Air Forces, 12 May 1943; CM-IN-2957 (12-7-42), Algiers to War, 1312, 6 Dec. 1942; German Air Hist. Br., A Tactical Appreciation of the Air War in Tunisia, 31 Oct. 1944, BAM (AHB) Translation VII/6, 21 Oct. 1946.

17. File 706, 3, 4, 12 Dec. 1942.

18. Eisenhower's Dispatch, pp. 22-24.

19. Evolution of Air Command in the Mediterranean.

20. Msgs., Algiers to USFOR, 3626 and 3650, 31 Dec. 1942.

21. CCS 139, 5 Jan. 1943.

22. CM-IN-1861 (1-5-43), AFHQ to AGWAR, 4201, 4 Jan. 1943; memo for C/S from Maj. Gen. T.T. Handy, AC/S, OPD, 7 Jan. 1943.

23. History, 12th AF, II, The Twelfth Air Force in the Tunisian Campaign, p. 10; Administrative History, 12th AF; AFHQ, directive to Maj. Gen. Carl Spaatz, CG Allied Air Force, 5 Jan. 1943.

24. Ltr., Doolittle to Arnold, 19 Nov. 1942; interview with Brig. Gen. G.P. Saville, 5 Jan. 1943.

25. Hq. 12th AF GO 8, 11 Dec. 1942.

26. Administrative History, 12th AF; The 12th AF in Tunisian Campaign, pp. 9-10; History, I Air Service Area Command (Sp.), p. 34; historical notes on XII Air Support Command, 10 Dec. 1942; History of the OriginalXII Air Force Service Command, pp. 90-91.

27. Hq.XII AFSCGO 10, 14 Dec. 1942.

28. History of the Original XII AFSC, pp. 91-94; History, I ASAC (Sp.), pp. 31-34; Administrative History, 12th AF.

29. Eisenhower's Dispatch, pp. 24-26; msg., AFHQ to CTF, 1295, 6 Dec. 1942; msg., AFHQ to USFOR for NTF, 4703, 8 Jan. 1943.

30. Hq. Fifth Army, Fifth Army History, Pt. I.

31. AFHQ, Directive for BACKBONE II, 24 Dec. 1942.

32. Msg., Doolittle to CO MCW, 1033, 12 Jan. 1943.

33. Hq. NAAFGO 8, 1 Mar. 1943.

34. The 12th AF in Tunisian Campaign, pp. 9-10; Administrative History, 12th AF.

35. Histories, 62d, 63d, 64th Fighter Wings.

36. Administrative History, 12th AF.

37. CCS 124, 19 Nov. 1942.

38. Ltr., Straterneyer to Spaatz, 13 Nov. 1942; ltrs., Arnold to Spaatz, 15 Nov. and 30 Dec. 1942.

39. Commander in Chief's Dispatch, Sicilian Operation.

40. CCS 170/2, 23 Jan. 1943.

41. Ibid.; Evolution of Air Command in the Mediterranean; CCS 163, 20 Jan. 1943.

42. R&R, Stratemeyer, C/AS to AC/AS, Plans, Equipping of Airdromes in the Horseshoe-England, North Africa, Cairo, Jan. 1943; memo for CG AAF from AC/AS, Plans, n.d.

43. VIII BC, Target: Germany; Lt. Gen. Ira C. Eaker, Report on Eighth Air Force, 11 Jan. 1944; CCS 166/1/D, 21 Jan. 1943; The Case for Day Bombing, in above Eaker Rpt.

44. Ltr., Eaker to Stratemeyer, 20 Jan. 1943; Administrative History, 12th AF.

45. Msg., AFHQ to USFOR, 1968, 14 Dec. 1942; Eisenhower's Dispatch, p. 23 .

46. Eisenhower's Dispatch, passim.

47. CM-IN-2957 (12-6-42), Algiers to War, 1312, 6 Dec. 1942; Brig. Gen. S.C. Godfrey, Report on Airdromes and Aviation Engineers in North Africa, 4 Jan. 1943.

48. AFHQ Operation Memo 27, 20 Oct. 1942.

49. Engineer History, [Brit.] First Army; Godfrey Rpt.

50. Eisenhower's Dispatch, p. 23

51. Godfrey Rpt.

52. Engineer History, First Army.

53. AFHQ Operation Memo 27, 20 Oct. 1942.

54. Memo, Maj. Gen. M.S. Fairchild, DMR to CG SOS, 30 Aug. 1942.

55. Godfrey Rpt.; Historical Sec., AAF Engineer Comd., MTO, History of the Aviation Engineers in the Mediterranean Theater of Operations (hereinafter cited as Avn. Engineers in MTO), 12 June 1946.

56. Interview with Brig. Gen. D.A. Davison, 1 June 1943; msg., AFHQ to CG MBS, 3270, 27 Dec. 1942; Godfrey Rpt.

57. Interview with Brig. Gen. S.C. Godfrey, 7 Jan. 43; Avn. Engineers in MTO.

58. Davison interview.

59. Saville interview.

60. Davison interview; Avn. Engineers in MTO.

61. Avn. Engineers in MTO; Davison in MTO., interview; ltr., Capt. I.A. Hooper to A-2, AMEW, Survey Trip in N. Africa, 20-30 Dec. 1942; ltr., 31 Dec. 1942, in Operational History of the North African Sector, Africa-Middle East Wing, ATC; Godfrey Rpt.; msg. XII BC to CO XII BC, Rear Echelon, Tafaraoui, 5 Dec. 1942.

62. Avn. Engineers in MTO.

63. Msgs., AFHQ to AGWAR, 1110, 3 Dec. 1942; AFHQ, Air Staff to ABFOR, 1311, 6 Dec. 1942 ETO London to AFHQ, 389, 6 Dec. 1942; London to AFHQ, 382, 7 Dec. 1942; AFHQ, Air Staff to Middle East, 1450, 8 Dec. 1942; EAC CP to First Army CP, A74, 5 Dec. 1942; S/Ldr. Eric M. Summers, Blida's Bombers (1943), pp. 8-10; File 77 (msgs.).

64. Msg., AFHQ to USAWW, 1138, 4 Dec. 1942; History, 2d Bomb. Div.

65. History, 2d Bomb. Div.; 12th AF, Air Intel. Rpt. (hereinafter cited as AIR) 34 and 35, 14 and 15 Dec. 1942.

66. Memo for Gen. Eubank from Lt. Col. J.B. Montgomery, Report of Visit to Twelfth Air Force (hereinafter cited as Montgomery Rpt.), 5 Jan. 1943.

67. History, 2d Bomb. Div.; AAFHS-30, pp. 85-86; CM-IN-11370 (1-25-43), Cairo to AGWAR, AMSME 4090, 20 Jan. 1943.

68. IG Hq. 2d AF, statement of Col. C. E. Duncan, 22 Feb. 1943; msg., AFHQ to ABFOR, n.d. but about 24 Nov. 1942; ltr., Eaker to Stratemeyer, 6 Dec. 1942.

69. History, XII BC; Administrative History, 12th AF; histories, 97th and 301st Bomb. Gps., 1st Fighter Gp., and 27th FighterSq.

70. Montgomery Rpt.; File 706, 8, Dec. 1942.

71. Interview with Lt. Col. H.E. Engler, 27 May 1943.

72. Ltr., Doolittle to Arnold, 30 Nov. 1942; interview with Lt. Col. P.W. Tibbetts, 20 Feb. 1943.

73. AIR 36 and 39, 16 and 19 Dec. 1942; NAAF Operations Bulletin 2, p. 43.

74. AIR, 42, 43, 44, on 22-24 Dec. 1942.

75. History, 1st Fighter Gp.; Administrative History, 12th AF, Pt. III, Vol. I; Engler interview; ltr., Doolittle to Arnold, 30 Nov. 1942.

76. Lt. Col. Caldwell [to CG 3d Bomb. Wing, 8th AF], Report on Medium Bombers, 12 Mar. 1943; Col. S.W. Towle to CG VIII FC, Report on Fighters and Air Defense Wings, 10 Apr. 1943.

77. Histories, 5th and 47th Bomb. Wings and 97th Bomb. Gp.; interview with Maj. Joseph W. Sabin, 24 June 1943; msg., Doolittle to CG MCW, 0209, 3 Jan. 1943.

78. History, 97th Bomb. Gp.; AIR 47-52, 27 Dec. 1942-1 Jan. 1943.

79. AIR, 57 and 60, 6 and 9 Jan. 1943; A-2 Sec., Hq. NAAF Special Report 53, Bomb Damage, Ferryville Naval Base, June 1943.

80. Montgomery Rpt.

81. Ibid.; histories, 310th and 319th Bomb. Gps.

82. AIR 33, 34, 36, 38, 39, on 13, 14, 16, 18 and 19 Dec. 1942; Administrative History, 12th AF.

83. Msg., Middle East to AFHQ, un-numbered, 14 Dec. 1942.

84. AIR 51-52, 31 Dec. 1942-1 Jan. 1943.

85. History, 310th Gp.; AIR 53 and 56, 2 and 5 Jan. 1943.

86. Ltr., Eaker to Arnold, 2 Jan. 1943; msg., AFHQ to AGWAR, 4430, 6 Jan. 1943.

87. Eisenhower's Dispatch, p. 26.

88. Godfrey interview; ltr., Eaker to Arnold, 2 Jan. 1943.

89. Msg., Cannon to CG 12th AF, 0334, 4 Jan. 1943.

90. Interview with Col. Max Schneider, 8 Jan. 1943.

91. Control Div., Hq. ASF, Operation TORCH.

92. File 706, 8 Dec. 1942; ltr., Eisenhower to Somervell, 28 may 1943.

93. Ltr., Eaker to Arnold, 2 Jan. 1943.

94. Administrative History, 12th AF.

95. Montgomery Rpt.

96. Interviews with Lt. Cols. P.C. Cochran and Vincent Sheean, 3 June 1943.

97. History, 47th Bomb. Gp.

98. Godfrey Rpt.

99. Histories, 47th Bomb. and 14th Fighter Gps.

100. Ha. 12th AF. Operations and Statistics of Twelfth Air Force; msg., Allied Air Force to AGWAR, 7158, 25 Jan. 1943.

101. Air Estimate of the Situation, Annex 1d to TORCH Outline Plan.

102. Msg., Doolittle to CG AAF, 164, 6 Dec. 1942; ltr., Doolittle to Arnold, 30 Nov. 1942; ltr., Doolittle to Stratemeyer, 31 Jan. 1943.

103. Msg., AGWAR to USFOR, R2271, 22 Oct. 1942.

104. Memos, H.L. George to Arnold, 1 and 18 Dec. 1942, Weekly Report of Activities of ATC.

105. Ltr., Eaker to Stratemeyer, 2 Jan. 1943; CM-IN-10052 (12-23-42), Algiers to AGWAR, 2784, 22 Dec. 1942.

106. Msg., AGWAR to USFOR, R2271, 2 Oct. 1942; ltr., Arnold to Doolittle, 1 Dec. 1942.

107. Msg., AFHQ to AGWAR, 4135, 26 Oct. 1942.

108. Hist. Sec., ATC, History of ATC in Central Africa and the Middle East, Pt. 2, Vol. II, and app., Kit Project.

109. CM-OUT-8730 (11-27-42), WD-OPD to USFOR, London, R3661, 26 Nov. 1942; ltr., Arnold to Doolittle, 21 Dec. 1942.

110. History, 17th Bomb. Gp.; Text of Announcement made by Commander in Chief, Allied Expeditionary Force, Regarding French West Africa, 7 Dec. 1942.

111. Operational History, North African Sector, AMEW, ATC; ltr., Arnold to Doolittle, 21 Dec. 1942.

112. Ltr., Brig. Gen. SheplerW. Fitzgerald, CG AMEW to CG ATC, 1 Mar. 1943, in app. to Pt. 2, Vol. II, History of ATC in Central Africa and the Middle East; msgs., ATC, Accra to CG 12th AF, 1148, 27 Dec. 1942, and AFHQ to CG ATC, Accra, 263, 3 Jan. 1943; histories, 321st Gp. and 441st and 442d Bomb. Sqs.

113. Lt. Col. Caldwell, Report on Medium Bombers; extracts from report of inspection trip by Col. 14.0pt; J.H. McCormick, forwarded 25 Mar. 1942 by R&R, Stratemeyer to A-1; msg., Spaatz to CG 2d ADW, 1353, 20 Feb. 1943; msg., Allied AF to AGWAR, 7158, 25 Jan. 1943.

114. Col. Towle, Report on Fighters and Air Defense Wings, 10 Apr. 1943.

115. History,I ASAC (Sp.); History, Original XII AFSC; ltr., Maj. Gen. W.H. Frank, ASCPFO to CG AAF, 28 Apr. 1943, and 1st ind. DAC/AS, MM&D, 11 May 1943; msg., AGWAR to USFOR, R2368, 25 Oct. 1942; msg., AFHQ to AGWAR, 4126, 26 Oct. 1942; CM-OUT-10264 (12-31-42), CG AAF to USFOR, 628, 31 Dec. 1942.

116. Ltr., Doolittle to Arnold, 30 Nov. 1942.

>117. Montgomery Rpt.; msgs., Cannon to CG 12th AF, 1926, 2637, 2873, on 17, 24, 31 Jan. 1943.

118. Msg., Allied AF to AGWAR, 7038, 24 Jan. 1943.

119. Memo for AC/S, OPD from Brig. Gen. O.A. Anderson, 3 Nov. 1942; ltrs., Eaker to Spaatz, 29 Jan. 1943, and Stratemeyer to Eaker, 8 Mar. 943.

120. Memo for AFAEP from Traffic Div., AC/AS, MM&D, 21 Apr. 1943; CM-IN-11794 (1-26-43), 12th AF to ASCPFO, 2038, 25 Jan. 1943.

121. Msg., Allied AF to AGWAR, 7158, 25 Jan. 1943.

122. CM-IN-10052 (12-23-42), Algiers to AGWAR, 2784, 22 Dec. 1942.

123. CM-OUT-9078 (12-27-42), OPD to Freedom, Algiers, 513, 26 Dec. 1942; CM-IN-1976 (12-28-42), Algiers to WAR, 3359, 28 Dec. 1942; memo for CG AAF and CG SOS from OPD, 28 Dec. 1942.

124. Msg., Allied AF to AGWAR, 7038, 24 Jan. 1943; msg. AGWAR to AFHQ, 1748, 2 Feb. 1943.

125. McCormick Rpt. as in n. 113; History, 33d Fighter Gp.

126. Ltr., Spaatz to Stratemeyer, 2 Feb 943.

127. Msg., Hq. NAAF to AGWAR, 1333, 20 Feb. 1943; msg., Spaatz to CO 2d ADW, 1353, 20 Feb. 1943.

128. Ltr., Spaatz to Stratemeyer, 26 Mar. 1943.
---
---