Chapter 15
The Clean-Up
IN THEIR northward progress from New Guinea to Leyte, Mindoro, and Luzon, SWPA forces had bypassed substantial enemy garrisons in the Netherlands East Indies, Borneo, and the southern Philippine Islands. Continually subjected to air attack, those garrisons had suffered an attrition which greatly reduced their capacity to interfere in any serious way with Allied operations. The invasion of Luzon, moreover, placed U.S. forces, both air and sea, in a position to maintain increasingly effective interdiction of the lines of communication joining enemy garrisons in the south with the Japanese homeland and thus to cut off all hope of their reinforcement. Since U.S. planners by 1945 were emphasizing the possibility of an early assault on Japan itself, there was a strong temptation to leave enemy garrisons south of Luzon to wither on the vine, much as previously bypassed forces had been left in the Solomons.
The temptation, however, was met by several objections. In planning the Philippines operations it had been evident that air bases in Borneo would add to the effectiveness of the attempt to interdict enemy communications in the South China Sea. Political considerations carried even greater weight. The Allied command in the southwest Pacific was in fact as well as name a working alliance in which the United States was only a senior partner. General MacArthur felt that Australian and Dutch interests in the reconquest of bypassed areas could be ignored only by violating the international agreement on which his command rested.1 In addition, he had long been guided by a strong sense of the obligation the United States bore for the liberation of the Philippine people,* and that obligation was only partially fulfilled by the freeing of Luzon.
---
* See above, pp. 279-80.
--448--
The opposition to the plan to bypass areas south of Luzon received support from the fact that a substantial part of the forces needed for a clean-up campaign were available, or could be made available, without resort to an overly difficult redeployment. Since it had been decided that Australian forces, which had fought side by side with those of the United States in the New Guinea campaigns, would pot be used in the reconquest of the Philippines, RAAF Command and veteran Australian ground units could assume the main burden of attack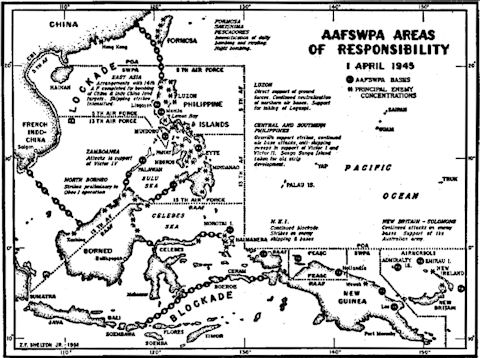 AAFSWPA Areas of Responsability 1 April 1945
in NEI and Borneo. In the northward advance of W.S. forces, Sixth Army and Fifth Air Force served as the spearhead with Eighth Army and Thirteenth Air Force in support, so that the Eighth Army was in position to clean out the southern Philippines while the Sixth completed its conquest of Luzon, and the Thirteenth Air Force from its rearward bases could reinforce the efforts of RAAF in a westward move or could strike northward against southern Philippine targets. The delay in reaching a decision on the mission to be assigned MacArthur's command after the recapture of Luzon lent further encouragement to the planning of secondary offensives within the SWPA.2
Although it eventually was necessary to postpone the execution of
--449--
plans for reduction of enemy positions in Java because hopes for an early redeployment of forces from the European theaters did not materialize.3 at the cessation of hostilities in August 1945 the reoccupation of the southern Philippines and of Borneo had been completed in operations VICTOR and OBOE.
VICTOR
The MUSKETEER plan of 10 July 1944* had assumed that the advance to Luzon by way of Sarangani Bay and Leyte would be followed by a series of operations for the reduction of bypassed enemy positions on Mindanao and in the Visayas. Subsequent revisions of this strategy brought corresponding changes in plans for the southern Philippines and combined those plans with discussions of action to be taken in Borneo and NEI. The timing of proposed operations necessarily remained flexible even in the MONTCLAIR plan of February 1945, which joined the VICTOR series (Palawan, Zamboanga on Mindanao, Panay-northern Negros, Cebu-southern Negros-Bohol, and central Mindanao in that order) with an OBOE series for the seizure of Tarakan Island, Brunei Bay, and Balikpapan in Borneo and of Java.4 General Eichelberger's Eighth Army at Leyte was to have over-all command, with an Australian military force in immediate charge of OBOE operations. To Brig. Gen. Paul B. Wurtsmith's† Thirteenth Air Force went control of VICTOR air operations and to RAAF Command the primary responsibility for support of OBOE.
The Japanese garrisons to be successively attacked in the VICTOR operations belonged to the enemy's Thirty-fifth Army, commanded by Lt. Gen. Nunesaku Suzuki, who had been in command at Leyte. Numerically his troops were perhaps equal to the attacking American forces, but they lacked air support and, with inter-island barge traffic reduced to a minimum, they had to fight as isolated units.5
For the aerial war, Palawan and Zamboanga outranked in importance all other objectives in the series, since they offered air bases useful for the advance on Borneo and for interdiction operations over the South China Sea. First on the schedule, invasion dates were set at 28 February for Palawan and at 10 March for Zamboanga, GHQ issuing the necessary orders on 6 and 14 February respectively.6 Both operations
---
* See above, p. 282.
† He replaced General Sueett in command of that force on 30 January 1945.
--450--
were charged to Maj. Gen. Jens A. Doe's veteran 41st infantry Division.
Palawan, the westernmost island of the Philippines, is long, narrow,
Southern Philippines
mountainous, and relatively undeveloped. At Puerto Princessa the enemy had developed two airdromes, one with a concrete strip and both regarded as capible of extension and improvement for allied use.
--451--
Once the island was taken, the American air garrison was to consist of a detachment of the 419th Night Fighter Squadron (P-61's) the 347th Fighter Group (P-38's), the 42d Bombardment Group (B-25's), a detachment of the 2d Emergency Rescue Squadron, related service and communications units, and the Navy's VPB-17 (a tender-based search unit). The total air personnel was to be 5,452 men. The engineering effort was charged to the 1897th Engineer Aviation Battalion under control of Eighth Army but subject to advice from Brig. Gen. Earl W. Barnes, whose XIII Fighter Command had been assigned control of all air operations. Allied Air Forces had hoped for allocation of an additional engineer battalion, but since the engineers figured that the one battalion could put one 5,000-foot all-weather strip in operation by H plus 6 for one fighter group and a night fighter flight to cover the Zamboanga operation, this request was not pushed. It was estimated that by H plus 15 a 6,000-foot strip would be ready for the medium bombardment group and the air-sea rescue flight. After the first air garrison was emplaced, further facilities were to be developed or the 7th Photo Reconnaissance Squadron, VPB-117, and the VPB-128 as well as for staging one heavy bombardment group.7 As the assault air force, Thirteenth Air Force issued its operational orders on 11 February and amplified these by a letter of instruction on 19 February, the latter a detailed air support plan for all units of the Thirteenth (including attached Marine Air Group 14) and supporting air organizations.8
Actually, aerial preparation had already begun--the neutralization of Visayan airdromes from Leyte and Mindoro having been an essential phase of the Luzon landings. Similarly, the Thirteenth Air Force from Morotai had been working over Celebes and Borneo airfields. Although the 5th and 307th Bombardment Groups were employed against Luzon targets, in early February, between 5 and 8 February they hit the Borneo airdromes at Manggar, Sepinggan, Miri, and Tawau, and from 8 to 15 February they were used against Corregidor. Following a two-group strike on 16 February against Kendari airfield in the Celebes, they returned to Borneo supply, personnel, and equipment targets from 17 through 26 February and airstrips from 27 February through 1 March. The Seventh Air Force's 494th Bombardment Group from Palau performed in like manner over the Davao-Zamboanga airfields on Mindanao; LAB-24 "snoopers" flew interdiction missions through the Celebes, over Makassar and Balabac
--452--
straits, and on through the Sulu Sea; and the 42d Group's B-25's with the 347th Fighter Group from Morotai hit such targets as Matina and Zamboanga airdromes on Mindanao and Zettlefield airdrome on Jolo Island. Fifth Air Force fighters and Marine Air Group 14 from Leyte-Samar attacked targets in the Visayas while naval patrol planes performed the search missions. Mindoro-based fighters of the Fifth hit Puerto Princesa on 5 February and a defense position at Canigaran on 24 February.Two days later the final preparation began, when the Thirteenth's 347th Fighter Group hit supply, bivouac, and defensive areas at Puerto Princesa with napalm.9 They were followed over the same targets by seventy-two A-20's of the 3d and 417th Groups flying from Mindoro and thirty-six P-38's with more napalm. A group of P-47's hit a sawmill area with 1,000-pound bombs. On 27 February (H minus 1) ninety-five Havocs bombed and strafed supply and personnel areas; after forty-four Fifth Air Force heavies hit defense installations, two groups of fighters attacked the same targets with napalm. Fighters from Mindoro provided convoy cover and with the aid of A-20's covered the troops after they had gone ashore, but ground controllers were hard put to find targets for them.10
Following a bombardment of the beachhead area by cruisers and destroyers attached to Rear Adm. William M. Fechteler's amphibious force, the 41st Division's 186th Regimental Combat Team went ashore unopposed at 0830 on the 28th. By 1200 Fuerto Princesa and the two airstrips had been taken. Other landings were made on the west side of the bay opposite Puerto Princesa. On 1 March the town of Iwahig was taken, and by 3 March a perimeter around the bay was established. Extensive patrolling from the perimeter ran into little opposition as the engineers and construction troops began work on the airstrip, so that on 20 March one battalion of the 186th RCT was shifted to Zamboanga and on 25 March the regimental headquarters and another battalion departed, leaving the 2d Battalion for the final clean-up. General Barnes and the task force engineer, Lt. Col. James E.O'Keefe, had inspected the airstrips on H plus 1 and decided to concentrate on repair of the 4,600-foot concrete strip and to add 2,000 feet to it. The many bomb craters, poor concrete, and underground seepage delayed the completion of the task until H plus 20,11 so that the first formal missions from the new base were flown on 24 March, too late to be of assistance to the Zamboanga landing.
--453--
That landing was protected by Marine fighters staging through a guerrilla-held field at Dipolog on Mindanao, an expedient made possible by previously developed plans for the assistance of friendly guerrillas. The American landing at Leyte had greatly stimulated the activity of Filipino guerrillas, who increasingly supplied through a variety of channels helpful intelligence of air targets. In return, XIII Fighter Command, while in operational control at Leyte as the 13th Air Task Force, had initiated a scheme for rendering air support to the ground operations of guerrilla units. Worked out in collaboration with the G-2 and G-3 Philippine Sections of GHQ, it provided for special teams of air support personnel to be stationed, as certain signal aircraft warning (SAW) and ground observer units had already been, with guerrilla organizations throughout the southern Philippine Islands. When it became apparent that Palawan facilities would not be ready in time for the Zamboanga landing, the 5279th Airborne Fighter Control Center (P) and two light-weight reporting SAW platoons were flown to Dipolog with enough supplies to permit the staging of one fighter squadron from J minus 2 through J plus 12 days for convoy cover and ground support at Zamboanga. Sixteen Marine Corsairs of MAG 12 received the supporting assignment.12
The purpose of the landing on the Zamboanga Peninsula was to secure control of Basilan Strait-one of the two main approaches to Asia from the southwest Pacific. The landing would also provide naval and air bases for support of OBOE and of operations to reduce enemy forces in other parts of Mindanao. Zamboanga offered airfields protected by the mountainous terrain of the upper peninsula, an area controlled by friendly guerrillas, as well as good landing beaches and two airfields on the southeastern coast, near the town of Zamboanga, one Japanese-developed and the other a prewar commercial field of sod surface. The enemy garrison was estimated at from 5,000 to 8,000 troops.13
GHQ operations instructions of 14 February 1945 designated the 41st Infantry Division (minus one RCT) as the assault force. The air garrison was to comprise one group of fighters, one group of dive bombers, one VMB (B-25) squadron, one flight of night fighters, and one air-sea rescue flight-a total of 4,768 airmen. Air facilities for the fighters were to be ready by J plus 5 and for the rest of the air garrison by J plus 15. Service units to be stationed there totaled 3,057 men. An amendment of 8 March provided for operations to seize
--454--
Tawi Tawi Island and to establish there emergency staging facilities for two squadrons of twin-engine fighters by J plus 43.14 Allied Air Forces instructions of 20 February were also amended on 3 March to provide for the Dipolog operation, and on 13 March Thirteenth Air Force was directed to transport by air the necessary service forces for the field on Tawi Tawi. The Thirteenth's instructions assigned operational control on Zamboanga to Col. Clayton C. Jerome, as commander of marine air groups, Zamboanga.15
In the aerial preparation once again U.S. fighters and dive bombers from Leyte hit Visayan targets while the RAAF took care of the Celebes targets. The 5th and 307th Bombardment Groups pounded airdromes in northern Borneo from 1 to 5 March and the 494th Group attacked Mindanao fields. From 6 to 9 March the heavies bombed eleven targets on Zamboanga, an area visited regularly by the 42d Group's Mitchells from 1 through 9 March, and the 347th Fighter Group undertook to neutralize nine targets either with napalm or 500-pounders. On J-day (10 March), while Fifth Air Force fighters were covering the assault convoys from their Leyte and Mindoro bases, three of the Fifth's heavy groups bombed the barracks area, and the 494th Group, having staged through Samar, hit the underground hangar area. After the ground troops landed about thirty minutes later--at 0915--a bombing and strafing of the hangar area was added to the heavies' attack by two Fifth Air Force A-20 groups at 1030 hours. Combat air patrols were supplied by Marine Air Group 12, by the 347th Fighter Group, and by the 42d Group's B-25's staging through Du1ag.16 General Eichelberger has described the landings as a "coordinated job by three arms of our forces and admirable to watch."17
The covering force of cruisers and destroyers commanded by Rear Adm. Russell S. Berkey gave the Zamboanga area and the beachhead at San Mateo a two-day preliminary bombardment. This also featured "hunter-killer" teams--two PT boats and two B-25's--working over the bays and inlets around Zamboanga, Basilan Island, and Basilan Strait. General Doe's two regimental combat teams--the 162d and 163d--met little opposition aside from harassing mortar and artillery fire in capturing Wolfe Field and establishing a perimeter halfway between that field and the town of Zamboanga on J-day. The next day against increasing resistance they captured Zamboanga and the San Roque airdrome four miles beyond. Patrols also cleaned out the
--455--
few Japanese on Basilan Island. Strong infantry opposition did not develop on Zamboanga until March, when the ground troops approached the prepared hill positions four to six miles inland to which the Japanese had retreated. Heavily mined roads made tanks ineffective and the infantry attack was so canalized by terrain that enemy positions had to be taken laboriously by artillery-air-infantry actions. Marine fighters, Marine dive bombers, B-25's, and even B-24's on 14 and 17 March were called on for ground support missions. By 26 March, however, the Japanese had been pushed back from their more strongly fortified positions to hastily constructed lines and were already trying to break through the guerrilla line in their rear.18 By the end of the month organized Japanese resistance had ended.From Zamboanga, units of the 41st Division landed without opposition on Sanga Sanga in the Tawi Tawi group on 2 April; a landing was made on Jolo Island, also without opposition, a week later. Both operations had been preceded by B-24 attacks and both landings received air support from Thirteenth Air Force Liberators and Marine dive bombers. Also on 9 April a battalion of the 186th RCT from Palawan landed on Busuanga Island north of Palawan, further securing Mindoro Strait. San Roque airdrome, renamed Moret Field, was used on J plus 3, and MAG 12 Corsairs came in on 15 March, followed by the SBD's of MAG 32 a week later and the PBJ squadron on 30 March. To help in the OBOE operations, beyond the range of the Marines, elements of the 18th Fighter Group were moved into Zamboanga on 10 May. Similarly, elements of the 347th Fighter Group and all of the 419th Night Fighter Squadron moved from Palawan to Sanga Sanga on 25 April and in late June respectively.19
The basic patterns of the remaining VICTOR operations were analogous, as Maj. Gen. Rapp Brush's 40th Division secured Panay and then landed on northern Negros, Maj. Gen. William H. Arnold's America1 Division occupied Cebu and secured southern Negros and Bohol, and X Corps (24th and 31st Infantry Divisions) under Maj. Gen. Franklin C. Sibert invaded central Mindanao through the Malabang-Cotabato area. Even though the strength of Japanese garrisons had been underestimated in all cases, initial objectives were quickly captured. The Japanese fortunately chose their now familiar tactic of a "battling withdrawal" into prepared positions in the interior, where the lack of aerial reconnaissance, poor communications, and the interference of Filipino guerrillas robbed the enemy of any advantage from
--456--
numerically superior forces.20 Japanese troops roughly equivalent to pre-invasion estimates of the enemy's total strength were killed or captured in the VICTOR operations, but at the termination of hostilities as many more surrendered.
Since remaining operations in the series were primarily ground actions, the heavy bombers of the Thirteenth Air Force and the 494th Bombardment Group needed no help from the Fifth's heavy groups. Other air units available were those of the XIII Fighter Command on Palawan, units of the 85th Fighter Wing and MAG 14 on Leyte, Fifth Air Force fighters and A-20's at Mindoro, the Marine air groups at Zamboanga, and naval search and reconnaissance units. Because of the widespread activity of friendly guerrillas and the shortage of engineers available to Eighth Army, planes were prohibited from bombing and strafing docks, harbors, waterworks, bridges, navigational aids, and any shipping (after the operations started) unless specifically requested to do so by ground commanders. The only targets relatively unrestricted were airdromes and even here care had to be taken since guerrillas had control of many of them. So the pattern of aerial operations was one primarily of direct ground support called for and spotted by air liaison parties with U.S. troops and guerrilla units.21
Plans for this later phase corresponded closely to those developed in earlier VICTOR operations. SWPA Headquarters would issue a staff study and after receiving comments from the lower echelons would follow with the operations instructions. The Allied Air Forces operations instructions amplified the aerial mission and passed on responsibility to the Thirteenth Air Force, which in turn amplified the aerial assignments after conferences with its lower echelons and with Eighth Army, Seventh Fleet, and the division or corps headquarters of the assault force. In contrast somewhat to Sixth Army procedure, Eighth Army's field orders were fairly general, requiring the headquarters staff of the assault force to work out detailed intelligence and operational planning which would be submitted to Eighth Army for final approval. Similarly, the air support plan of the Thirteenth Air Force and the naval plan of Seventh Fleet would be submitted to Eighth Army. General Eichelberger credits much of the success of his rapidly mounted operations to careful logistical planning.22 Eighth Army logistic annexes fail to bear out his statement that the principle of fifteen days' supply was substituted for the usual sixty, but it is evident that careful staff work was used in husbanding resources.23
--457--
Panay, separated by the eleven-mile Guimaras Strait from northern Negros, is mountainous on the north and west with a rolling fertile plain in the southeast, where there are good landing beaches and the port and city of Iloilo. The prewar governor, Tomas Confessor, had maintained a free civil government on Panay throughout the war with some aid from the guerrilla chief, Col. Nacario Peralta. Despite the guerrillas the Japanese clung to the Pilar-Iloilo-Guimaras Island region with a force estimated at about 4,000 men.24 Except for the protection afforded by missions flown in support of the campaign on Luzon,* the occupation of Panay was undertaken with only one preparatory air attack. Liberators of the 5th Group bombed the Tigbauan supply and personnel area on 17 March (G minus 1) . The 307th Bombardment Group continued to work over Borneo targets while the 5th and 494th bombed the Negros airfields of Bacolod, Alicante, Malogo, Fabrica, Silay, Talisay, and Carolina. The cover and ground support missions were assigned to the 85th Fighter Wing (including MAG 14) which supplied combat air patrols over the convoys, the landing area at Tigbauan, and over the Negros airfields. On G-day, Fifth Air Force A-20's were over Panay but for lack of targets were diverted to Negros.25
The 40th Division (less the 108th RCT), having sailed from Lingayen Gulf, after a light pre-invasion bombardment landed at Tigbauan about fourteen miles west of Iloilo on 18 March. There was no defense of the beaches; in fact, U.S. forces were met at the shore line by Colonel Peralta's strong guerrilla units. On the next day Mandurriao airfield was captured and American troops reached the outskirts of Iloilo, where they met the first real resistance. But the Japanese actually were abandoning the city and the guerrillas were already in possession of most of the inland area. The 40th Division's motorized columns had broken all organized Japanese opposition by 22 March. On 20 March, Guimaras Island had been secured with no enemy contact.26
Northwestern Negros (Negros Occidental), separated from the southeastern end by a very rugged mountain range, was the secondary target for the 40th Division. Here another very fertile plain had provided sites for the most extensive Japanese aerial development in the central Philippines.27 Rear Adm. A. D. Struble's naval task group loaded the attack force early on 29 March to cross the eleven-mile
---
* See above, Chap. 14.
--458--
strait for landings at Pulupandan at 0930. (This was just two days after and one day before related landings on Tablas and Masbate islands.) In order to secure the 652-foot Bago River bridge en route to Bacolod, the principal city, a special force of 62 men from the 185th Regiment had crossed the strait during the night, reached the bridge under guerrilla guide shortly after daylight, and successfully prevented Japanese demolition. They held the bridge until the main body of the 40th Division had safely passed over. The rapidity and surprise of the advance enabled the troops to secure Bacolod town and airstrip intact by noon the next day. Driving south, east, and north, the 40th Division secured La Carlota, Granada, and Talisay respectively by 2 April. When it became evident that the Japanese were retreating to the central mountains, General Brush sent motorized reconnaissance patrols around the perimeter of Negros Occidental, and by 4 April remaining pockets of resistance were pinned in the central mountain range, except for a small garrison at Dumaguete in southeastern Negros. It took time to root out the increasingly stubborn defenders, but Eighth Army declared orga ed resistance at an end in the Visayas on 24 June. The 503d Parachute Infantry RCT, which had been brought into Negros on 7 April, relieved the 40th Division of responsibility at that time and was engaged in mopping-up operations until the final Japanese surrender.28
Almost concurrent with the Panay-Negros operation came the conquest of Cebu-Bohol-Negros Oriental. The Americal Division (less the 164th RCT), having just finished the clean-up on Leyte, went from a tough job to an even tougher one. Cebu, the primary objective, boasted in Cebu City the second largest metropolis in the Philippines, a city which served as headquarters for the Japanese Thirtyfifth Army. Lt. Col. James Cushing, guerrilla chief on Cebu, in a report to Eighth Army had estimated the enemy garrison at 13,000 men. Actually, the Americal Division, after killing 9,300 on Cebu plus 700 on Bohol and Negros Oriental, received the surrender of approximately 9,000 more at the end of the war.29
E-day had been set for 2'5 March, but on the 22d SWPA Headquarters postponed it one day. Army, Navy, and Marine pilots had been hitting Cebu regularly with the aid of air support teams sent to the guerrilla forces long before the landing. One observer team was even situated so that it overlooked Cebu City, where from 19 to 26 March the 5th, 307th, and 494th Bombardment Groups concentrated
--459--
on ammunition and supply dumps; on E-day the immediate rear of the landing area at Talisay Point, four to five miles southwest of Cebu City, was bombed with 1,000-pounders. Light bombers from Palawan and fighters from Leyte were on combat air patrol as the troops went ashore. The landing area was heavily mined but fortunately there was little enemy fire; again the Japanese chose to retreat--to positions in the hills west of and overlooking the city. The battered city and its reservoir were captured on 27 March, fortunately with little damage to its docks, and although Lahug airdrome was taken the following day, Japanese positions in nearby hills made it useless. Cauit and Mactan islands were secured, however, so that the airstrip on Mactan was used for courier, liaison, and aerial supply purposes.30
As Eichelberger put it, "the Japanese overlooking Cebu City were prepared to fight from the most elaborate defensive position yet encountered in the philippines."31 The America1 Division was kept under artillery and mortar fire and had to fight off constant attempts at infiltration. To break the deadlock, the 164th RCT (less the 3d Battalion) was brought in from reserve on 9 April and, guided by guerrillas, began a twenty-seven-mile march to Bagabag ridge in the Japanese rear. Meanwhile, for ten days heavy artillery fire and aerial bombing and strafing missions pounded the Japanese positions, with the Thirteenth Air Force using B-24's as aerial spotters and coordinators over Cebu for fighter strikes. On 20 April an attack simultaneously from front and rear caused the Japanese to withdraw to northern Cebu. The 3d Battalion of the 164th RCT had landed meanwhile at Tagbilaran on Bohol and by the end of April had reduced the small pocket of Japanese near Carmen. The remainder of the 164th assaulted Dumaguete on 26 April, quickly securing that city and scattering a weak enemy force.32
Although the Japanese troops never fought again as a unified force, they maintained continued resistance until the final surrender in August, when the remaining force was still over 9,000. The last of the VICTOR operations was a clean-up of Mindanao, which Eichelberger and his Eighth Army staff viewed with considerable misgivings. In addition to the estimated 30,000 to 34,000 Japanese, the engineers were apprehensive about the imminent rainy season and supply officers were worried about shipping. The main Japanese force was in the Davao region, and Eichelberger originally had hoped to make his assault there. But because of the vulnerability of
--460--
amphibious operations in Davao Gulf and the tie-up of covering forces in the Okinawa operation, the Navy was unwilling to risk a landing there. The final plan was therefore based on a landing by X Corps in the Malabang-Parang-Cotabato area and subsequent overland action along Highway No. 1 to Kabacan, where there was a junction with the Sayre Highway which runs through central Mindanao to Macajalar Bay. From Kabacan Allied forces could follow Highway No. 1 to Digos on Davao Gulf, thus attacking the Japanese rear, or they could go north up the Sayre Highway. Should shipping and forces be available later other amphibious landings could be made to speed the campaign.33
Fortunately, the Japanese were in confusion. General Suzuki lost his life in moving his headquarters from Cebu to Mindanao in the third week of April. Maj. Gen. Yoshiharu Tomochika arrived from Cebu on 21 April, four days after the American landing, with orders from Suzuki to take command in the event of the latter's death, but General Morozumi as the senior officer present thought he should have command. The resulting confusion, aggravated by some interservice conflict, reduced the effectiveness of two army divisions and the naval and marine forces concentrated at Davao.34
The XIII Bomber Command Liberators had begun preparation for VICTOR V with a strike at Sarangani on 2 April, followed by raids on Malaybalay on 4 April and Davao from 11 to 15 April. On the 16th and 17th Cotabato was hit, as was the road junction at Kabacan on 17 April. On 18 and 19 April the bombers returned to the Davao area; Kabacan and Beo were also hit by the heavies on 19 April. All heavy groups, the 5th, 307th, and the Seven Air Force's 494th, participated in these strikes, although much of the 307th Group's effort continued to be directed against Borneo targets. While the heavies concentrated on Davao, partly in the hope of suggesting that town as the immediate objective of an amphibious attack, the Mitchells of the 42d Group from Palawan maintained road sweeps over Highways No. 1 and 5 and the Sayre Highway on each day from 12 April to 20 April.35 Meanwhile, at Malabang where the attack was scheduled, guerrillas under Col. Wendell W. Fertig early in April secured the town with its airstrip. From positions only 400 yards from the field the Japanese kept the guerrillas under fire, but Marine fighters and dive bombers from Zamboanga maintained consistent pressure on the enemy, flying into Malabang to get instructions from the guerrillas and
--461--
then hitting the Japanese almost immediately after take-off. After ten days of this pounding the Japanese broke through the guerrillas and fled south.36
The naval task group, under the command of Rear Adm. Albert G. Noble, had loaded Maj. Gen. Roscoe B. Woodruff's 24th Division at Mindoro and was at sea when information was received from Fertig of the capture of Malabang. In a hasty revision of plan, it was decided to send only one battalion in at Malabang and to make the main landing at Parang in the hope of speeding the drive inland. On R-day, 17 April, after the usual cruiser and destroyer bombardment and under cover of thirty-five SBD's and thirty Corsairs, the assault units went ashore unopposed. Next day, Cotabato was secured by a shore-to-shore amphibious movement, and by 21 April the 19th and 21st RCT's had reached Kabacan, thus cutting off the enemy's 30th Division from contact with his 100th Division.37
With Marine fighters and dive bombers sweeping the highways of any potential opposition, General Woodruff did not stop to consolidate at Kabacan but kept his 24th Division driving down Highway No. 1 toward Digos on Davao Gulf, which was reached on 26 April. Meanwhile, Maj. Gen. Clarence Martin's 31st Division had staged through Morotai and reached Parang-Cotabato on 22 April. No definite assignment had been given to the 31st before the operation, but for exploitation of the rapid advance to Davao Gulf, it was moved to Kabacan on 27 April and ordered to go north along the Sayre Highway. By 3 May Kibawe was captured with an airstrip capable of limited use. Forced by gorges and a lack of bridges to leave most vehicles and heavy equipment behind, the troops pushed on until they ran into heavy resistance near the Maramag airstrip. After six days the artillery arrived along with fresh troops, and aided by aerial strikes they broke Japanese resistance on 12 May.38 Because the rapidly advancing troops had outrun their supplies and outstripped the ability of the combat engineers to maintain communication routes, the 403d Troop Carrier Group took over with air drops and supply-evacuation landings on rough guerrilla strips. Through May and June better than fifteen transport planes a day were scheduled in support of Mindanao operations. C-46's could be used for air drops, but for direct air supply and evacuation, as at Maramag, the old reliable C-47 was used.39
At Malabang, meanwhile, Marine air units had moved in and renamed
--462--
the strip Titcomb Field. Beginning on 20 April, the SBD's of Marine Air Group 24 filtered in from their assignment on Luzon, and the SBD's and F4U's from Zamboanga used the field to lengthen their time over target. The Marine PBJ's (B-25 type) of VMB-611, also based at Zamboanga, played an active role in supporting X Corps.40 Indeed, except for pre-invasion preparation, the aerial role became almost exclusively a Marine show, since Thirteenth Air Force units were supporting the Australians in their OBOE operations. In June, however, during hard fighting in the Davao area, the P-38's of the 18th Fighter Group were frequently called on for napalm strikes--a type of attack the Marines had not mastered as well as they had dive bombing.
After reaching Digos on 26 April, the 24th Division had sent reconnaissance units south to seize Padada airfield and Malalag Bay while the main body advanced north toward Davao, which fell on 3 May. Admiral Doi's naval and marine units retiring north toward Mandug were slowly cut down, but the bulk of the enemy's 100th Division managed to regroup in the Mount Apo-Kibawe-Talomo Trail area. The Japanese 30th Division had retreated east of the Sayre Highway between the Agusan River valley and the Bukidnon plateau. Though separate, the two Japanese forces were compressed in the large and almost impenetrable mountainous area of central Mindanao, where they continued fighting until the surrender in August.41 The end of organized resistance on Mindanao, however, had been announced by General Sibert on 30 June, and five days later General MacArthur proclaimed an end to the Philippines campaign.
O

BOE
In the conquests of Tarakan, Brunei Bay, and Balikpapan the Australians took the lead, with support from the Americans. Tarakan, a small island forming part of the delta area of the Sesajap River in northeastern Borneo, was seized partly for its oil but mainly for its airfield--a strip the Allies intended to use in support of their landings at Brunei Bay and at Balikpapan. Brunei Bay in northwestern Borneo, with the neighboring Seria and Miri oilfields, was of great strategic importance. Situated on the South China Sea approximately halfway between Manila and Singapore, its harbor had served as a major base for the Japanese fleet. Balikpapan, political and commercial capital of
--463--
Dutch Borneo, drew its military importance from the oilfields which had served as a target for earlier attacks by SWPA bombers.* Seizure of these points in Borneo also was regarded as a step toward the liberation of Java.
From the air forces' point of view, all of these operations were mutually supporting. The RAAF 1st Tactical Air Force was designated the assault force; XIII Bomber Command under operational control of RAAF Command was to direct heavy bomber operations and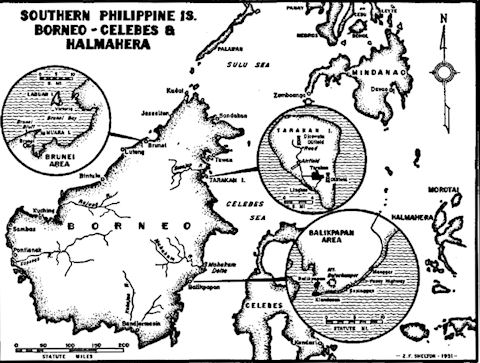 South Philippine Islands; Borneo - Celebes & Malmahera
XIII Fighter Command was to assist by trying to blockade the South China and Sulu seas and by providing initial cover for the ground troops. Other AAF organizations were, of course, on call in the event of an emergency, but as far as possible the show was to be an Australian one. Two B-24 squadrons of the RAAF Northwestern and Western Areas moved to Morotai for operations with XIII Bomber Command, and the ground forces came entirely from the Australian I Corps of Lt. Gen. Leslie Moreshead.42 P-day at Tarakan was set for 1 May.
Attacks on Borneo targets, particularly airfields, had been a part of
---
* See above, pp. 316-12.
--464--
the air force mission in support of the developing Philippines campaign. In preparation for the Tarakan landing, it was necessary only to step up the rate of attack and to assure adequate coverage of some twenty-five enemy strips lying within staging range of Tarakan--especially Manggar, Sepinggan, Jesselton, Sandakan, Tabuan, Miri, Kudar, Bintulu, Kuching, and Celin. The 5th Bombardment Group, flying from Samar with staging facilities available at Palawan, took care of the fields in western Borneo, on one mission sixteen planes going all the way to Kuching in southwest Borneo for a round trip of 2,540 statute miles. The 307th Bombardment Group at Morotai, aided by RAAF Liberators, concentrated its attention on airfields in eastern Borneo and on Celebes. These attacks, first directed chiefly against installations, equipment, and personnel, were after 25 April primarily aimed at cratering the runways. Specific targets on Tarakan Island--oil storage tanks near the beaches, defensive buildings, gun positions, and supply dumps--were also hit. The 868th Squadron (LAB-24) made regular sea searches of the NEI shipping lanes ranging as far south as Soerabaja on 9 and 19 April. For seventeen consecutive days preceding the landing, the B-25's of the 42d Bombardment Group ranged over Borneo from their base at Palawan, as did the 347th and 18th Fighter Groups from Palawan, RAAF Beaufighters from Morotai, and a squadron of PV-1's of Fleet Air Wing lo, also from Palawan. These planes hit targets specified by intelligence parcies previously dispatched to Borneo, flew cover for minesweepers, and laid down smoke to screen beach demolition team activities prior to the landing.43
On P-day the pre-landing strike by the Liberators of the 5th and 307th Groups was scheduled to end at H minus 15 minutes, but delayed by very poor weather at the rendezvous point, they requested an additional five minutes which enabled them to secure excellent coverage of the target, even though not all planes were able to bomb. The assault troops (one brigade group of the Australian 9 Division) met only light opposition at first, but it quickly stiffened so that the enemy was not cleared from the area surrounding the airdrome until 6 May. AAF and RAAF fighters maintained a constant air patrol over the beachhead for five days, while B-25's provided direct support for the troops. After the Japanese had withdrawn to elaborate hill defenses, 1,000-pound bombs dropped by B-24's arid napalm delivered by fighters proved effective in opening up Japanese positions to ground attack. Although engineering difficulties delayed the arrival
--465--
of the RAAF air garrison until 20 June, that garrison had assumed responsibility for defense as of 16 May by replacing the AAF 347th Group at Sanga Sanga.44 By June the enemy had weakened, and on 23 June it was announced that organized resistance had ceased.
The delay in getting the air garrison to Tarakan, however, meant that the landing there failed to serve its chief immediate end, support of the landings in Brunei Bay, even though the target date was postponed from 23 May to 10 June because of a delay in bringing the assault forces to the loading point at Morotai. RAAF units at Sanga Sanga operated against Brunei in the period from 5 to 14 June, but after this they had to move to Tarakan. Asa result, XIII Fighter Command's planes on Palawan were forced to assume an additional load. For the heavies, preparation for the Brunei landings was a continuation of the Tarakan missions: the 5th Bombardment Group sent its planes down to southwest Borneo while the 307th and RAAF heavies worked over the Brunei area. To supplement this effort, the 90th and 380th Bombardment Groups of the Fifth Air Force joined in the final assault on 3, 5, 8, and 9 June; this made a total of 2,789 sorties flown and 3,450 tons of bombs dropped against Borneo targets between 13 May and 9 June. Over half of these sorties had the tactical function of isolating the invasion area by attacks on troop movements, railroads, barges, and roads to prevent any substantial numbers of Japanese moving overland, east coast to the west coast, from reaching Brunei in time to be effective.45
As the covering naval force moved in on Z minus 3 and minesweeping and underwater demolition began, aerial blows were concentrated on the beachhead areas. Fleet Air Wing 10 scouted the South China Sea to spot any possible naval reaction; fighters and night fighters from Morotai, Zamboanga, and Palawan flew cover for the convoys; B-25's operated with PT boats in barge-hunting missions; and RAAF Beaufighters flew interdiction missions inland. With dawn on Z-day, 10 June 1945, the naval bombardment began, and at H minus 35 minutes aerial bombardment by squadron commenced on each of the three beaches, lasting until H minus 15 minutes. Eight Thirteenth Air Force and two RAAF squadrons participated with only one squadron failing to bomb because of a lead bombsight failure. RAAF Command singled out the accuracy of this attack for special commendation.46
The 9 Division troops went ashore on Labuan Island, Brunei Bluff,
--466--
and Muara Island at 0915, at all points unopposed. The Muara force found the island deserted; the Brunei force captured Brooketon and advanced rapidly toward Brunei town; and the Labuan force reached the airfield by nightfall. Direct air support was supplied by four B-25's from Palawan (relieved every two hours) until 15 June, after which they were on call at their base until relieved of all responsibility for such support by the 1st Tactical Air Force on 22 June. Brunei town was taken on 13 June; Labuan Island was secured by 16 June. On 20 June another landing was made at Lutong port and by the 25th the Miri and Seria oilfields were captured. The Australians now controlled 135 miles of the northwestern Borneo coast.47
The invasion of Balikpapan was the last amphibious operation of the Pacific war; according to the MONTCLAIR schedule, it was to be followed by the invasion of Java but that proved unnecessary. While similar to the other OBOE operations in concept and planning, it proved unique in many ways. It was the third successive operation for the Australian I Corps and the RAAF Command, and the added experience as well as improvements suggested by the other operations caused the whole operation to go off much more smoothly than had the other two. This, despite the necessity to land only one mile north of the town, despite the heavy concentration of dual-purpose antiaircraft guns at Balikpapan, despite the extensive mine fields, and despite the lack of close-in support from Tarakan aircraft. The first difficulty was taken care of by leveling all buildings adjacent to the landing area by high-level bombardment. The second and third were overcome by special squadron bombing of antiaircraft positions prior to 15 June, which allowed minesweepers fifteen days to clear both Japanese and Allied mines from the beaches and channels. The last problem was solved by using three escort carriers for convoy and beachhead cover and by using Liberators on two-hour air alert for direct ground support.48
MONTCLAIR had originally made the target date 18 May, but after the decision to seize Brunei postponed the date to 28 June, it was finally set at 1 July. With the coming of June the Fifth Air Force 90th and 380th Bombardment Groups from Mindoro joined the Thirteenth's two heavy groups and the RAAF B-24 squadrons in a sustained effort throughout the month. On 23 June the Fifth's 22d Group (H) and 38th Group (M) moved to Thirteenth Air Force
--467--
bases on Morotai and Palawan to further augment the aerial strength. A Fifth Air Force long-range night fighter squadron moved into Zamboanga to fly night cover.49
At first, antiaircraft positions held the highest target priority, but poor weather frequently forced diversion to secondary targets, which slowed the completion of the minesweeping. The continued bombing had a cumulative effect, however, and although all AA positions were not knocked out, the minesweeping was completed on time. Poor weather also hindered the fighter cover supplied during this period from Sanga Sanga, and was an additional inducement to the requisition of three escort carriers for the period F minus 1 to F plus 2. All other aerial commitments were carried out thoroughly, especially the accurate bombing attacks close to shore which shielded the underwater demolition work from F minus 6 to F minus 1. The preassault bombing totals for the Balikpapan area included 726 B-24, 271 B-25, and 238 P-38 sorties for the Thirteenth Air Force; 563 B-24 and 68 B-25 sorties for the Fifth Air Force; and 84 B-24 sorties for the RAAF.50
There was the usual pattern of tactical isolation by medium bomber and fighter sweeps of overland routes of communication with Balikpapan and by barge hunts along the mast line. Other heavy missions, particularly in the period F minus 5 to F-day, were flown against airfields within staging range of Balikpapan. The LAB-24's of the 868th Squadron continued their sea searches and at extreme range struck Soerabaja and Batavia, once each. Naval search planes covered the South China Sea. On 1 July, after a two-hour naval bombardment and a forty-minute precision attack by a combined striking force of eighty-three B-24's, the assault troops, under cover of a B-25--laid smoke screen,' landed at 0855, five minutes ahead of schedule. Direct air support on F-day was provided by B-24's and P-38's. Against Air Marshal Bostock's better judgment, dive bombers from the escort carriers were also used on an F-day mission which unfortunately resulted in some Allied casualties. Later dive-bomber missions were more accurate.51
RAAF operations went smoothly. The 1st TAF command post and air support control were established ashore by F plus 2 and fighter control by F plus 3. On 2 July the 18 Brigade advanced across the Klandasan River toward Balikpapan, and the 21 Brigade going north captured the Sepinggan airstrip. By 4 July the town and docks of
--468--
Balikpapan were secured, as well as Manggar airfield. During the rest of July, however, progress was slow in eliminating enemy centers of resistance. Faced with difficult beach conditions, RAAF engineers had arranged for clearing a beach near the Sepinggan strip where their construction troops landed on F plus 6 and began work. Air defense and air support missions were taken over by the 1st Tactical Air Force operating from Tarakan and Brunei before the two Balikpapan fields were ready to receive the air garrison. Thirteenth Air Force heavy bombers continued their direct support role until F plus 7, although the last medium bomber support--by the 42d Bombardment Group--was not flown until 11 July.52 As the Americans turned their attention northward in preparation for an invasion of Japan, they carried with them a stronger sense of the good will of their long-time Australian allies.
--469--
Table of Contents
Previous Chapter (14) * * Next Chapter (16)
Notes to Chapter 15
1. Radg., CA 50688, CINCSWPA to WD, 26 Feb. 1945 (WD CM-IN-27255, 26 Feb. 45).
2. Ltr., Whitehead to Kenney, 31 Jan. 1945.
3. Hist. FEAF, pp. 5-9, 11-24.
4. Basic Plan for MONTCLAIR Operations, 25 Feb. 1945. See also its predecessor, PRINCETON, Basic Outline Plan for Re-occupation of the Visayas-Mindanao-Borneo-N.E.I. Area, 7 Nov. 1944, and Hist. FEAF, Vol. II, Campaigns in the Southern Philippines and Borneo. This excellent study was prepared by Maj, Arthur P. Watts and Capt. James E. Cordner, wartime FEAF historians. It will be used extensively in this chapter and full acknowledgment is made to the authors. Maj. Watts concerned himself with the over-all planning; Capt. Cordner's sections are concerned with the OBOE operations and are principally based on the very excellent after-action reports and critiques issued by the RAAF Command for each separate OBOE action.
5. Allied AF, 01 #90, 20 Feb. 1945; Maj. Gen. Yoshiharu Tomochika, The True Facts of the Leyte Operation [hereinafter cited as True Facts], p. 11, translated by 166th Language Det., reproduced by 10th Info. & Hist. Serv., 8th Army.
6. Hist. FEAF, pp. 164-227. The tentative target date of 25 February was changed to 28 February because of the necessity of moving air units from rear bases to the staging area (Hq. FEAF, Memo for Record, Reference Allocation of Shipping for VICTOR III Opns., 5 Feb. 1945).
7. Hist. FEAF, pp. 164-86; Eichelberger, Road to Tokyo, p. 205; Hist. XIII FC, Feb. and Mar. 1945; FEAF Air Engr. to FEAF A-5, Airdrome Site at Puerto Princesa, 2 Feb. 1945; C/S FEAF to CG 13th AF Advon, Re GHQ Staff Study VICTOR IV, 2 Feb. 1945; conference at G-3 Plans, 4 Feb. 1945; FEAF A-5 File, Memo for Record on VICTOR III; FEAF to CINCSWPA, Provision of A/D Facilities at VICTOR III, 5 Feb. 1945; GHQSWPA Staff Study, VICTOR III, 6 Feb. 1945; Tomochika, True Facts, p. 11.
8. Hist. FEAF, pp. 183-201.
9. 13th AF Ltr. of Instr. #I, 19 Feb. 1945; Hist. V BC, Feb. 1945, pp. 1-28; Hist. V FC, Jan.-Mar. 1945, pp. 4-42.
10. See n 9.
11. Hist. XIII FC, Mar. 1945, pp. 1-6, 29-31; GHQSWPA, Monthly Sum. of Opns., Mar. 1945.
12. Hist. XIII FC, Mar. 1945, pp. 19-20; Hist. FEAF, pp. 224-26; Hist. V FC, Jan.-Mar. 1945, pp. 46-50; Office of Marine Hist., Dept. of Navy, Marine Aviation in the Philippines, [hereinafter cited as Marine Air, P.I.], chap. IV, " Southern Philippines Campaigns," p. 12.
13. Hist. FEAF, pp. 202-4; O.N.I. Wkly., Vol. IV, #11, 14 Mar. 1945, p. 816; True Facts, p. 11; GHQ Staff Study, VICTOR IV, 12 Feb. 1945; 41st Div. Arty. After-Action Rpt., V-4 Opn., p. 4.
14. Hist. FEAF, pp. 226-27.
15. Ibid., pp. 215-26.
16. Hist. V BC, Mar. 1945, p. 14; Hist. XIII FC, Mar. 1945, p. 7; Hist. XIII BC, Mar. 1945, I; Hist. FEAF, pp. 218-23.
17. Eichefberger, Road to Tokyo, p. 206.
18. 41st Div. Arty. After-Action Rpt., V-4 Opn., pp. 7-39; GHQSWPA Monthly Sum. of Opns., Mar. 1945, p. 7; Eichelberger, Road to Tokyo, p. 207; Hist. XIII BC, Mar. 1945, pp. 42-65.
19. See sources cited in n 18 and Hist. XIII FC, Apr.-Aug. 1945; Hist. XIII BC, APT. 1945.
20. Eichelberger, Road to Tokyo, pp. 208-31. For details on these operations see Eighth Army and division reports.
21. Hist. FEAF, pp. 228-85.
22. Eichelberger, Road to Tokyo, pp. 200-6, 233.
23. 8th Army Fld. and Admin. Orders; 41st Div. Arty. After-Action Rpt., V-4 Opn.
24. Eichelberger, Road to Tokyo, pp. 207-9; Hist. FEAF, pp. 228-33.
25. Hist & XIII BC, Mar. 1945, pp. 42-63; Hist. V BC, Mar. 1945, p. 22.
26. Eichelberger, Road to Tokyo, pp. 207-9; GHQSWPA, Monthly Sum. of Opns., Mar. 1945, p. 8; O.N.I. Wkly., Vol. IV, 21 Mar. 1945, pp. 897-901.
27. Hist. FEAF, pp. 228-37; GHQ-SWPA Staff Study, VICTOR I, 18 Feb. 1945 and OI, 22 Feb. 1945; Eichelberger, Road to Tokyo, p. 211.
28. GHQSWPA, Monthly Sum. of Opns., Mar., Apr., June, and July 1945; Eichelberger, Road to Tokyo, pp. 210-11; O.N.I. Wkly., Vol. IV, $12, 4 Apr. 1945.
29. Hist. FEAF, pp. 243-53; GHQ-SWPA Staff Study, VICTOR II, 22 Feb. 1945; Eichelberger, Road to Tokyo, pp. 212-15.
30. Hist. XIII BC, Mar. 1945,pp. 42-63; Hist. XIII FC, Mar. 1945, pp. 19-20; Hist. FEAF, p. 261; Hist. V FC, Jan.Mar. 1945, pp. 46-50; GHQSWPA, Monthly Sum.of Opns., Mar. 1945, pp. 9-10; Eichelberger, Road to Tokyo, pp. 211-15; O.N.I. Wkly., Vol. IV, #13, 28 Mar. 1945.
31. Eichelberger, Road to Tokyo
32. GHQSWPA, Monthly Sum. of Opns., Mar., Apr., and June 1945; O.N.I. Wkly., Vol. IV, #16, 18 Apr. 1945; Marine Air, P.I., chap. IV, pp. 24-25.
33. Hist. FEAF, p. 266-68 ; Eichelberget, Road to Tokyo, pp. 216-45; 8th Army opnl. monograph Mindanao, pp. 21, 311. Eichelberger's book gives estimates of enemy strength which are in conflict with the apparently more authoritative Eighth Army monograph.
34. Eichelberger, Road to Tokyo, pp. 222-2j, 233; True Facts, pp. 12, 35-50.
35. Hist. XIII BC, Apr. 1945, pp. 50-70; Marine Air, P.I., chap. IV, pp. 36-37.
36. Col. Wendell W. Fertig, a civilian engineer, had remained on Mindanao and organized guerrilla units there. Although widely scattered and mostly out of physical contact, when radios and other supplies began to reach them during 1943 and 1944, Col. Fertig was able to achieve the semblance of an organized command. He made his headquarters in the Lake Lanao region and supplied reliable intelligence to MacArthur and was consulted by Eichelberger on the Mindanao planning (Eichelberger, Road to Tokyo, pp. 216-19).
37. Eichelberger, Road to Tokyo, pp. 216-21; GHQSWPA, Monthly Sum. of 808 Opns., Apr. 1945, pp. 9-11; Marine Air, P.I., pp. 38-39.
38. Eichelberger, Road to Tokyo, pp. 221-31; GHQSWPA, Monthly Sum. of Opns., Apr., May 1945; O.N.I. Wkly., Vol. IV, #17, 25 Apr. 1945 and #18, 2 May 1945.
39. Hist. 13th AF, Apr.-June 1945, pp. 17-20.
40. Marine Air, P.I., pp. 39-53. In May and June, the dive-bomber groups began converting from SBD's to SB2C's.
41. Eichelberger, Road to Tokyo, pp. 216-45; GHQSWPA, Monthly Sum. of Opns., May, June, and July 1945; Marine Air, P.I., pp. 38-55; O.N.I. Wkly., Vol. IV, #15, 2 May 1945.
42. See especially GHQSWPA Staff Study for OBOE I, 9 and 18 Mar. 1945; GHQSWPA, OI #99, 21 Mar. 1945; AAFSWPA, OI #95, 24 Mar. 1945; RAAF Comd. AAFSWPA, Rpt. of OBOE ONE Opn. (RAAF Comd. Adv. Hq., Morotai, May 1945) [hereinaftercited as OBOE ONE], App. D to H; Hist. FEAF, pp. 294-317.
43. Hist. XIII BC, Apr. 1945, pp. 5-10; Hist. XIII FC, Apr.-Aug. 1945; Hist. FEAF, pp. 317-21.
44. Hist. XIII BC, May-June 1945, pp. 2-7, 98-119; Hist. XIII FC, Apr.-Aug. 1945,pp. 40-54; Hist. FEAF, pp. 317-26; OBOE ONE.
45. RAAF Comd. AAFSWPA, Rpt. of OBOE SIX Opn. (RAAF Comd. Adv. Hq., Morotai, June 1945) [herein-after cited as OBOE SIX]; Hist. XIII BC, May-June 1945, pp. 7-10; Hist. FEAF, pp. 386-94; Hist. V BC, May-June 1945, pp. 108-15; Hist. XIII FC, Apr.-Aug. 1945, pp. 63-69.
46. OBOE SIX, p: 5.
47. See sources in n 45 and Hist. FEAF, pp. 394-421.
48. RAAF Comd. AAFSWPA, Rpt. of OBOE TWO Opn. (RAAF Comd. Adv. Hq., Morotai, July 1945), pp. 2-15.
49. OBOE ONE and App. A and H; Hist. V BC, May-July 1945; Hist. XIII BC, May-June 1945.
50. OBOE ONE; Hist. XIII FC, Apr.hug. 1945; Hist. FEAF, pp. 461-74.
51. OBOE ONE; Hist. FEAF, pp. 474-502.
52. OBOE ONE; Hist. FEAF, pp. 502-14; Hist. XIII FC, Apr.-Aug. 1945; Hist. XIII BC, July-Aug. 1945.