Return to Naval Historical Center home page.

Return to Online Library listing


DEPARTMENT OF THE NAVY -- NAVAL HISTORICAL CENTER
805 KIDDER BREESE SE -- WASHINGTON NAVY YARD
WASHINGTON DC 20374-5060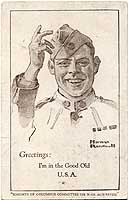 Online Library of Selected Images
-- ART TOPICS -- ARTISTS
Norman Rockwell (1894-1978)
Norman Percevel Rockwell, one of the most popular American artists and illustrators of the mid-Twentieth Century, was born in New York City on 3 February 1894. Following an art education there, he achieved considerable success in the years prior to United States' entry in World War I. During that conflict, Rockwell served in the U.S. Navy, producing artwork in support of the war effort. In the post-war decades he was associated with the Saturday Evening Post and contributed more than three hundred cover illustrations to that magazine. During the Second World War Rockwell's Four Freedoms paintings further elevated the already great public enthusiasm for his work, and in the 1960s he made a number of illustrations that helped increase support for the Civil Rights movement. The artist left New York state in 1939, moving to Arlington, Vermont, and in 1953 he relocated to Stockbridge, Massachusetts, which later became the site of a museum dedicated to his work. Norman Rockwell was awarded the Presidential Medal of Freedom in 1977. He died at Stockbridge on 8 November 1978.
This page provides links to photographs of artworks by Norman Rockwell.
The following artworks were made by Norman Rockwell:
Photo # NH 104114-KN: Knights of Columbus post card for returning troops, 1919, featuring an artwork by Norman Rockwell.

Photo # NH 104115-KN: Identical card, printed in a somewhat different color ink.


Return to Naval Historical Center home page.
Page made 10 December 2006