Return to Naval History and Heritage Command home page.

Return to Online Library listing


DEPARTMENT OF THE NAVY -- NAVAL HISTORY AND HERITAGE COMMAND
805 KIDDER BREESE SE -- WASHINGTON NAVY YARD
WASHINGTON DC 20374-5060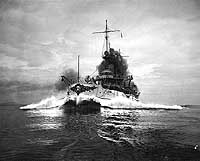 Online Library of Selected Images
-- ART TOPICS -- PHOTOGRAPHERS
Enrique Muller, and "E. Muller Jr." (Robert E. Muller)
Enrique Muller and his son, Robert E. Muller (who practiced under the name "E. Muller Jr.") are perhaps the most noted of the small band of early 20th Century photographers who specialized in naval subjects. The father, born in Germany in 1846, arrived in the United States about twenty years later. He appears to have begun photographing ships on a commercial basis during the later 1890s, mainly in the waters around New York City, where both father and son resided. Muller's excellent quality views of the ships of the "Great White Fleet" era are especially significant.
Robert E. Muller appears to have taken over the business by the early "Teens", and all Muller photos we have dated after 1914 bear the name "E. Muller Jr.". During 1918 and 1919 he photographed many of the transports that brought American World War I veterans to New York from the former European war zone. In 1919, the firm's address was 198 Broadway, New York City. We have no Muller photographs taken after that year. Presumably it ceased operation, or at least stopped making ship photographs, at that time.
The Mullers produced photographs in a variety of formats, ranging from postcard size to large prints. Their images were also widely used on colored postcards and in publications. The U.S. Navy appears to have acquired some of their original glass negatives, perhaps during the 1920s, as some of these can be found among the higher-numbered glass plates in the U.S. National Archives' Bureau of Ships collection's old "digital series". See Photo Numbers in the 19-N-60-; -61- and -62 series for examples, some of which are specifically credited to them, while others can be tentatively attributed based on subject matter, location and date. Sadly, as related to this writer by Ted Stone in a conversation during the 1980s, many of the Mullers' other glass plate negatives ended up as window panes in a New Jersey greenhouse.
This page provides links to photographs taken by Enrique Muller and "E. Muller Jr."
The following photographs were taken by Enrique Muller and E. Muller Jr.:
The views listed below are generally marked: "E. Muller, Jr.:
The following photograph shows the name and address of E. Muller, Jr.:
NOTES:

To the best of our knowledge, the pictures referenced here are all in the Public Domain, and can therefore be freely downloaded and used for any purpose.


Some images linked from this page bear obsolete credit lines citing the organization name: "Naval Historical Center". Effective 1 December 2008 the name should be correctly cited as: "Naval History and Heritage Command".







Return to Naval History and Heritage Command home page.
Page made 8 March 2003
New images added 3 January 2009