Return to Naval Historical Center home page.

Return to Online Library listing

DEPARTMENT OF THE NAVY -- NAVAL HISTORICAL CENTER
805 KIDDER BREESE SE -- WASHINGTON NAVY YARD
WASHINGTON DC 20374-5060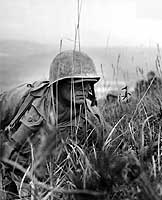 Online Library of Selected Images:
-- EVENTS -- The Korean War, 1950-1953 --
Land Operations, 25 November 1950 - 25 January 1951
The weeks following 25 November 1950 formed one of the most miserable periods of U.S. military history. What on 24 November promised the conflict's early and victorious end was swiftly transformed into an "entirely new war", with UN (overwhelmingly American) and Republic of Korea troops fighting for their lives through Communist Chinese ambushes and roadblocks in the midst of wintery weather that often inflicted more casualties than did the enemy.
The Chinese proved themselves masters of infiltration, evading premature observation by moving mainly at night, skillfully covering their tracks and taking full advantage of the UN/ROK armies' thinly-manned front, roadbound tactics and inadquate patrolling. Not for the first time, nor for the last, superior air power was unable to detect and stop an enemy's buildup before he chose to engage. Even after the Chinese were out in the open, bad weather frequently curtailed air support.
On 29 November, General MacArthur ordered withdrawal on all fronts. In the west, the Eighth Army broke contact and retired rapidly through Pyongyang, which was abandoned on 5 December. The nearby port of Chinnampo, opened only a month before, was evacuated by sea on 4-6 December, providing a way out for many supplies and refugees.
In the east, X Corps was ordered to fall back on the port of Hungnam. Ships pulled some units out of Songjin and Wonsan, while others moved by road. To the North, on 1-4 December, the First Marine Division shot its way down from Yudam-Ni, west of the Chosin Reservoir, to Hagaru, at its base. Covered by Marine and Navy planes, it continued the fight down the road from Hagaru to Hungnam, completing the movement on 10-11 December. A general evacuation of Hungnam then commenced, taking the Marines and most other evacuated forces to Pusan to regroup.
After a lull of some weeks, the Chinese offensive was renewed as 1950 ended. Seoul was given up on for the second time on 4 January and a new defensive line established running across Korea well south of the city. With the evacuation of Inchon the UN Command was again left with Pusan as its only major seaport.
However, the Chinese soon exhausted their offensive push. They had lost a large proportion of their men, and their now extended supply line, subject to intense bombardment from the air, sea and ground, was unable to sustain attacks. Directed by a new and energetic commander, Lieutenant General Matthew B. Ridgway, in mid-January the Eighth Army (now including the previously independent X Corps) probed northwards, finding little of the enemy. On 25 January, a cautious general advance began, the first of a series that would ultimately stabilize the front beyond the old line between North and South Korea.
This page features pictures of and related to land operations during the Chinese offensive period of the Korean War, from 25 November 1950 to 25 January 1951.
For visual coverage of other aspects of the November 1950 - January 1951 Chinese offensive in Korea, see: