Return to Naval Historical Center home page.

Return to Online Library listing

DEPARTMENT OF THE NAVY -- NAVAL HISTORICAL CENTER
805 KIDDER BREESE SE -- WASHINGTON NAVY YARD
WASHINGTON DC 20374-5060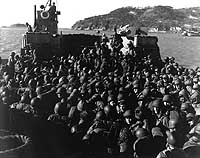 Online Library of Selected Images:
-- EVENTS -- The Korean War, 1950-1953 --
The Evacuation of Inchon, December 1950 - January 1951
On 7 December 1950, while the enemy onslaught seemed unstoppable, the evacuation of the port of Inchon, whose capture less than three months earlier had so changed the war, was ordered. This effort was supported by a combined U.S. and British Commonwealth naval force. When the renewed Chinese offensive compelled UN forces and the Republic of Korea Government to leave Seoul early in the New Year, the withdrawal of assets through Inchon was completed. Though most the Eighth Army retired to new defensive lines by land, almost seventy thousand troops, nearly as many refugees, and a large quantity of vehicles and supplies departed by sea through Inchon. The port's facilities were destroyed on 5 January 1951 and its ruins left to the enemy.
This page features pictures of and related to the evacuation of Inchon, 7 December 1950 - 5 January 1951, during the Chinese offensive period of the Korean War.
For visual coverage of other aspects of the November 1950 - January 1951 Chinese offensive in Korea, see: