Return to Naval Historical Center home page.

Return to Online Library listing

DEPARTMENT OF THE NAVY -- NAVAL HISTORICAL CENTER
805 KIDDER BREESE SE -- WASHINGTON NAVY YARD
WASHINGTON DC 20374-5060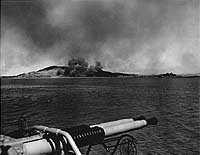 Online Library of Selected Images:
-- EVENTS -- The Korean War, 1950-1953 --
Inchon Pre-invasion Bombardment, 13-15 September 1950
The Inchon assault formally began with an air and gunfire bombardment of Wolmi-Do island on 13 September 1950. Six U.S. Navy destroyers led off that morning by steaming up the channel on the flooding tide, the better to avoid any waiting mines. Overhead, carrier planes bombed and rocketed Wolmi-Do, whose artillery batteries threatened the planned landing beaches. Further inland, other planes had been working for several days to isolate the Inchon area from enemy reinforcement.
The destroyers anchored off Wolmi-Do shortly after noon and began firing pointblank at targets there and along the Inchon waterfront. Their bombardment continued for about an hour, followed by heavier gunfire from cruisers and more air attacks. North Korean return fire damaged three of the destroyers, killing an officer on USS Lyman K. Swenson (DD-729). Wolmi-Do and other nearby targets were hit again the following day, with good results, and again just before landings began on the morning of 15 September.
This page features views of the pre-invasion bombardment of the Inchon defenses, beginning on 13 September 1950.
For a special image selection on the Inchon Invasion, plus links to additional pictures of that Operation, see: