Return to Naval Historical Center home page.

Return to Online Library listing

DEPARTMENT OF THE NAVY -- NAVAL HISTORICAL CENTER
805 KIDDER BREESE SE -- WASHINGTON NAVY YARD
WASHINGTON DC 20374-5060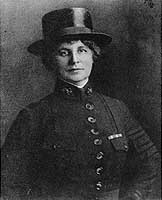 Online Library of Selected Images:
-- PEOPLE -- UNITED STATES --
Chief Nurse Lenah H. Sutcliffe Higbee, U.S. Navy, (1874-1941)
Lenah H. Sutcliffe was born in Chatham, New Brunswick, on 18 May 1874. She completed nurses' training at the New York Postgraduate Hospital in 1899 and entered private practice soon thereafter. In October 1908, she joined the newly-established U.S. Navy Nurse Corps as one of its first twenty members and was promoted to Chief Nurse in 1909.
In January 1911, Mrs. Higbee (she was the widow of Lieutenant Colonel John Henley Higbee, USMC) became the second Superintendent of the Nurse Corps. For her achievements in leading the Corps through the First World War, Chief Nurse Higbee was awarded the Navy Cross, the first woman to receive that medal. She retired from the Navy in November 1922. Chief Nurse Lenah H. Higbee died at Winter Park, Florida, on 10 January 1941.
USS Higbee (DD-806), commissioned in 1945, was named in her honor, the first U.S. Navy combat ship to bear the name of a female member of the Naval service.
This page features our only images of Lenah H. Sutcliffe Higbee and provides links to others mounted in a photographic album.
For informal snapshot views of Lenah Higbee, taken in about 1915, see: J.Beatrice Bowman album, pages 93-95.
Click on the small photograph to prompt a larger view of the same image.
Photo #: 80-G-1037198

Lenah H. Sutcliffe Higbee, (NC) USN

Portrait photograph, taken in uniform during the World War I era.
She was the second Superintendent of the Navy Nurse Corps, from 20 January 1911 to 30 November 1922.

Official U.S. Navy Photograph, now in the collections of the National Archives.

Online Image: 139KB; 600 x 765 pixels

Reproductions of this image may also be available through the National Archives photographic reproduction system.

Photo #: NH 52960

"The Sacred Twenty"

Group photograph of the first twenty Navy Nurses, appointed in 1908. Taken at the Naval Hospital, Washington, D.C., circa October 1908.
They are identified in Photo # NH 52960 (Complete Caption).

U.S. Naval Historical Center Photograph.

Online Image: 99KB; 740 x 575 pixels

Return to Naval Historical Center home page.
29 December 1999