Return to Naval Historical Center home page.

Return to Online Library listing

DEPARTMENT OF THE NAVY -- NAVAL HISTORICAL CENTER
805 KIDDER BREESE SE -- WASHINGTON NAVY YARD
WASHINGTON DC 20374-5060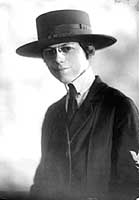 Online Library of Selected Images:
-- PEOPLE-TOPICS -- WOMEN & THE U.S. NAVY
World War I era Yeomen (F) --
Uniforms -- Blue Jacket & Skirt, Shirt Collar closed with a Tie
The standard Yeoman (F) uniform was distinctive, featuring a "Norfolk" style jacket in navy blue or white and a matching skirt, a white shirt with collar either closed with a tie or open and folded back with a regular navy neckerchief, and a wide-brimmed, flat-crowned "sailor" style hat of navy blue felt or white straw, usually with a ribbon reading "U.S. Navy" or "U.S. Naval Reserve". For cold weather wear there was a navy blue cape. The normal Yeoman's rating badge was worn on the jacket's left sleeve. Chief Petty Officers wore the regular CPO's cap device on their hats in place of a hat ribbon.
There were significant deviations from these standards, including some "uniforms" that appear to have been quite irregular. Among these were the wearing of male Sailors' jumpers, a considerable amount of reshaping of the regular hat, dark-colored straw hats, a variety of hat ribbon inscriptions, the use of enlisted "flat hats" worn beret-style without the grommet, and the wearing of overcoats instead of capes. Some of these variations were reportedly authorized locally due to non-availability of standard uniform components, while others were apparently individual initiatives. A rather emphatic Winter Uniform Regulation issued on 12 February 1919 appears to have been a response to some of the more idiosyncratic variations.
This page, and those linked from it, feature views of individual Yeomen (F) in uniform, both standard and non-standard, and provide links to other images of particular uniform variations. Close examination of other photographs in other parts of our Yeoman (F) will reveal other variations, as well as the wearing of the standard uniform.
This page provides views of the standard blue Yeoman (F) uniform, with shirt collar closed with a tie. Both blue and white hats are featured.
The following pages feature other Yeoman (F) uniforms or styles of wearing them: