Return to Naval Historical Center home page.

Return to Online Library listing

DEPARTMENT OF THE NAVY -- NAVAL HISTORICAL CENTER
805 KIDDER BREESE SE -- WASHINGTON NAVY YARD
WASHINGTON DC 20374-5060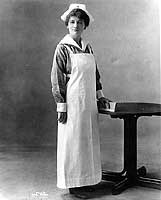 Online Library of Selected Images:
-- PEOPLE -- TOPICS
Nurses and the U.S. Navy, 1917-1919 --
Red Cross and Army Nurses' Uniforms
During the First World War, the American Red Cross served as a nursing reserve for the U.S. Army and Navy and maintained its own extensive presence in the War Zone. Red Cross nurses' uniforms were also worn, with appropriate changes of insignia, by nurses of both the armed services and provided the initial patterns for the new outdoor uniforms adopted by the Army and Navy.
This page features views of Red Cross and Army Nurses' uniforms during the World War I era.
For other photographs of World War I era Nurses' uniforms, see: