Return to Naval Historical Center home page.

Return to Online Library listing

DEPARTMENT OF THE NAVY -- NAVAL HISTORICAL CENTER
805 KIDDER BREESE SE -- WASHINGTON NAVY YARD
WASHINGTON DC 20374-5060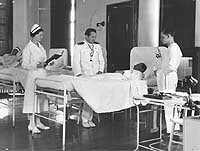 Online Library of Selected Images:
-- PEOPLE -- TOPICS
Nurses and the U.S. Navy, 1919-1941
By the early 1920s, with post-World War I Naval reductions largely complete, Navy Nurse Corps' strength stood at about 500, a level it held for over a decade. Most Reserve Nurses had gone back to Civilian life, though a few were recalled in 1920 to care for influenza patients. In that year, Congress authorized "relative" rank for the Army's nurses, but not for the Navy's. Though generally treated like officers socially and professionally, and wearing uniform stripes similar to those for the officer ranks of Ensign through Lieutenant Commander, Navy Nurses had to wait until 1942 to achieve formal officer status.
Navy Nursing made several professional gains between the World Wars. The first permanent shipboard positions came in late 1920, when USS Relief (AH-1) went into commission with a medical staff that included Navy Nurses. Paid retirement for longevity and disability was authorized. Continuing education was actively encouraged, including specialized training in dietetics, laboratory techniques, anesthesia, tuberculosis treatment and physiotherapy. As before, Navy Nurses were responsible for much of the instruction given to the Navy's hospital corpsmen and to local nurses in U.S. overseas possessions. In addition to caring for Naval personnel at home and abroad, they responded to a number of civil disasters and assisted in the evacuation of dependents from war-torn China in 1937.
Leadership of the Nurse Corps changed in 1922, when long-time Superintendent Lenah Higbee was relieved by J. Beatrice Bowman, who held the position for well over a decade. By the time Superintendent Bowman retired in 1935, she was the last of the original "Sacred Twenty" Navy Nurses on active duty. Her replacement was Myn M. Hoffman, who served into 1938. In 1939, Sue S. Dauser became Superintendent, remaining in that post throughout the Second World War.
The lingering Great Depression ultimately brought reductions to Navy personnel strength. Its nurses were reduced to fewer than 350 by the mid-1930s and did not rise above 500 until the 1940-41 defense increases were well underway. However, from then on the Nurse Corps' growth was swift, with over 800 regular and reserve nurses on active duty on the eve of United States' entry into World War II.
This page features views related to nurses and the United States Navy between the World Wars
For more images of Nurses and the United States Navy during 1919-41, see: