Return to Naval Historical Center home page.

Return to Online Library listing

DEPARTMENT OF THE NAVY -- NAVAL HISTORICAL CENTER
805 KIDDER BREESE SE -- WASHINGTON NAVY YARD
WASHINGTON DC 20374-5060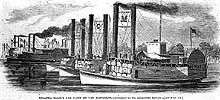 Online Library of Selected Images:
-- SHIPS of the UNITED STATES ARMY --
U.S. Steamer Samson (1862-1865)
Samson was a 230-ton stern-wheel steamer built at California, Pennsylvania, in 1860. During much of 1862, she served with Colonel Charles Ellet's ram fleet in the Mississippi River area. Samson was transferred to the U.S. Navy in November 1862 and spent the rest of the Civil War as a floating machine shop with the Mississippi Squadron. Sold in August 1865, she was employed as a merchant vessel until broken up in 1869.
This page our only view depicting the U.S. Steamer Samson.
Click on the small photograph to prompt a larger view of the same image.
Photo #: NH 59007

"Colonel Ellet's Ram Fleet on the Mississippi"

Line engraving after a sketch by Alexander Simplot, published in "Harper's Weekly", 1862.
Ships in the foreground are: Monarch (letter "M" between stacks), Queen of the West (with letter "Q") and Lioness(letter "L"). In the left background are: Switzerland (with letter "S" on paddlebox), Samson and Lancaster.
Note cotton bales stacked on deck to protect boilers.

U.S. Naval Historical Center Photograph.

Online Image: 123KB; 740 x 360 pixels

Return to Naval Historical Center home page.
24 March 2000